Radiography
Provide an inside look into an illness or injury with X-rays. Help patients receive the answers they need.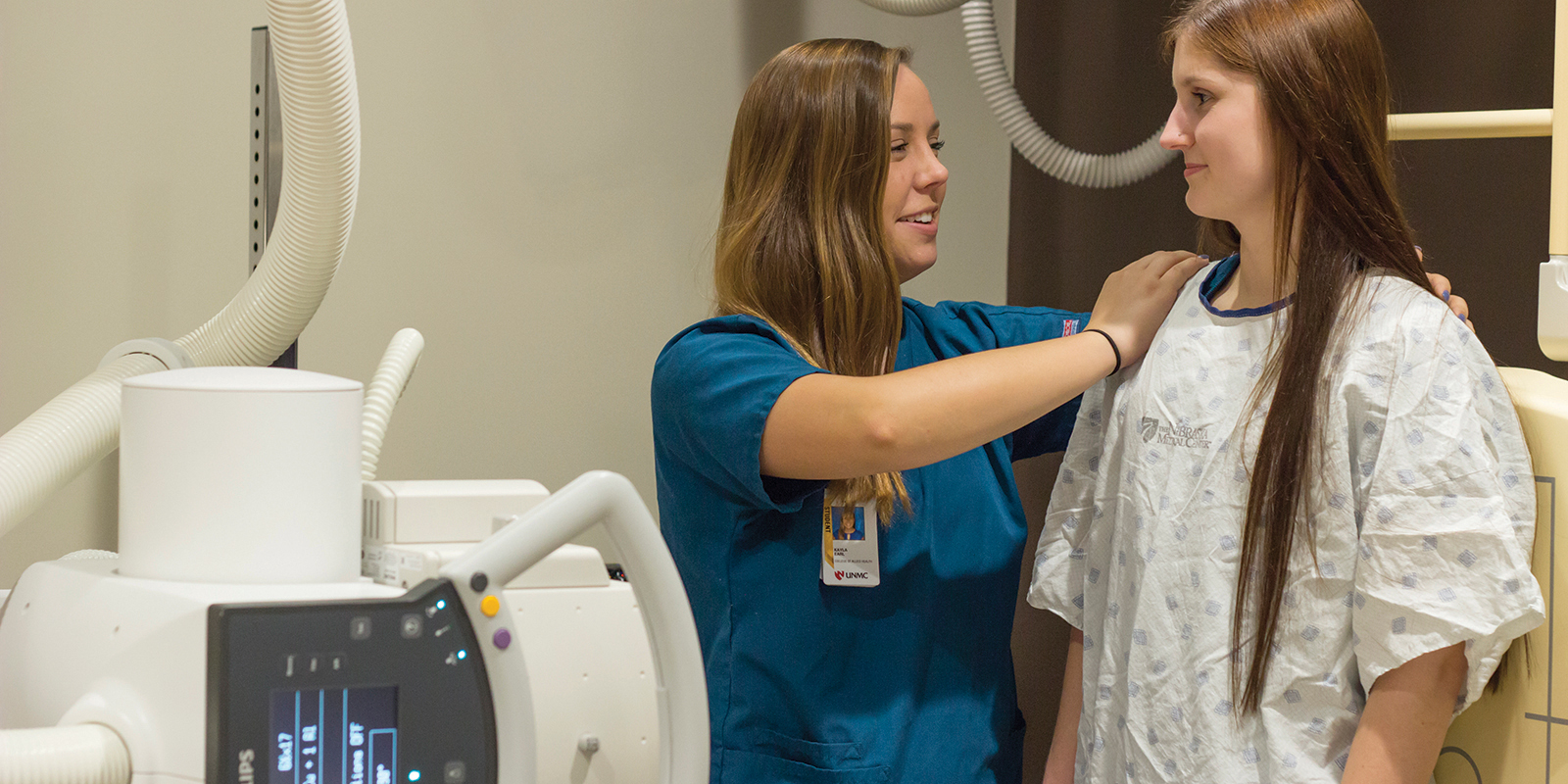 Why Study Radiography?
As a Radiographer, you are part of a diagnostic team that aids physicians and other healthcare professionals in delivering proper care to patients in need. You use ionizing radiation and advanced technical equipment to produce detailed images of the human body. This profession requires a fundamental knowledge of anatomy, physics, and biology, and a desire to work in a field constantly evolving and advancing over time.

Radiographers can work in many different career settings, including patient care or therapy facilities, veterinary clinics, research centers, and administrative or commercial settings. Upon completion of your Radiography certification, you may also pursue programs and certifications for other professions such as Cardiovascular Interventional Technology, Computed Tomography, Diagnostic Medical Sonography, Magnetic Resonance Imaging, Mammography, and Radiation Therapy. What is a Radiographer?
Why Study Radiography at UNMC?
You have the choice between the Omaha and Kearney campus to complete Radiography's 21-month program. Radiography also offers hybrid learning opportunities at affiliated Radiography departments in Columbus, Norfolk, and North Platte. You may rotate between 12 different partner facilities across Nebraska with the opportunity to participate in mammography rotations if interested.
Learn Practical Skills
You'll develop radiographic positioning and patient care skills and learn to apply critical thinking skills in the clinical setting and how to be a patient care advocate. Learn about the interdisciplinary facets of a Radiology department and how imaging modalities intersect for optimal patient care.
Overview and Degree Requirements
To help you along your long-term path, you can enter our MITS Early Acceptance Pipeline for programs in Medical Sonography, Cardiovascular Interventional Technology, Radiation Therapy, or Magnetic Resonance Imaging if that is part of your ultimate career goals. UNMC also offers an online Imaging Degree Advancement Option for qualified Radiographers seeking higher education in a medical imaging and therapeutic science profession.
Degree Advancement Option
Duration
21 months (5 semesters)
Locations
Columbus, Kearney, Norfolk, North Platte, & Omaha
Start Date
Fall semester begins in August
What to Expect
The Radiography Program consists of lectures, demonstrations, laboratory, and supervised clinical experiences. All didactic courses in the Radiography Program are taught online or have online components.
We are proud of our outcomes. View our accreditation status as well as outcomes information for the credentialing exam, job placement, and program completion.
Careers and Outcomes
With a certification in radiography you can be a
Radiographer
Mammographer
CT Technologist
Manager
Educator
Sales Representative
Applications Trainer
PACS Administrator
Employers
Notable employers of some of our recent graduates are
Nebraska Medicine
CHI
Children's Hospital & Medical Center
Kearney Regional Medical Center
Phelps Memorial
Bryan Health
Related Programs
Many graduates of the radiography program go on to other modalities.