Cardiovascular Interventional Technology
Our bachelor's and post-baccalaureate professional certificate are perfect for critical thinkers who enjoy a team-based, fast-paced environment.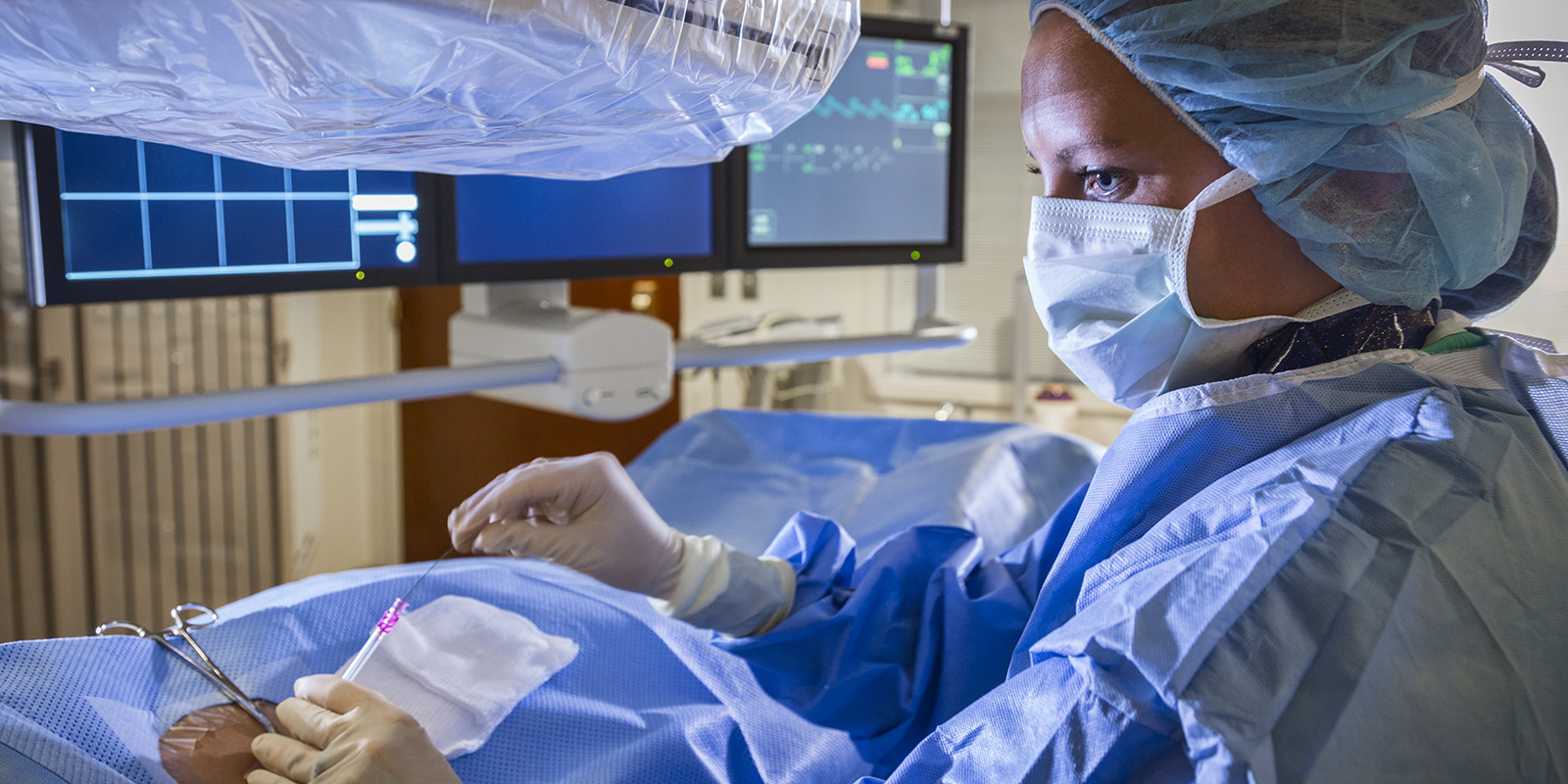 Why Study Cardiovascular Interventional Technology? 
Cardiovascular Interventional Technologists are medical imaging professionals who specialize in capturing images of blood vessels and performing diagnostic or curative procedures related to the cardiovascular system. They work with physicians and a radiology team that uses minimally invasive and lower cost techniques to help save patients' lives.   
Whether you are merely exploring a career in medical imaging, or already a licensed Radiologist seeking to progress within your profession, Cardiovascular Interventional Technology is a rapidly growing field within allied health professions.  
What is a Cardiovascular Interventional Technologist?
Why Study Cardiovascular Interventional Technology at UNMC? 
Eligible for Certification in 9 Months
You will receive the classroom and clinical experience necessary to enter this field all within the span of nine months. After just two semesters, you can become eligible to apply for ARRT certification in Cardiac Interventional Radiography (CI) and/or Vascular Interventional Radiography (VI).
Two Campuses and a Pipeline
The program is offered on both UNMC campuses so current UNMC Radiography students need not worry about moving to a new learning site for this secondary program. Although you don't need to be a graduate of UNMC's Radiography program, we do offer an early acceptance pipeline for students applying to our Radiography program whose end goal is to enter the CVIT program. 
(MITS) Early Acceptance Pipeline
We are mission-driven to provide a premier educational environment that prepares competent entry-level professionals who demonstrate the highest quality of patient-centered care, safety, and service. UNMC enjoys full accreditation of all its colleges, programs, and sites by The Higher Learning Commission and is a member of the North Central Association of Colleges and Schools.
Accreditation
UNMC also offers an online Bachelor of Science in Medical Imaging & Therapeutic Sciences Degree Advancement Option for qualified CVITs seeking higher education in the medical imaging and therapeutic science profession.
Duration
9 months (2 semesters)
Location
Kearney and Omaha
Start Date
Fall semester begins in August
Didactic Coursework
Students will develop skills to be successful clinically in both the Cath Lab and Interventional Radiography departments. Through didactic coursework, students will gain necessary knowledge of technologies and procedures performed in the clinical environment.
Overview & Degree Requirements
Clinical Setting
In the clinical setting, students will learn and work alongside experienced technologists, nurses, and physicians to acquire the abilities to become an entry level Cath Lab or Interventional Radiography technologist.
Careers and Outcomes
Graduates of the Cardiovascular Interventional Technology program go on to these careers:
Vascular Interventional Technologist

Cardiac Interventional Technologist

Electrophysiology Technologist

 
Nebraska Medicine is a notable employer of our graduates. Scholarship opportunities are also available with Nebraska Medicine.
Related Programs
Many graduates of the program continue their education in another modality or one of the online master's degree programs offered by the College of Allied Health Professions designed with the working health professional in mind.