Broomball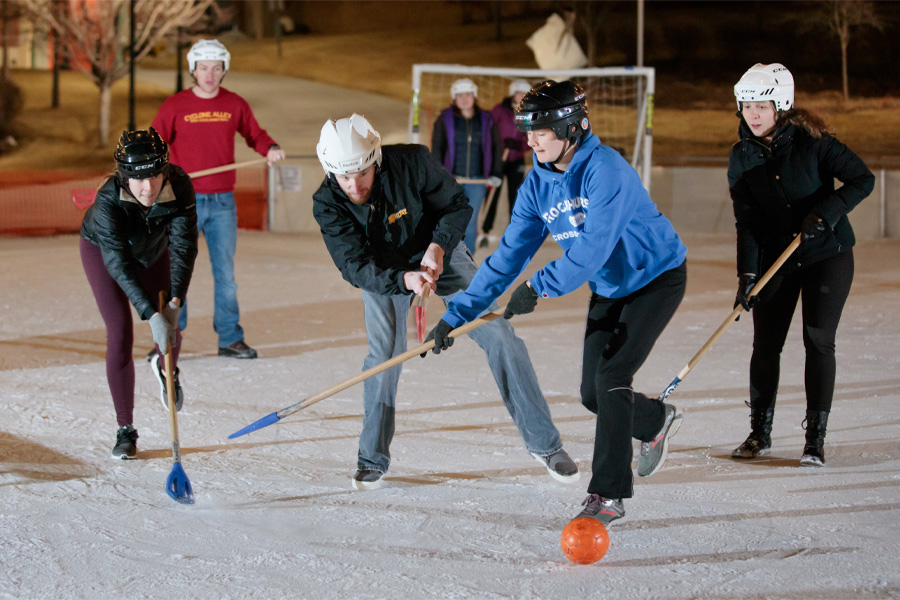 Broomball is often described as hockey without skates or pads. Each player is given a stick with a broom-shaped head. Teams of five players use their sticks to score points by hitting a lightweight, six-inch ball into the opposing team's goal. The rules are simple, allowing players to focus on the trickier task of maintaining their balance and footing while playing on the ice.
Like curling, intramural broomball requires no prior experience or equipment. Participants are encouraged to dress for the weather and wear warm gloves. Play involves a lot of slow running, sliding, swinging, and slipping. To preserve the good-natured fun of the sport, helmets are provided for players to wear for the duration of each match.
League Format
League Play
League Schedule
No experience is necessary and all equipment is provided. No skates are required as teams play in regular shoes. Teams are co-recreational, meaning there must be at least one female player on the ice at all times for each team.
Available: December through January
Length of Season: Six weeks (four weeks of regular play and a two-week tournament)
Length of Games: 30 minutes
Team Composition: Five players (four field players and one goalie)
Team Registration Fee: $40
Late Registration Fee: $50
The winter intramural season lasts for six weeks, with a break over the holidays. The broomball leagues are held on Monday and Tuesday evenings.
Early Broomball: Games in divisions labeled "early" will be played from 5-6:30 p.m. Individual games will begin at 5 p.m., 5:30 p.m., and 6 p.m.
Late Broomball: Games in divisions labeled "late" will be played from 6:30-8 p.m. Individual games will begin at 6:30 p.m., 7 p.m., and 7:30 p.m.