Ice Skating at UNMC
The UNMC Ice Rink is open December 8, 2023 through February 11, 2024.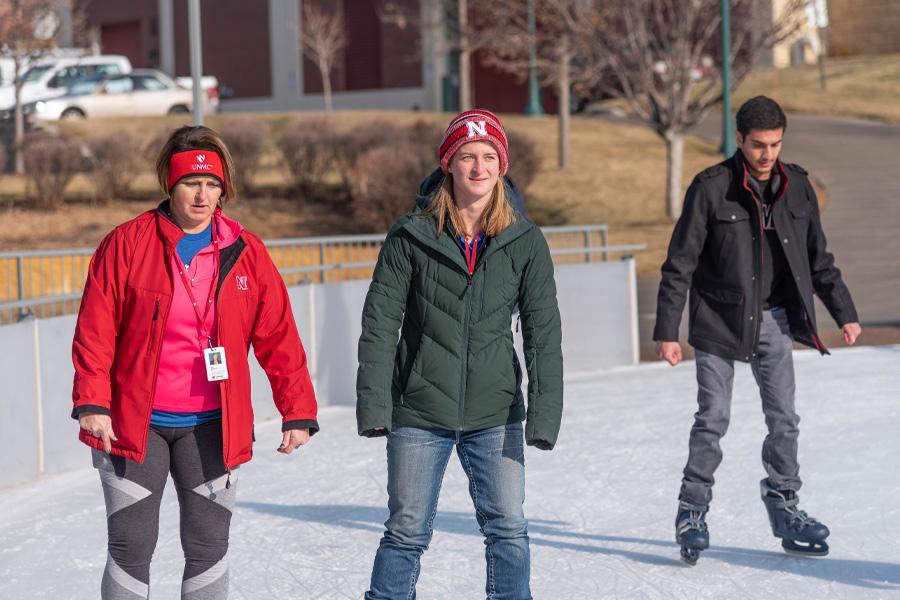 UNMC students participate in a campus-wide skate day.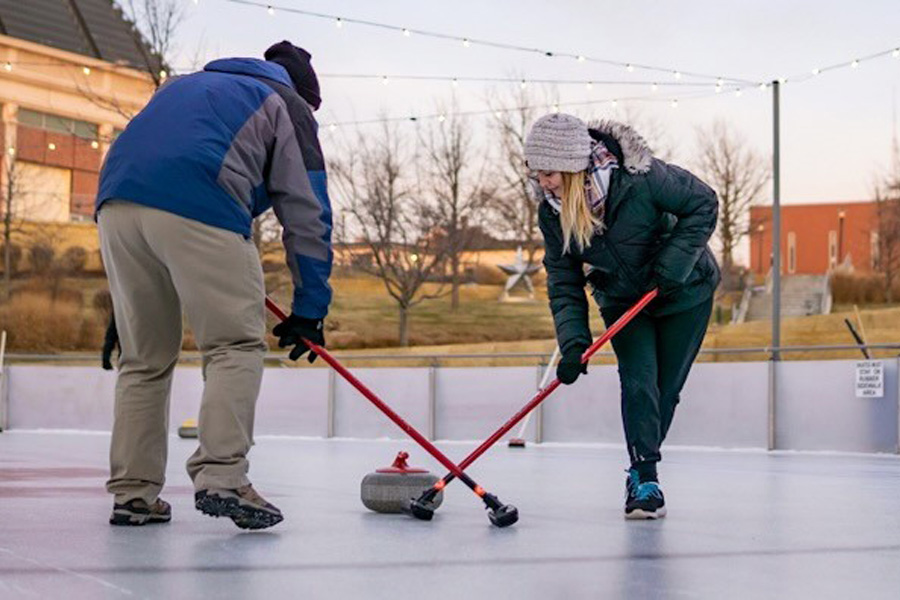 Two UNMC students face off during a session of intramural curling.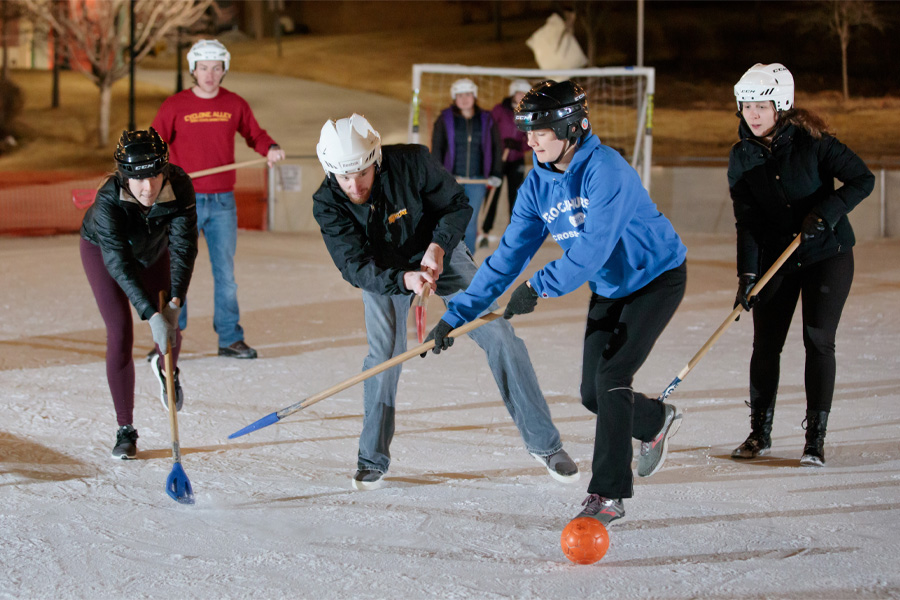 UNMC students participate in the Center for Healthy Living's broomball intramural league.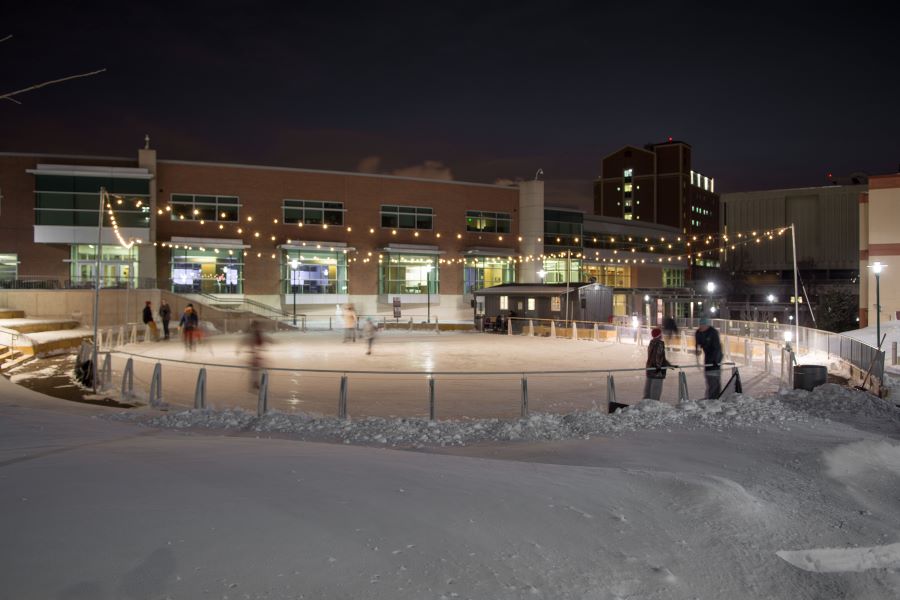 Guests enjoy UNMC's ice rink, which is open to the general public.
UNMC Ice Rink open for the 2023-24 season.
Don't wait to skate!
UNMC's ice-skating rink is open December 8 through February 11, 2024. The outdoor rink is located just east of 42nd Street, midway between Emile Street and Dewey Avenue, on the north side of the Michael F. Sorrell Center for Health Science Education.
During open skating hours, guests are welcome to drop-in to skate or make an advanced reservation to reduce wait times upon arrival (recommended for larger groups). To reserve an ice-skating time, complete the waiver, and rent skates, click the link below. 
UNMC Ice Rink Hours
2023-24 Season
Days

Open Skating Hours


Monday & Thursday

11 a.m. to 1 p.m.
4 p.m. to 8 p.m.

Tuesday & Wednesday
11 a.m. to 1 p.m. (intramurals in the evening)
Friday & Saturday
11 a.m. to 10 p.m.
Sunday
11 a.m. to 8 p.m.
| | |
| --- | --- |
| Holidays | Hours |
| Christmas Eve | 11 a.m. to 5 p.m. |
| Christmas Day | CLOSED |
| New Year's Eve | 11 a.m. to 10 p.m. |
| New Year's Day | 11 a.m. to 8 p.m. |
Admission
Cash and credit cards only. No checks or debit cards.
| | |
| --- | --- |
| Guest Category | Price |
| Employees and students of UNMC, UNO, UNL, UNK, Clarkson College, Nebraska Medicine, along with their spouse/partner and children; Ronald McDonald House employees and house guests (must present a valid ID badge) | FREE |
| General Public | $7 (includes skate rental) |
 Skate Sizes

Children's sizes 8 - 13 (can fit children as young as two years old - double blades are available in smaller sizes)
Adult sizes 1 - 14
Parking

Lot 15S (surface lot on 40th street between Dewey & Emile Streets) located on the north and east sides of the Student Life Center
Restrooms

An outdoor restroom is located just north of the skating rink.
Weather
The UNMC Ice Rink will be closed if the air temperature is zero degrees Fahrenheit or below, based on the Weather Channel. Call 402-559-0697 or check our Facebook page to see if the UNMC Ice Rink is open.
Code of Skater Responsibility
All skaters age 12 and under must be supervised at all times by their parent or guardian. One adult sponsor for every four children under the age of 12.
No fast skating
No pushing or shoving
No weaving in and out
No food or drinks on the ice or on the railings
Do not sit or climb on the railings
No street shoes on the ice
Do not carry a child while skating
No cameras on the ice surface
No horseplay
No foul language
No inline skating "tricks"
No refunds
No "in and outs"
Skating time may be limited to 1-1.5 hours
This is a tobacco-free campus
Please allow staff to assist anyone who is physically-challenged
Inform the manager on duty if you need medical assistance
Any behaviors that endanger or interfere with another patron's safety or pleasure is strictly forbidden
No organized sports or sporting equipment
Skate with the flow of skaters
Do not stand in the entrance/exit gates
No more than two skaters may join hands
Safety is our Top Priority
If any skater fails to abide by this code of conduct, they will be asked to leave, with no refund.
The ice rink area is under audio and video surveillance 24 hours a day.
Please secure your personal belongs. We are not responsible for lost or stolen articles.
Skate at Your Own Risk

By purchasing an admission ticket and/or entering the ice rink area, you are aware that ice skating involves certain inherent risks which may cause serious injury or death. You freely volunteer to participate, and accept all known and unknown risks while in the ice rink facility. Further, you release the UNMC Ice Rink, its sponsors, its operators and its equipment suppliers against any claims and all liability for any loss, damage, injury or expense you may incur.