Golf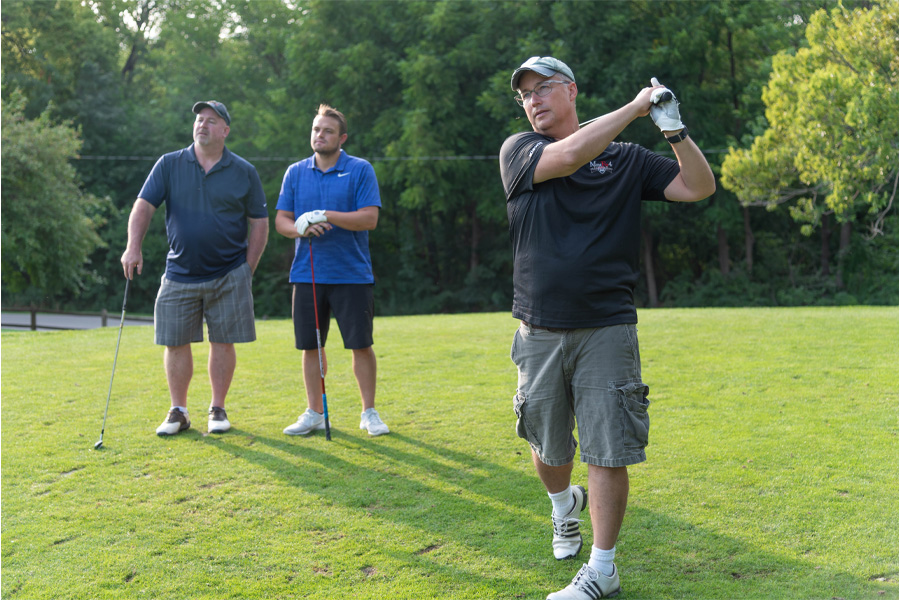 The intramural golf league offers UNMC and Nebraska Medicine faculty, staff, students and families a chance to enjoy the outdoors on the links each week with the added spice of some healthy competition. Golf is an inclusive league with golfers of all skill levels, offering both competition and recreation.
Teams are composed of a minimum of four golfers and a maximum of 10 golfers, giving each team the flexibility to choose the four members who represent the team each week.  The season is played in a round-robin format with each team facing a new opponent every Thursday. Every week, golfers compete against a golfer from an opposing team based on handicaps. For example, the golfer with the lowest handicap on a team will be matched with the lowest-handicapped golfer on the opposing team to compete for one medal and one match point. 
Individual Handicaps
Handicaps will be determined based on a player's gross scores from the five most recent outings. Returning players will begin the new season with a handicap taken from the average of their past three seasons. New players will not have handicaps for their first two nights. On each of their first two nights of play, new players will be given temporary handicaps (calculated based on their gross score that night). Following their second night of play, new players will be able to find their handicaps on EZLeagues or on the weekly sheets posted at Elmwood.
Prizes
Teams compete for intramural championship T-shirts, which are awarded at the end of the summer. In addition, the team with the best record over the course of the season will be immortalized on the traveling trophy, which is theirs to keep during the year of their reign.
League Play
Available: May through August
Length of Season: 12+ weeks 
Matches: Nine holes, split evenly between front nine and back nine
Team Composition:
Weekly matches are four vs. four
Teams may be co-recreational; there are no restrictions based on gender
Each team may have between four and 10 players on its roster.
Division: Handicapped
Team Registration Fee: $60 one-time fee + $72 green fee/week
Late Registration Fee: $70 one-time fee + $72 green fee/week
Participants: Intramural golf teams may have up to three non-UNMC/Nebraska Medicine individuals.