Kickball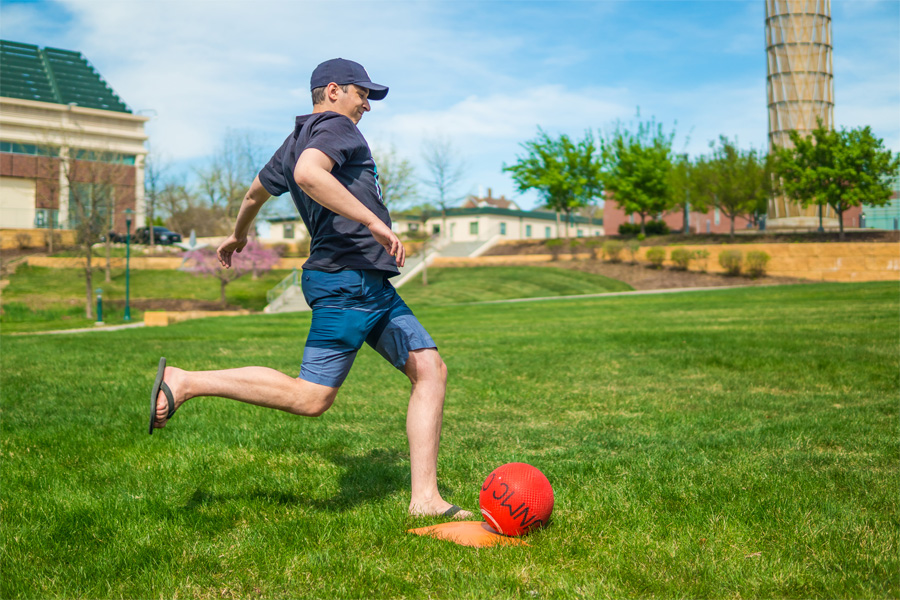 Teams square off at the foot of Hope Tower for intramural kickball. The intramural kickball league offers UNMC & Nebraska Medicine faculty, staff, students, families and close friends a chance to get outside and enjoy the fresh air together at the heart of campus each week with the added thrill of some healthy competition.
This league features a short season, low cost, minimal weekly commitment (45 min games once/week), and convenient location. Teams will compete for the coveted Intramural Championship T-shirts, given out at the end of the summer.
League Format
Summer 2022 Kickball League
League Play
The 2022 kickball league will play on Wednesday evenings from 5 p.m. to 7 p.m. beginning September 7 through October 5. See the full schedule here.
Teams will play at the Ruth and Bill Scott Student Plaza on the Omaha campus. There will be three weeks of regular season play before a two-week playoff tournament.
Registration Deadline: Sunday, September 4
League Play
Games are played on the Omaha campus at the Ruth & Bill Scott Student Plaza, between the Ice Rink and Hope Tower. Teams consist of eight players on the field or in the "batting" order. A minimum of six players (three male and three female) must be present to start/finish a game.
Available: September through October
Length of Season: Five weeks
Divisions: Intermediate
Length of Games: 45 minutes (two 15-minute halves)
Team Composition: Eight+ players
Team Registration Fee: $40
Late Registration Fee: $50
Participants: Intramural kickball teams must be composed of fewer than half of non-UNMC/Nebraska Medicine individuals.