Volleyball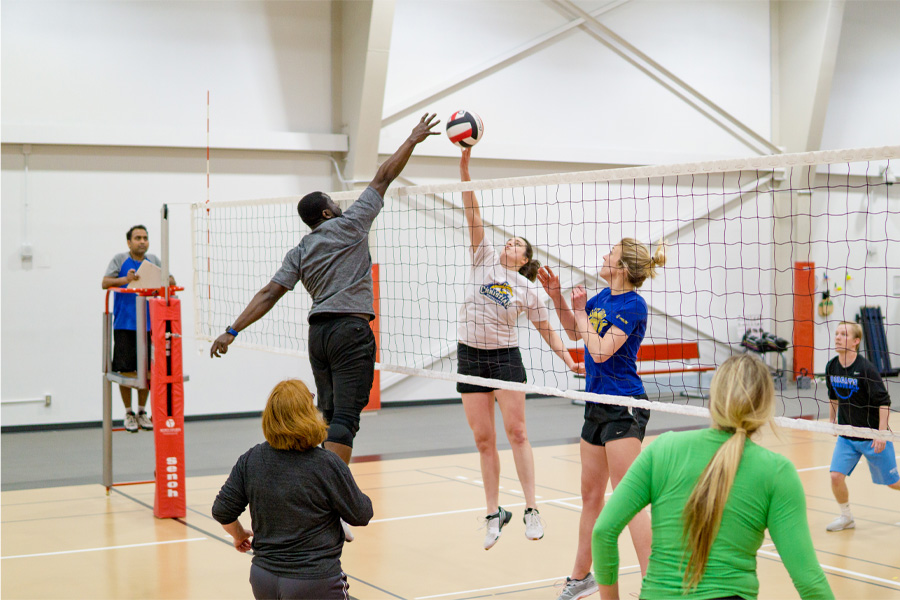 The most popular indoor intramural sport at UNMC, volleyball draws consistently draws around 20 teams each season. Games are played six vs. six (three men and three women per team) and are scheduled at 45-minute intervals. Intervals are played best two out of three sets. The first two sets are played to 25 points and the third set is played to 15 points in the regular season and 25 points in the playoffs.
Since the league is co-recreational, teams may not play with more than three men on the court. A minimum of four players (with at least one woman) must be present to start/finish a match. There will be an official present for all games who is responsible for keeping score.
Season Format
The regular season phase is composed of five weeks of round-robin play and one guaranteed BYE week. A team's results during the regular season determine seeding for the postseason playoffs, a single-elimination tournament. The team that wins the postseason tournament is awarded intramural championship T-shirts on the final night of the tournament.
League Play
All leagues are self-officiated (no referees) until playoffs.
Available: March through April, October through November
Length of Season: Six to eight weeks
Divisions: Recreational, Intermediate, and Elite
Length of Games: 45 minutes (play to 25 points, best two out of three)
Team Composition: Six players, co-recreational (maximum 15 players)
Team Registration Fee: $20
Late Registration Fee: $30
Participants: Intramural volleyball teams must be composed of less than half of non-UNMC/Nebraska Medicine individuals.