Rebecca Oberley-Deegan, PhD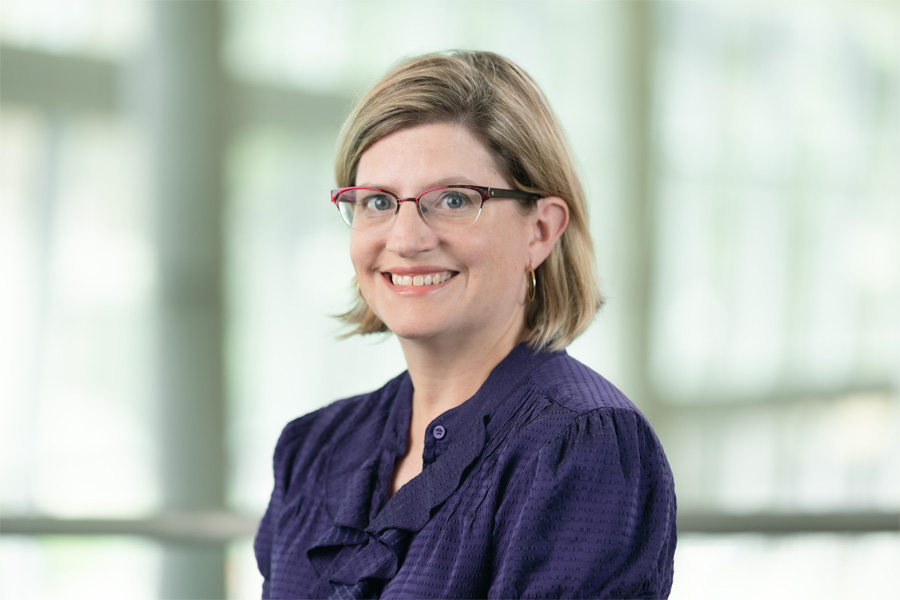 The focus of Dr. Oberley-Deegan's laboratory is to reduce side effects associated with cancer therapy. Our main goal is to reduce radiation and chemotherapy induced toxicity to normal tissues while not protecting the tumor cells from being killed by these therapies.
We have 5 main areas of focus in our laboratory:
Protection of normal tissues undergoing radiation therapy
Understanding the role of metabolic disorders in radiation toxicities
Protection of normal tissues exposed to chemotherapy
Determine the role of tumor progression when mitigating normal tissue toxicity
Clinical trials in Anal Cancer and Rectal Cancer using a promising new radioprotector.
Dr. Oberley-Deegan's laboratory is involved in several clinical trials currently ongoing at UNMC. There are two Phase II trials ongoing to investigate the role of a catalytic antioxidant as a radioprotector for anal and rectal cancer patients. There is an observational trial open to correlate adipose health and adiponectin levels to radiation-induced toxicities.
Education
B.A. Grinnell College, Grinnell, Iowa - 1999
PhD University of Iowa, Iowa City Iowa - 2004
Postdoctoral training at National Jewish Health, Denver, CO
Research Opportunities
Currently accepting new graduate students and/or MD-PhD students
Clinical Trials
Dr. Oberley-Deegan's laboratory is involved in several clinical trials currently ongoing at UNMC.
Radiation toxicity
Fibrosis and cancer have been described as unsuccessful attempts at wound healing. Both processes begin with the de-differentiation of normal cells, resulting in uncontrolled proliferation and remodeling of the extracellular matrix. Reactive oxygen species (ROS) are thought to be one of the main drivers for both fibrosis and cancer progression. Elevated ROS, through radiation exposure, promotes epigenetic modifications of prostate cancer cells leading to a more aggressive tumor. Radiation also epigenetically modifies normal fibroblasts into myofibroblasts, which results in aberrant extracellular matrix deposition and ultimately causing fibrosis. Dr. Oberley-Deegan's laboratory is focused on understanding the mechanisms by which ROS promote radiation induced fibrosis and prostate cancer progression through epigenetic modulation. Her research has shown that scavenging radiation-induced ROS, through the addition of a novel catalytically active antioxidant, results in the protection of fibrosis of normal tissues following radiation and enhanced sensitivity of tumors to radiation.
Metabolic disorders and radiation toxicity
Diabetics and obese cancer patients tend to suffer more radiation toxicities. Her lab is interested in understanding the role of metabolism in radiation damage. Dr. Oberley-Deegan's lab has identified that healthy adipose tissues secrete a protein, adiponectin, that promotes an anti-fibrotic, anti-inflammatory, and reduced redox environment. When adiponectin is added exogenously, radiation damage is significantly reduced. Diabetics and obese individuals have significantly lower levels of serum adiponectin and her lab hypothesizes that this could be one of the reasons as to why these groups of patients suffer from more radiation toxicities for their cancer treatments. The goal of this project is to understand how adiponectin and other metabolites secreted by adipose tissues play a role in radiation-induced toxicities.
Chemotherapy toxicity
Chemotherapy can result in severe toxicity to normal cells during treatment for cancer, such as bone marrow suppression and cachexia. This toxicity can be so severe that therapy has to halt for these patients and currently there are no treatment for these side-effects. ROS is a major driver of these chemotherapy-induced toxicities, which result in cell death and tissue atrophy. Dr. Oberley-Deegan's laboratory has demonstrated that reduction of ROS leads to reduction of chemotherapy-induced toxicity of normal tissues. Currently, her lab is further elucidating the mechanisms by which ROS causes toxicity through chemotherapy use in cancer patients.
Tumor progression
In order to protect from radiation or chemotherapy toxicity, the tumor tissue still needs to be selectively killed. The Oberley-Deegan is currently working with in vitro and in vivo models of prostate and colorectal cancer to further understand the role of ROS in the progression of cancer growth and cancer killing in combination with radiation, chemotherapy, or immune check point inhibitors.
Department of Biochemistry & Molecular Biology
University of Nebraska Medical Center
985870 Nebraska Medical Center
Omaha, NE 68198-5870