MD-MBA Program
A combined MD-MBA degree equips you with the tools you need to become highly skilled in both management and medicine.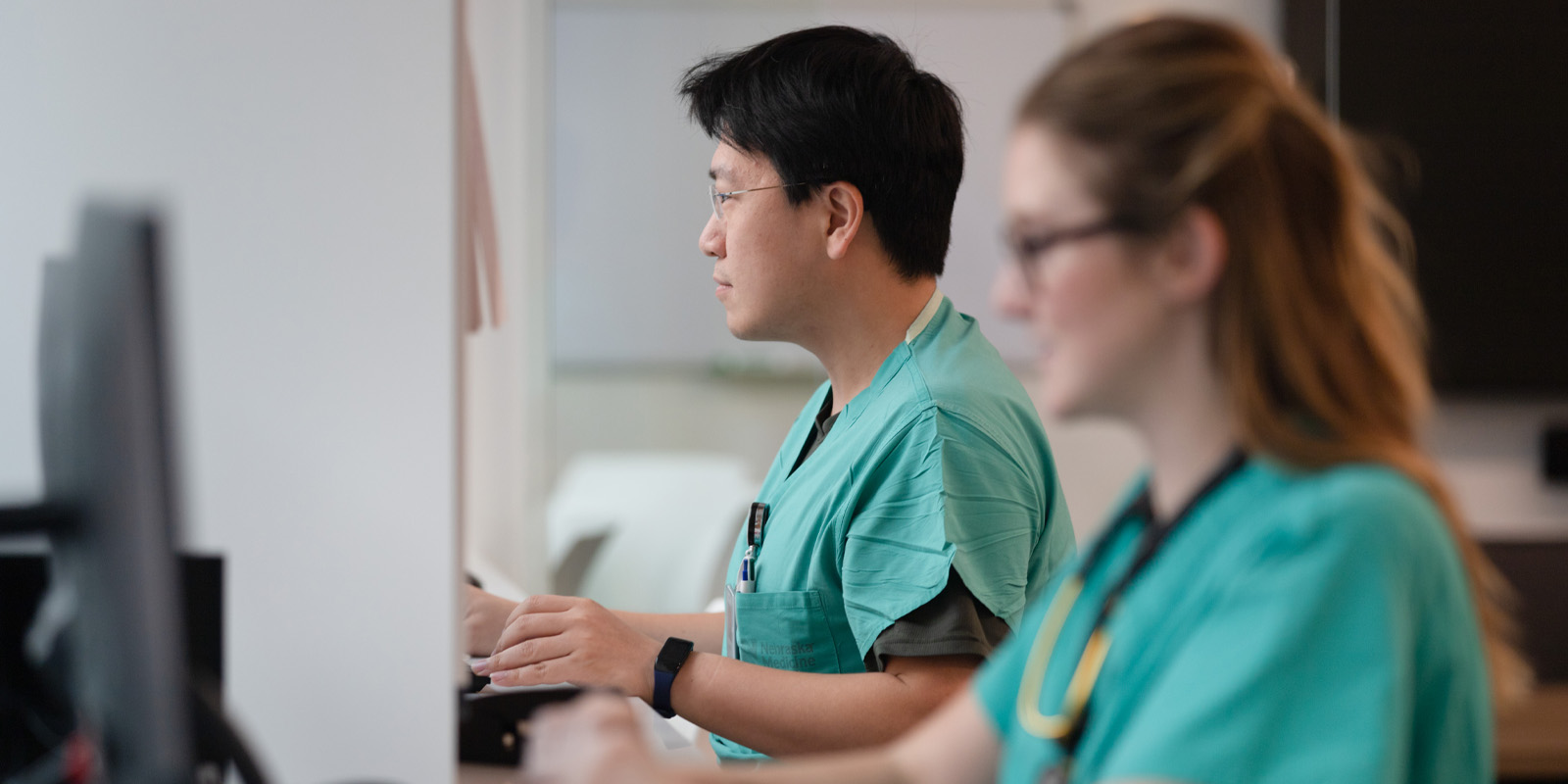 Why Study Medicine and Business Together?
Health care is more than just medicine. It is a service rendered in a rapidly and continuously changing environment. A combined MD-MBA degree gives you the tools you need to become a highly skilled physician leader. You'll become proficient in both management and medicine, able to lead and manage teams.
MD-MBA graduates increasingly take on management, administrative and leadership positions as they advance in their careers. You'll have increased job security, flexibility and acceleration, with the chance to make a big difference in medicine.
Why Study Medicine and Business at UNMC?
The MD-MBA dual degree program is a collaboration between UNMC, a globally recognized leader in medical education, and the University of Nebraska Omaha nationally ranked MBA program.
You'll learn from expert faculty, engage with a diverse group of students and put learning into practice. You'll benefit from a focus on health care policy, practice improvement and leadership — and the broader business lens beyond health care. You'll develop expertise in marketing, customer service, accounting, financial stewardship, business strategy and business analytics.
MBA Curriculum
Complete an MBA with 33 hours of specified graduate course work. Students with non-business backgrounds also complete foundation requirements in accounting and economics and attend two MBA Leadership Speaker Series evening events.
Concentration in Health Care Management
You may transfer UNMC's Phase I Blocks, including Fundamentals (5 credits) and Circulatory, Respiratory, Renal and Neuroscience (1 credit) each to fulfill MBA elective requirements (9 credits) and earn a concentration in Health Care Management.
Dual Degree Support
UNMC's medical adviser will work with you to make sure you are making steady progress toward completion of the MD degree. UNO's MBA adviser will ensure you are completing the MBA requirements in a timely manner.
Careers and Outcomes
The dual degree opens up expanded career opportunities in many different areas of health care. An MD/MBA dual degree gives you a competitive edge and enhanced salary potential.
Job Opportunities
Hospitals
Physician practice management
Health departments
Biotech startups
HMOs
Pharmaceutical companies
Consulting
All applicants must apply and be accepted into each of the two programs. You will be evaluated by each degree program in separate admissions processes. Admission into either program does not guarantee admission into the other program.
Related Programs
Students interested in this program may wish to explore: