Service Learning
Medical students play a key role in improving the health of patients and their communities. Active participation in experiences that focus on community needs provide critical opportunities to understand the effects of the environment on patient wellbeing, reflect on one's role in society, apply skills and knowledge gained in medical school, and develop of a sense of caring for others. Further, service learning provides students a means to demonstrate altruism and their sense of duty (COM Program Objective 5.0).
The COM Curriculum Committee requires students to report on the service learning/community service activities in which they have participated on an annual basis. Collection of this information is not only necessary to meet accreditation requirements but will be provided to the Office of Academic and Student Affairs for inclusion in your Medical Student Performance Evaluation (MSPE) and may be used for additional recognition.
Service-learning activities are those that are intended to improve the quality of life for community residents or to solve problems related to their needs. Activities to report include those sponsored by UNMC/COM organizations or undertaken independently. They may or may not involve direct patient care.
Students are required to complete the service-learning requirement checklist in OASIS. Service-learning activities may be logged as they occur. As a reminder, annual reporting of service learning/community service activities is a graduation requirement.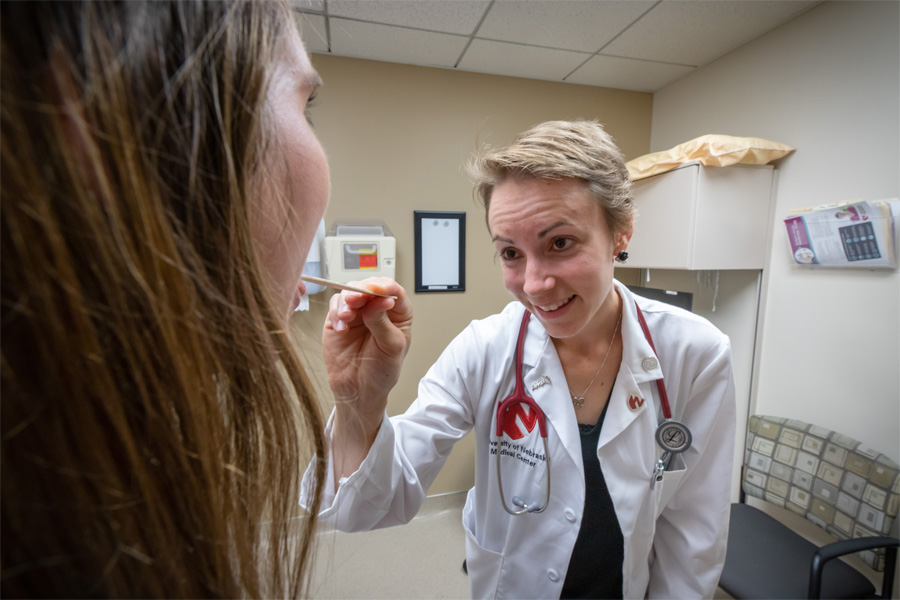 SHARING clinic is a student-run clinic designed to provide free and low-cost healthcare to underprivileged populations in the Omaha area.
What counts as service learning?
Whatever you did that you feel improved the quality of life or solved problems for people in the community. They can be activities performed with UNMC clubs/organizations, groups outside of UNMC, or on your own; they do not need to involve patient care activities or even be related to medicine. Examples range from participating in SHARING to taking part in a park cleanup.
What if I didn't complete any service activities during that time?
That's perfectly fine. You still need to complete a report in OASIS. Simply enter the date you fill out the report and select "No" for the first question.
What if I took part in multiple service learning activities?
Fill out a separate report in OASIS for each to get "credit."
What if I'm on a Leave of Absence or have stepped out of the curriculum as a part of a dual degree program (MD/PhD, MD/MPH, etc.)?
You are exempt from this requirement while you are not in the curriculum.
Are there other benefits to service learning?
Not only are you playing a part in our accreditation efforts, but you may be eligible for a service-learning award at the end of your fourth year. We also share this information each year with Drs. Grant and Erickson to include in your Dean's letter.