Ashley Wysong, MD, MS
William W. Bruce, MD, Distinguished Chair
Founding Chair, UNMC Department of Dermatology
Professor, Department of Dermatology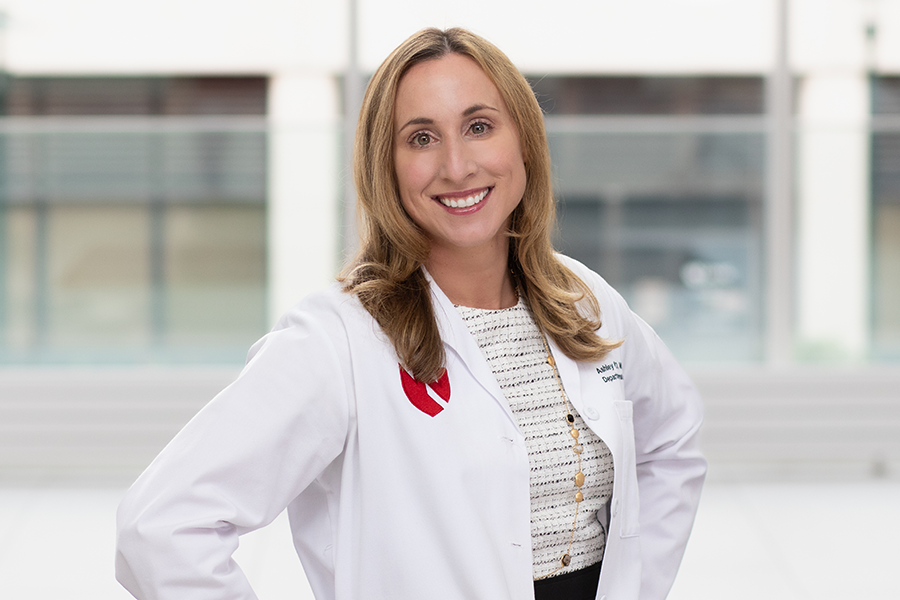 Ashley Wysong, MD, MS, is the UNMC Department of Dermatology's Founding Chair, Professor, and William W. Bruce, MD, Distinguished Chair of Dermatology. She is an accomplished leader, a nationally recognized Mohs micrographic surgeon, a translational skin cancer researcher, a skilled lecturer, and a dedicated educator and mentor. Dr. Wysong serves as Director of the Skin Cancer Program at the Fred & Pamela Buffett Cancer Center. She holds courtesy appointments in Otolaryngology Head & Neck Surgery and Pathology & Microbiology in the College of Medicine as well as Epidemiology in the College of Public Health. Dr. Wysong is a member of the Graduate Studies Faculty at the University of Nebraska in Cancer Biology, where she mentors Ph.D., masters, and other students.
Dr. Wysong has an outstanding educational background receiving her B.S. in biology, psychology, and chemistry at the University of Missouri. She was also a 6-Time All-American and National Champion in Track and Field. After running professionally for Nike, Dr. Wysong obtained her master's degree in Epidemiology from Stanford University's Department of Health Research and Policy and her medical degree at Duke University School of Medicine. She was valedictorian of her medical school class. Dr. Wysong completed her residency in dermatology at Stanford University, where she was elected to serve as chief resident. Her fellowship in procedural dermatology and Mohs micrographic surgery was completed at Scripps Clinic under the direction of Dr. Hugh Greenway in Mohs surgery, Dr. Victor Ross in laser and cosmetic dermatology, and Dr. Leland Housman in veins. Dr. Greenway, Dr. Wysong's mentor, trained with Dr. Fredrick Mohs, who invented "Mohs" surgery. Before coming to UNMC, Dr. Wysong was the University of Southern California's Director of Mohs Micrographic Surgery and Procedural Dermatology in the Department of Dermatology and the Director of the Multidisciplinary Skin Cancer Tumor Board at the Norris Comprehensive Cancer Center. Dr. Wysong has also served as residency program director in dermatology at UNMC and Medical Director of dermatology at Nebraska Medicine.

Dr. Wysong specializes in Mohs surgery and reconstruction for melanoma and non-melanoma skin cancer. She lectures nationally and internationally on complex facial reconstruction, particularly of large, multi-subunit defects after skin cancer surgery and management of high-risk skin cancer. Dr. Wysong was elected the prestigious "Iron Surgeon" in 2016 by her peers at the American Society of Dermatologic Surgery (ASDS) Annual Meeting. Surgeons compete to receive the audience-awarded gold medal for the best surgical approach to complicated facial reconstruction. Dr. Wysong is a perfectionist in suturing and reconstructing the face after skin cancer removal with Mohs surgery. Dr. Wysong also practices using laser and cosmetic techniques to revise surgical, traumatic, and burn scars. Finally, Dr. Wysong is certified by the American Board of Venolymphatic Medicine (ABVLM) to perform medical and surgical treatment for patients with varicose veins and other vein conditions.
Dr. Wysong has a special interest and expertise in locally advanced and metastatic squamous cell carcinoma and basal cell carcinoma, as well as the treatment of rare skin tumors. As the Director of the Skin Cancer Program at the Fred and Pamela Buffett Cancer Center, she is developing multidisciplinary programs in melanoma/sarcoma, high-risk non-melanoma skin cancer, Merkel cell carcinoma, and cutaneous lymphoma. She was previously the Director of the University of Southern California Multidisciplinary Cutaneous Tumor Board. She is an active participant in the UNMC Melanoma and High-Risk Cutaneous H&N Tumor Boards. Dr. Wysong has significant experience treating skin cancer in high-risk populations such as patients with organ transplants, leukemia/lymphoma, HIV, and other forms of chronic immunosuppression.
As a cancer epidemiologist and translational scientist, Dr. Wysong has a broad background in clinical, translational, and outcomes-based research in high-risk squamous cell carcinoma and is widely published in the medical literature. She is particularly interested in identifying novel genetic mutations in skin cancer that can help predict which tumors can be cured by surgery alone and which tumors are at higher risk for metastasis and death.
Dr. Wysong is active in numerous national societies and currently holds leadership positions as a member of the Board of Directors for the American College of Mohs Surgery (ACMS, 2020-2023) and the Women's Dermatologic Society (WDS, 2018-2022), and Board of Trustees for the Dermatology Foundation. She is Chair of the service committee and the service & education council for the WDS. She serves as a committee member for the ACMS, WDS, ASDS, American Professors of Dermatology (APD), and ACGME. Finally, she is a member of the Leaders Society and serves as the State Chair for Nebraska in the Dermatology Foundation.
Education
Medical School: MS, Stanford University School of Medicine, 2001-2003
MD, Duke University School of Medicine, 2004-2009
Internship: Internal Medicine Duke University, 2009-2010
Residency: Dermatology Chief Resident (2012-2013) Stanford University Stanford, 2010-2013 
Fellowship: Mohs Surgery and Procedural Dermatology ACGME & American College of Mohs Surgery (ACMS) Scripps Clinic, 2013-2014
Department of Dermatology
College of Medicine
University of Nebraska Medical Center
985645 Nebraska Medical Center
Omaha, NE 68198-5645
Contact Gabrielle Jensen with non-medical requests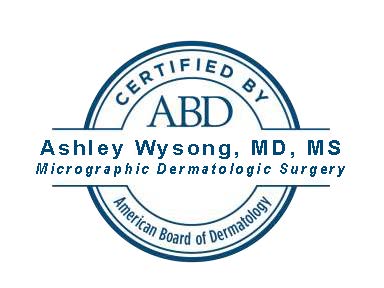 Dr. Wysong in the News