MD-MBA Admissions
The practice of medicine is increasingly team-focused, making leadership, management and team skills vital to success in practice. Additionally, knowledge of effective business practices is essential for physicians to function effectively in a rapidly and continuously changing health care environment. To this effect the University of Nebraska at Omaha, College of Business Administration (UNO CBA) faculty has collaborated with faculty and students at UNMC to create a structure that allows medical students to obtain both an MD degree and an MBA degree as efficiently as possible.
To be eligible for enrollment in the UNO MBA program, the UNMC student must:
Be in the top 50% of his/her medical school class;
Secure approval from UNMC advisor, Dr. Chandrakanth Are;
Secure approval from the UNO MBA advisor;
Complete UNO's Application for Graduate Admission; and
Submit required transcripts, test results and a résumé. MCAT scores will be accepted in lieu of GMAT scores.
Completing a UNO MBA degree requires 33 hours of specified graduate course work (students with non-business backgrounds must also complete foundation requirements in Accounting and Economics) and attendance at two MBA Leadership Speaker Series evening events.
Students completing the UNO MBA may transfer UNMC's Phase 1 Blocks, including Fundamentals (5 credits); and Circulatory, Respiratory, Renal, and Neurosciences (1 credit) each to fulfill MBA elective requirements (9 credits) and earn a concentration in Health Care Management. Transfer and application of "professional" credits from UNMC to the UNO MBA program will take place upon completion of the MD degree.
The UNMC medical school advisor for the MD-MBA dual degree program, Dr. Are, will work with students to ensure they are making steady progress toward completion of the MD degree while the UNO MBA advisor will work with students to ensure that they are completing the MBA requirements in a timely manner. The MBA degree will be pursued after the third academic year of medical school.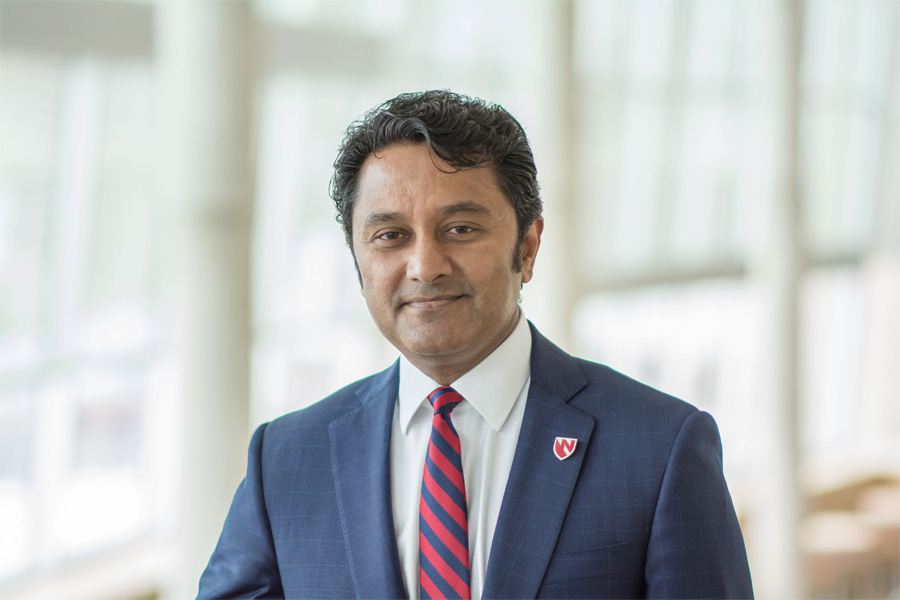 Chandrakanth Are, MD, MBA, FRCS, FACS
Vice Chair of Education
Associate Professor, Surgical Oncology