E-Learning Lab & Equipment Checkout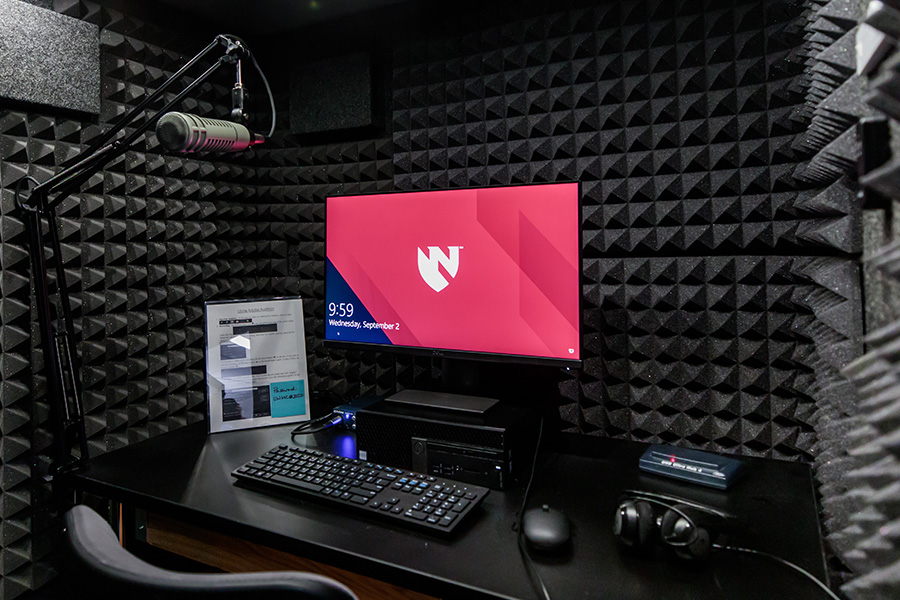 Take advantage of free services and equipment in the E-Learning Lab.
The E-Learning Lab provides developers with the tools they need to create their projects. There is no cost to use it or check out equipment.
The Lab is open 24/7 and is located in the McGoogan Health Sciences Library, Room 6040. Take a right when you get off the elevators on the sixth floor of Wittson Hall. You need to use your ID badge to enter the Lab.
Home of the E-Learning Team
The E-Learning team is also housed in the Lab and is available for consultations or to help with EZStudio reservations, Whisper Recording Room reservations and equipment checkout. Email us to set up a consultation or reservation. 
Open Daily
The E-Learning Lab is staffed from 8 a.m. to 4:30 p.m. Monday through Friday. Outside of staffed hours, the Lab is available during normal McGoogan Health Sciences Library hours; your ID badge is required to gain entrance to the Lab.
In-person visits and consultations are available by appointment only. Email us to set up an appointment.
Experienced Staff
The E-Learning Lab is home to an expert team who are ready to consult with faculty, students and staff regarding educational technologies and instructional design. 
The lab is also staffed with lab assistants on weekdays to provide guidance on software and equipment checkout. 
Email us to set up an in-person or Zoom appointment.
Video & Audio Recording Tools
The E-Learning Lab has everything you need (on site or to check out) for recording polished video and audio:
All-in-one video recording studio (located on same floor as the lab)
Audio recording room for high-quality audio production
Camcorders, USB and wireless microphones for checkout
Professional lighting setup for checkout
Email us to set up an appointment.
On-Site Equipment
To help you create your e-learning materials, the studio is fully equipped with:
PC and Mac computers
22' Wacom Cintiq HD interactive graphic display
Audio recording room for high-quality audio production
Available software includes Articulate Storyline 360, Camtasia, Adobe Creative Cloud and Microsoft Office.
Equipment for Checkout
Check out equipment and use it at the time and place convenient for you. Equipment can be checked out for up to seven days. This includes:
PC laptops with Articulate Storyline 360
HD video cameras
Digital SLR camera
360 digital camera
USB and wireless microphones
Professional lighting kit
Tripods
Pop-up green screen kit
Portable Wacom Cintiq interactive graphic display
Email us to check out equipment.