Michael Wadman, MD
Global Center for Health Security Scholar
Department of Emergency Medicine
UNMC College of Medicine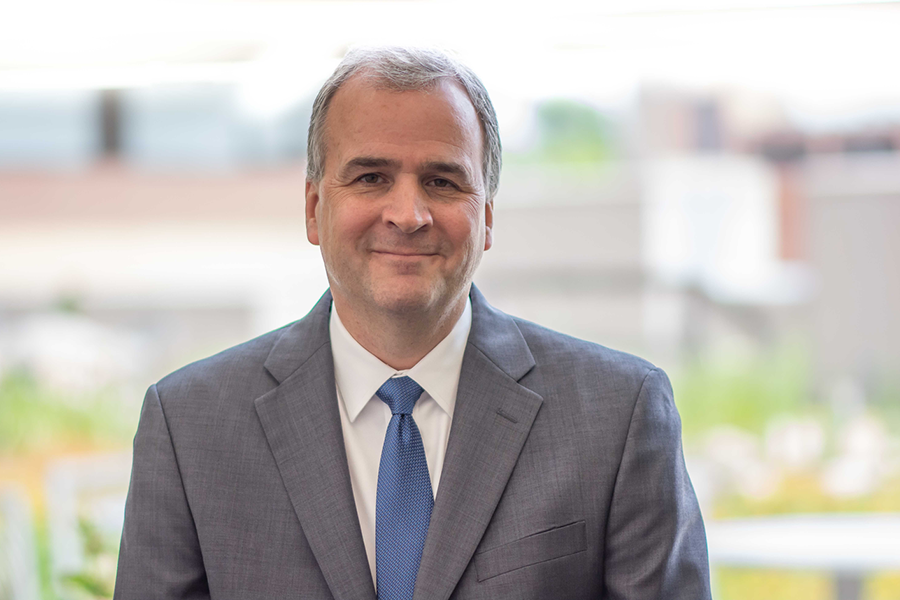 Michael C. (Mike) Wadman, MD, FACEP is an Emergency Physician with over 30 years of experience in an urban, academic medical center emergency department (ED) that serves as the regional tertiary referral center and ACS Level 1 Trauma Center.  He is a Professor of Emergency Medicine (EM) with Tenure, Chair of the Department of Emergency Medicine at the University of Nebraska Medical Center (UNMC), and holds an endowed chair position, the Robert L. Muelleman, MD Distinguished  Chair of Emergency Medicine. Dr. Wadman also serves as the Medical Director of the National Quarantine Unit (NQU) at UNMC, the only federally supported quarantine unit in the country.
Dr. Wadman received his undergraduate degree in biological sciences from the University of Chicago.   He received his  medical degree from the University of Nebraska College of Medicine and then completed an internship in EM at the University of Cincinnati Medical Center, and EM residency at Truman Medical Center/University of Missouri-Kansas City, where he also served as chief resident.
Dr. Wadman was the founding Program Director of UNMC's EM residency program, the first in the state.  The program was also the first in the nation to require rural emergency department clinical rotations.  He co-authored the Rural EM curriculum template for the American College of Emergency Medicine (ACEP) and continues to advocate for rural EM education issues. He also served as Vice Chair of Education in the Department of Emergency Medicine and Associate Dean for Graduate Medical Education (GME) and Designated Institutional Official (DIO) for UNMC with oversight responsibility for over 50 GME programs educating over 500 residents and fellows.
His service to national EM organizations includes American Board of Emergency Medicine (ABEM) representative to the Model of Clinical Practice of Emergency Medicine task force, ABEM Oral Board Examiner, Chair of the ACEP Rural Task Force, and Accreditation Council for Graduate Medical Education (ACGME)  Review Committee for EM member.  He is a past President of Nebraska ACEP.    
As NQU Medical Director, he led the team that provided quarantine services for the repatriated Americans from Wuhan, China, and isolation of persons with COVID-19 infections returning from the Diamond Princess cruise ship at the beginning of the COVID-19 pandemic and was among the first emergency physicians in the US to provide ED care to COVID patients.  This NQU and biocontainment work was disseminated globally, resulting in the publication of several manuscripts and textbook chapters providing guidance for the evaluation of the person under investigation for highly infectious disease, effective decontamination and reuse of PPE, and ED processes for patients presenting with possible highly infectious diseases.  Pandemic response also led to innovation/entrepreneurial work in device and software development, resulting in three provisional patents and two licensing agreements.  The NQU stands ready to provide quarantine care for any highly infectious disease and has hosted US citizens exposed to patients with Ebola virus disease while engaged in international healthcare work.
Dr. Wadman has published over 100 original manuscripts and abstracts and over 10 textbook chapters.  His academic interests include ED operations, ED processes for patients with highly infectious disease, rural emergency medicine, airway management and procedural skills education, and academic entrepreneurship.  His outreach activities have focused on procedural skills education for rural emergency medicine providers on both the local and international levels.
He enjoys hiking, skiing, history, nature study, travel, and spending time with his wife of thirty years, Josie, a retired family medicine physician and novice coconut farmer.  They have three adult daughters working in medicine, law, journalism and fashion.