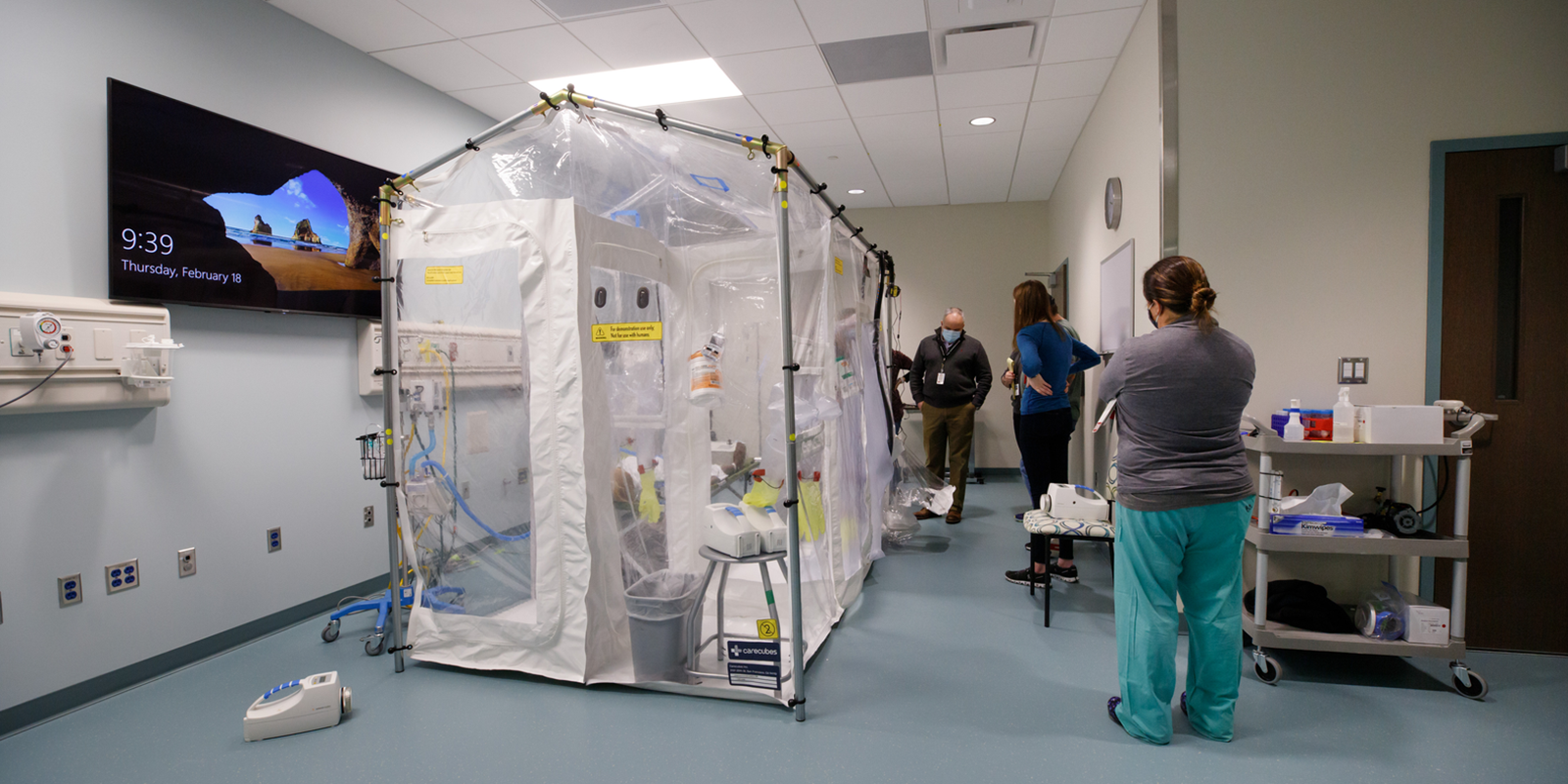 We use our expertise to fight Highly Hazardous Communicable Diseases, and creating a network to prepare for and respond to high-consequence infections.
This work includes a clinical trials network and rapid exchange of information during international pandemics, as well as improving the treatment and survival of sepsis in African and Asia. Whether through on-the-ground training or collaborations on life-saving research, the Global Center for Health Security's research programs are making a difference – for right now and for future generations.
Our training programs include collaborations with other academic health centers, the federal government and projects around the world. 
Collaborators and Partners
Global Infectious Disease Preparedness Network
Partnering with institutions with high-level isolation units in Singapore, Germany, South Korea and China, we are are developing a clinical trials network and clinical response force to ensure a rapid exchange of information and resources during pandemics. The goal: Local and worldwide health system and public health preparedness.
Region VII Emerging Special Pathogen Treatment Center
The Region VII Emerging Special Pathogen Treatment Center (RESPTC) is located within University of Nebraska Medical Center and Nebraska Medicine. As the RESPTC for the Region VII area, the Nebraska Biocontainment Unit is prepared to care for patients with highly hazardous communicable infectious diseases and has committed to sharing our knowledge and expertise by providing educational offerings. The education will be delivered in multiple formats such as courses, webinars, videos, and zoom conversations with experts on relevant topics.
Learn More
Austere Environment Consortium for Enhanced Sepsis Outcomes
We're part of a multinational, multidisciplinary team composed of military and academic institutions in the U.S., Uganda, and Ghana, with clinical research sites in Africa and Asia. The consortium works to improve treatment and survival for sepsis patients under resource-limited conditions.
Learn More
Region VII Disaster Health Response Ecosystem
The goal of this project is a flexible, self-organizing Region VII Disaster Health Response Ecosystem that will provide a grassroots readiness network during a "Disease X" or special pathogens outbreak. This is one of two demonstration projects nationwide charged by the Office of the Assistant Secretary for Preparedness and Response.
More About the Project
Special Pathogens Research Network
This network puts regional treatment centers and biocontainment units across the country on the same page to share findings and standardize research training and protocols for the study of emerging infections. The network is part of the National Emerging Special Pathogens Training and Education Center, under the U.S. Assistant Secretary of Preparedness and Response and the Centers for Disease Control and Prevention.
More About the Network
Nebraska Drug Development Pipeline
This National Strategic Research Institute project aims to turn the University of Nebraska into what one UNMC scientist calls "a virtual pharmaceutical company." The Defense Health Agency, in collaboration with Armed Forces Radiobiology Research Institute, has tasked the National Strategic Research Institute with moving potential drug candidates toward clinical trials – and funded the effort with a five-year, $11 million grant.
National Strategic Research Institute 
Center for Staphylococcal Research
Nationally-lauded clinicians and scientists work on innovative strategies – for example investigating how ultrasound-mediated microbubbles, when combined with antibiotics, can be used to knock staph bacteria biofilm away from heart valves – for fighting deadly staph infections. This is the nation's first research center dedicated to staphylococcal research and translational treatment strategies.
More About the Center
Bioinformatics Research Education Pipeline
We're preparing the next generation of talented young scientists ready to step up to work in Department of Defense next-generation sequencing technologies for immunology, genomics and infectious disease research. Bioinformatics Research Education Pipeline products will protect U.S. service members from biological threats and test deployable therapies.
U.S. Army Medical Research Institute of Infectious Diseases.
Nigeria Biopreparedness Initiative
When Nigeria reached out to the U.S. government for expertise in preparing for an Ebola outbreak, the Department of Defense turned to UNMC and the Global Center for Health Security. The result was the Nigeria Biopreparedness Initiative, a collaboration of the Joint Africa Research Group, U.S. and Nigerian military, and other affiliated researchers and clinicians. Nigerian clinicians have since been trained in the "Nebraska Method" for health system preparedness and safely treating high-consequence infections.
Capabilities
Educational & Training, Research, and Clinical Capabilities