Benson J. Edagwa, PhD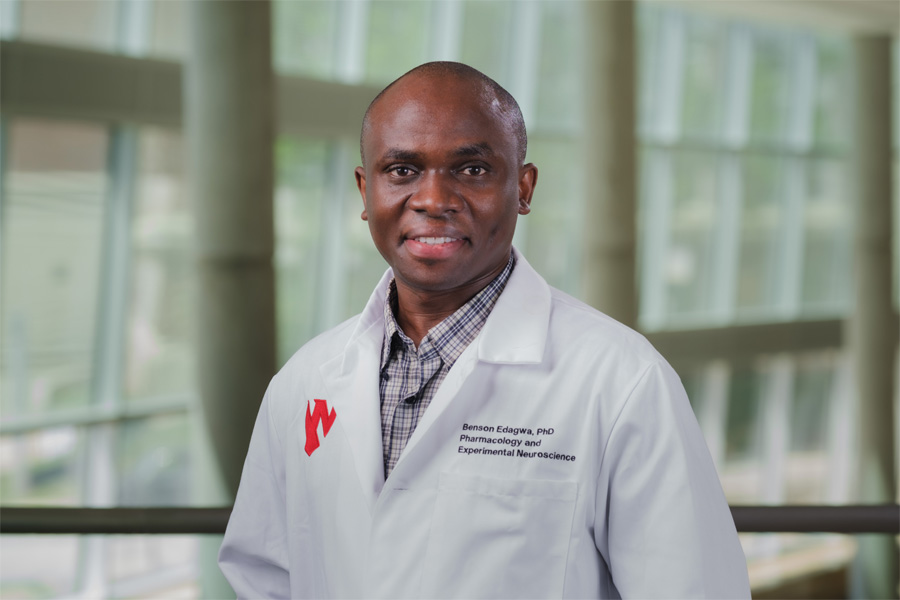 Research
The goal of Dr. Benson Edagwa's research is to transform antiretroviral therapies into novel long-acting safe medicines to facilitate prevention and treatment of hepatitis B (HBV) and HIV infections. His volunteer experiences in helping patients living with HIV/AIDS in Africa shaped his career goals. Benson has an extensive background in drug delivery, medicinal chemistry, and pharmacology that includes development of new strategies for the synthesis of biologically active natural products and their unnatural analogs. He has equal expertise in the design, development, and evaluation of formulations for other chronic conditions such tuberculosis, malaria and substance use disorders (to manage the opioid crisis).
Benson co-invented long-acting slow effective release antiretroviral therapy (LASER ART) regimen that could potentially enable dosing of antiretroviral therapies once or twice a year. Combinations of LASER ART with gene editing (CRISPR Cas9) technologies demonstrated the first HIV cure in humanized mice.
Benson is listed as an author or major contributor to over 55 published or submitted biomedical papers in peer-reviewed journals, 51 issued or pending US patent applications. He co-founded Exavir Therapeutics Inc., a startup biotechnology company that is focused on clinical development of ultra-long-acting therapies for treatment and prevention of viral infections, CNS disorders and opioid addiction. Benson has mentored and continues to train high school students, undergraduate and graduate students.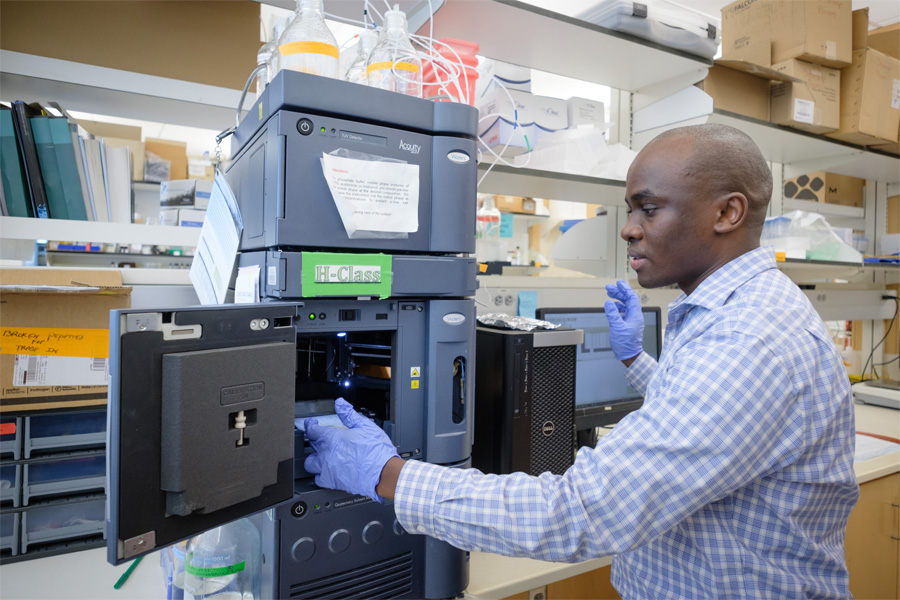 Dr. Edagwa's lab developed a novel means to prevent HIV infection that could allow people with or at risk of acquiring the virus to take medicines once a year. The advance has the potential to eliminate complications that arise from missing doses of life-saving medicines, according to the study published April 27 in Nature Materials, a leading peer-reviewed biomedical research journal.
Education
PhD in Organic/Medicinal Chemistry, Louisiana State University, 2012
Academic and Other Appointments
2020–Present: Associate Professor, UNMC
2021–Present: Co-Founder, Exavir Therapeutics Inc.
2017–2020: Assistant Professor, UNMC
2016–2017: ViiV Healthcare Distinguished Scientist
2016–2017: Instructor: PEN Department, UNMC
2015–2016: ViiV Healthcare Research Scholar in Antiretroviral Therapeutics       
2014–2015: GlaxoSmithKline Fellow
2012–2014: Postdoctoral Research Associate, UNMC
Recognition
2023: Distinguished Scientist Award, UNMC
2023: UNMC Nebraska Neuroscience Basic Science Research Award
2022: Start-up of the Year Award, UNeMed Corporation, UNMC
2022: Significant contribution in the battle for an HIV/AIDs cure, Nebraska Coalition for Life Saving Cures
2022: Inventors with issued patent(s) (five US patents issued), UNeMed Corporation, UNMC
2022: New Invention Notifications, Patent Applications, UNeMed Corporation, UNMC
2021: Successful commercialization of Long-Acting Therapeutics & Gene Editing Technology for HIV, UNeMed Corporation, UNMC
2020: Innovator of the Year Award, UNeMed Corporation, UNMC
2020: Nickolus Badami Fellowship in HIV/AIDS Research
2019: New Investigator Award, UNMC
2019: Emerging Innovator of the Year, UNeMed Corporation
2019: Board Member, University of Eldoret Endowment Trust, University of Eldoret, Kenya
2019: African Leadership Summit Award
2018: UNeMed Research Innovation: New Invention Notifications, Patent Applications
2016: ViiV Healthcare Distinguished Scientist
2015: UNeMed Research Innovation: New Invention Notifications, Patent Applications
2015: ViiV Healthcare Research Scholar in Antiretroviral Therapeutics
2014: GlaxoSmithKline Postdoctoral Fellowship
2014: Young Investigator Scholarship, CROI Foundation
2013: Silver U Award, UNMC
2012: Teaching Assistant Scholar Award, Louisiana State University
2011: Kiran Allam International Award, Louisiana State University
2010: Dr. Charles Coates Travel Award, Louisiana State University
Department of Pharmacology and Experimental Neuroscience
Durham Research Center 3066
985800 Nebraska Medical Center
Omaha, NE  68198-5800