Ronald R. Krueger, MD, MSE
McGaw Professor and Chair, UNMC Department of Ophthalmology and Visual Sciences
Director, Stanley M. Truhlsen Eye Institute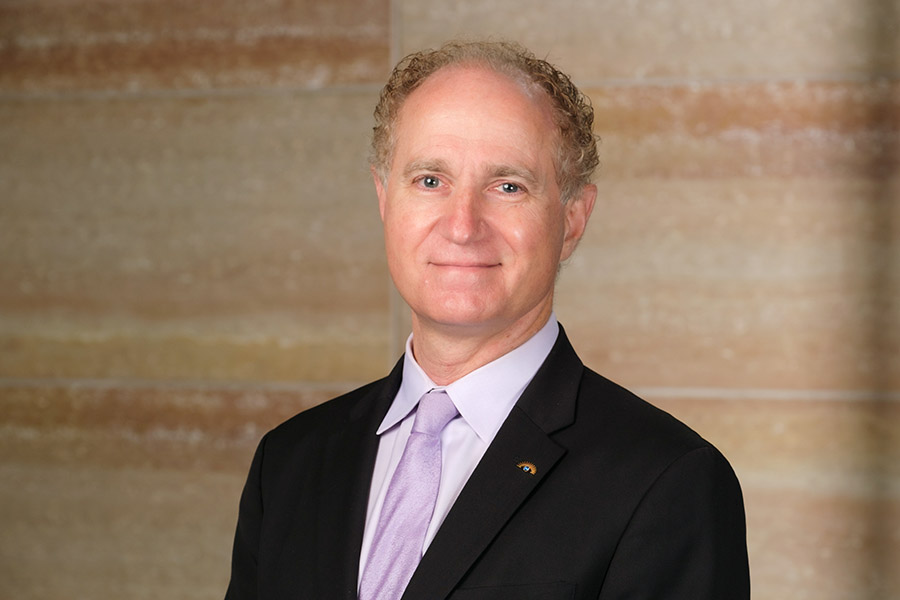 Dr. Krueger became the McGaw Professor and Chair of the Department of Ophthalmology and Visual Sciences at UNMC and the Director of the Truhlsen Eye Institute in 2019, after spending 20 years as a professor and director of Refractive Surgery at the Cleveland Clinic Cole Eye Institute.
His medical degree is from the UMDNJ-New Jersey (Rutgers) Medical School, and he completed an ophthalmology residency at Columbia Presbyterian Medical Center. After completing two fellowships in cornea and refractive surgery at the Universities of Oklahoma and Southern California, he joined St. Louis University for five years before joining the Cleveland Clinic.
He performs clinical trials research in laser vision correction and lens implantation.
He provides clinical care through UNMC's primary clinical partner, Nebraska Medicine, in keratoconus, cataract and refractive surgery.
Dr. Krueger served as the associate editor of the Journal of Refractive Surgery, and is past president of the International Society of Refractive Surgery (2014-15). He has 200 peer-reviewed publications, numerous named awards, and has lectured in more than 45 countries around the world.
Education
BS: electrical engineering, Rutgers University, 1982
MSE: bioengineering, University of Washington, 1983
MD: University of Medicine and Dentistry of New Jersey (UMDNJ-Rutgers) Medical School, 1987
Internship: transitional, Hackensack Medical Center, 1988
Residency: ophthalmology, Columbia University/Presbyterian Hospital of NYC, 1991
Fellowship: cornea and external disease, University of Oklahoma, 1992
Fellowship: cornea and refractive surgery, University of Southern California, 1993
Business certificate: Physician CEO Course, Northwestern University Kellogg School of Business, 2016
Research
Dr. Krueger's contribution to the science of ophthalmology are in the area of lasers and optics, and include: 1) the first description of the tissue effects of excimer lasers in LASIK, 2) early principles of wavefront optics and customized laser vision correction with annual congresses (20+ years) and two textbooks, and 3) earliest characterization of the effects of ultrashort pulse (femtosecond) lasers on ocular tissues.
His most recent research areas are: 1) corneal tissue addition procedures for the correction of keratoconus, hyperopia and presbyopia, 2) using femtosecond lasers to safely cut tractional vitreous bands from the retina in a non-externally invasive procedure, in collaboration with UNL Physics Department.
Pioneer in the development of femtosecond laser treatment of the crystalline lens and cataracts, leading to the co-founding of LensAR, Inc. in 2004, and publication of the first textbook on the subject in 2013, "Refractive Laser Assisted Cataract Surgery."
Honors & Awards
2019: ISRS/AAO Lifetime Achievement Award - Refractive Surgery
2018: ISRS/AAO Barraquer Award and Lecture (most prestigious award and lecture in the field of refractive surgery)
2016: AAO Lifetime Achievement Award
2016: ISRS Recognition Award
2015: ISRS Founder's Award
2010: AAO Secretariat Award
2010: "America's Top Doctors" Award, Castle Connolly
2008: Lans Distinguished Award, ISRS/AAO
2007: Kritzinger Memorial Award, ISRS/AAO
2005: "America's Top Doctors" Award, Castle Connolly
Department of Ophthalmology and Visual Sciences
University of Nebraska Medical Center
985540 Nebraska Medical Center
Omaha, NE 68198-5540