Wallace B. Thoreson, PhD
Gilmore Professor, UNMC Department of Ophthalmology and Visual Sciences
Vice Chair and Research Director, Stanley M. Truhlsen Eye Institute
Professor, UNMC Department of Pharmacology & Experimental Neuroscience
Professor, University of Nebraska at Omaha Department of Biology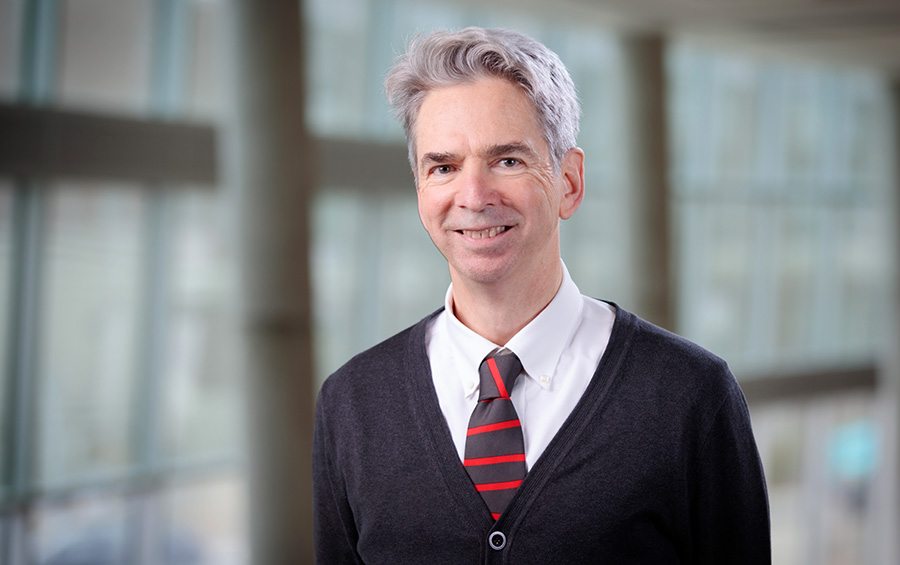 Wallace B. Thoreson, PhD, is the Gilmore Professor of Ophthalmology and Visual Sciences at UNMC, as well as vice chair and research director at the Stanley M. Truhlsen Eye Institute. He also serves as professor of pharmacology and experimental neuroscience at UNMC and professor of biology at University of Nebraska at Omaha.
Dr. Thoreson received his PhD and post-doctoral training from the University of Minnesota before joining the Department of Ophthalmology and Visual Sciences at UNMC in 1993.
Education
Bachelor's: Carleton College, Northfield, Minnesota
Master's: Cold Spring Harbor Laboratory, New York
PhD: University of Minnesota, Minneapolis
Post-doctoral training: Neuroscience, University of Minnesota, Minneapolis
Research
Dr. Thoreson's lab uses a variety of state-of-the-art electrophysiological and imaging techniques to study the physiology of retinal neurons in vision.  His particular focus is on the mechanisms by which rod and cone photoreceptor cells transmit their light responses to downstream neurons in the retina.  Neurotransmission at this first synapse in the retina shapes our perception by governing the information available to the visual system. In addition to understanding how these mechanisms shape our perception, these experiments also provide important foundation for the treatment of retinal diseases.  Restoring vision by therapeutic means requires an understanding of the steps that take place during normal vision. Furthermore, damage to many of the proteins involved in neurotransmission from photoreceptors can cause rods and cones to degenerate. Over-stimulation of calcium channels and glutamate receptors at the photoreceptor synapse can also promote neurodegeneration in eye diseases such as glaucoma, stroke, and ischemia.
Department of Ophthalmology and Visual Sciences
University of Nebraska Medical Center
985540 Nebraska Medical Center
Omaha, NE 68198-5540