Matthew J. Van Hook, PhD
Associate Professor, UNMC Department of Ophthalmology and Visual Sciences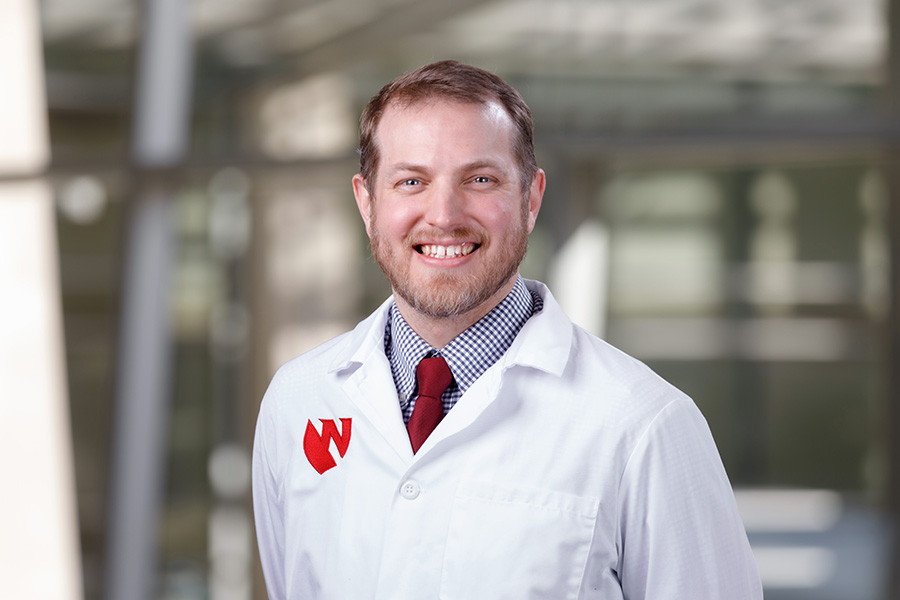 Matthew J. Van Hook, PhD, is an associate professor and neuroscientist in the UNMC Department of Ophthalmology and Visual Sciences. He also holds a courtesy appointment in the UNMC Department of Cellular and Integrative Physiology.
Dr. Van Hook's research explores mechanisms underlying the plasticity and development of the visual system in health and disease.
Education
Bachelor's (AB): Hamilton College, Clinton, New York
PhD: Brown University, Providence, Rhode Island
Postdoctoral Training: University of Nebraska Medical Center, Omaha
Research
The Van Hook group's current research uses innovative neuroscience laboratory approaches including patch-clamp electrophysiology, two-photon microscopy, single-neuron neuroanatomy, optogenetics, and transgenic mouse models to explore how the structure and function of neurons in the retina and brain change during development and neurodegenerative disease. Specifically, they are interested in neuronal signaling by retinal ganglion cells to the dorsolateral geniculate nucleus of the thalamus, a key waypoint for conscious visual information en route to higher visual centers of the brain.
Ongoing research projects seek to determine:
How glaucoma and other neurodegenerative diseases affect retinal ganglion cell synapses in the dorsolateral geniculate nucleus.
How dorsolateral geniculate nucleus neuron structure and function are changed by degeneration of visual signals from the retina.
How eye pressure influences gene expression and immune responses in visual areas of the brain. This work is intended to provide an understanding of how the retina relays visual information to the brain as well as insight into disease mechanisms to inform novel diagnostic and therapeutic strategies for detecting and treating blinding diseases.
Professional Memberships & Activities
Association for Research in Vision and Ophthalmology, 2008 – present
Faculty for Undergraduate Neuroscience, 2013 – present
Society for Neuroscience, 2013 – present
Review Editor on the Editorial Board of Frontiers in Cellular Neuroscience
Scientific Review Committee member for Fight for Sight
Contributor for the RReSTORe Initiative (RGC Repopulation, Stem Cell Transplantation, and Optic Nerve Regeneration)
Honors, Awards & Research Funding
NIH R01 grant EY030507, "Influence of ocular hypertension on neurons and synapses in the visual thalamus"
Research to Prevent Blindness/The Glaucoma Foundation Career Advancement Award
University of Nebraska Foundation Vada Kinman Oldfield Scholar
BrightFocus Foundation National Glaucoma Research Program grant recipient
2020 UNMC New Investigator Award
Department of Ophthalmology and Visual Sciences
University of Nebraska Medical Center
985540 Nebraska Medical Center
Omaha, NE 68198-5540