Bin Duan, PhD
Associate Professor, Division of Cardiovascular Medicine
Mary & Dick Holland Regenerative Medicine Program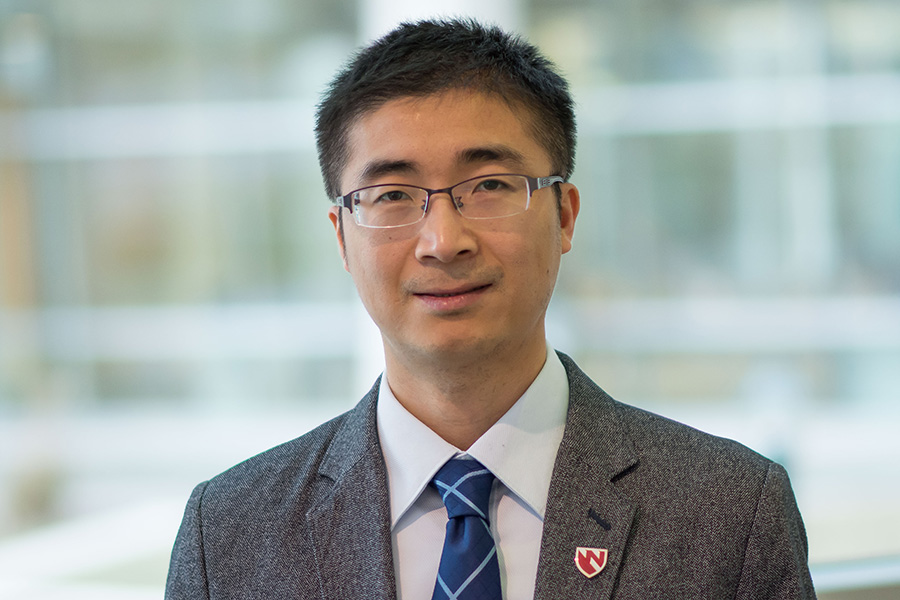 Dr. Duan received his PhD from the University of Hong Kong and his post-doc training in the Department of Biomedical Engineering at Cornell University. He joined the University of Nebraska Medical Center in November 2015.
Dr. Duan's lab focuses on the development of novel biomaterials and advanced biofabrication techniques. The research goal of Dr. Duan's lab is to create multi-scale complexity within engineered tissues to understand the fundamentals of cell-material interactions and mimic the native tissues for tissue regeneration.
Education
BS: Tianjin University, 2003
MS: Tianjin University, 2006
PhD: The University of Hong Kong, 2010
Research
Dr. Duan's lab (Biomaterials, Biofabrication and Biointerface Lab) focuses on
Utilizing biofabrication techniques to fabricate scaffolds with tailored micro- and macroscopic structures for specific tissue regeneration;
Developing 3D tissue constructs/organoids to investigate the pathogenesis of diseased tissue and examining potential therapeutic remedies;
Investigating the interaction of stem cells with defined microenvironments and developing materials-based techniques to control stem cell differentiation.
Division
University of Nebraska Medical Center
Department of Internal Medicine
Division of Cardiovascular Medicine
982265 Nebraska Medical Center
Omaha, NE 68198-2265