Ruxana Sadikot, MD, MRCP(UK)
Margaret R. Larson Chair
Division Chief, Pulmonary, Critical Care & Sleep Medicine Division
Professor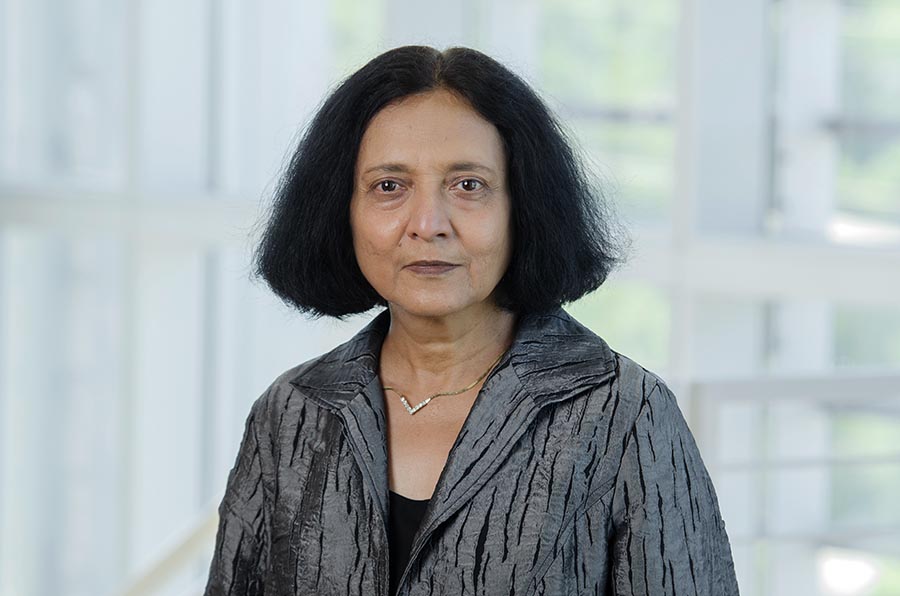 Dr. Sadikot graduated from the Bombay University with a Medical Doctorate following which she continued her medical training in England where she received the prestigious Membership of the Royal College of Physicians (MRCP) of the United Kingdom. She then trained in respiratory medicine at Yorkshire Health Authority in the U.K. and completed a fellowship training in pulmonary and critical care medicine at the Vanderbilt University in Nashville, Tennessee. She was then appointed as an assistant professor (tenure track) in the Division of Pulmonary and Critical Care. After four years she was recruited to the University of Illinois in Chicago where she served as the associate program director for pulmonary and critical care fellowship, Medical Director for the ICU and was tenured and promoted to the rank of associate professor. In 2014 Dr. Sadikot was recruited to the Emory University as a Professor of Medicine and section chief of Pulmonary and Critical Medicine at the Atlanta VA Medical Center. She joined the University of Nebraska Medical Center in June 2021 as the Division Chief for Pulmonary, Critical Care and Sleep Medicine.

Dr. Sadikot's research has focused on defining the lung immune response and mechanism of lung injury. In particular, her research is focused on defining the role of lipid mediators (prostaglandins), PPARgamma, superimmunoglobulin receptor TREM-1 and mitochondrial function in resistant infections such as P.aeruginosa. Her clinical interests include Sepsis, Non-CF Bronchiectasis, and resistant infections such as P. aeruginosa and non-tuberculous mycobacteria. She has published extensively on these topics in high impact peer reviewed journals and book chapters. Dr. Sadikot is funded by the Department of Veterans Affairs, the National Institutes of Health, and the Cystic Fibrosis Foundation.
She serves on the editorial board of several journals and is a senior editorial board member for Nature Scientific Report. Dr. Sadikot serves on several national and international committees. Throughout her career, Dr. Sadikot has received numerous awards for excellence in teaching, patient care and research. Dr. Sadikot has mentored several graduate students, residents, post- doctoral fellows and junior faculty.
Education
Medical School: Bombay University, 1988
MRCP: Royal College of Physicians, London, 1992
Registrar in Respiratory Medicine: Yorkshire Health Trust, University of Leeds, 1996
Residency: University of Arkansas affiliated hospitals, 1998
Fellowship: Pulmonary and Critical Care, Vanderbilt University, 2001
Research
Defining the lung immune response
Mechanism of lung injury 
Division
University of Nebraska Medical Center
Department of Internal Medicine
Pulmonary, Critical Care and Sleep Medicine Division
986450 Nebraska Medical Center
Omaha, NE 68198-6450