Elizabeth Hartman, MD
Associate Professor, General Neurology
Director, UNMC/Nebraska Medicine Neurosciences Center
Chief, Headache Medicine
General Neurology Division Chief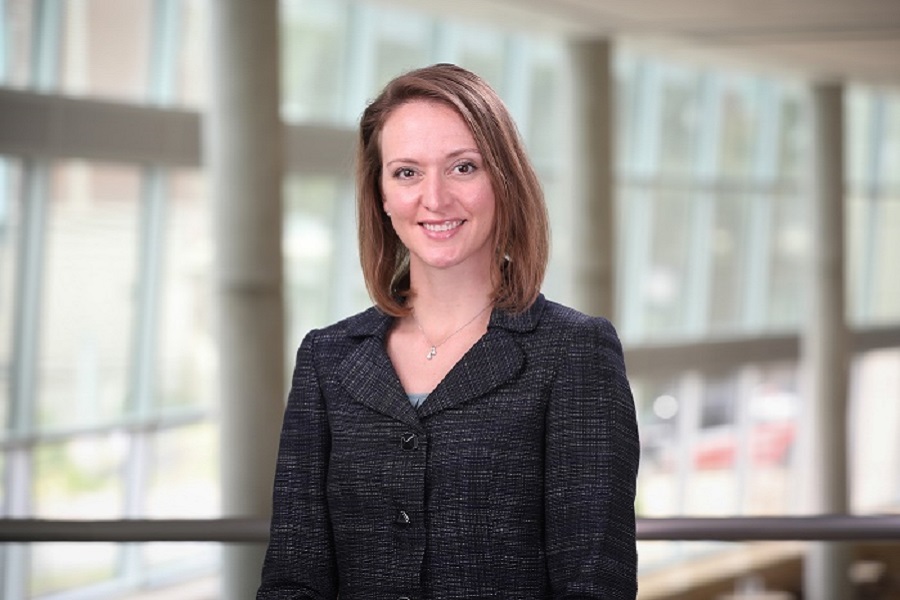 Dr. Elizabeth Hartman enjoys helping individuals with all neurological disorders, with primary focus areas of Multiple Sclerosis (MS) and headaches such as migraines. As a subspecialty-trained general Neurologist, Dr. Hartman believes in comprehensive neurology care. She helps diagnose and treat a full spectrum of neurologic diseases. This approach which can be especially helpful for individuals who do not have a diagnosis or those with more than one neurologic problem.
Dr. Hartman has extra subspecialty fellowship neurology training and expertise in multiple sclerosis (MS) and immune-related neurologic diseases such as optic neuritis, transverse myelitis, neuromyelitis optica and neurologic manifestations of connective tissue diseases. Dr. Hartman uses all FDA approved disease modifying treatments for MS and encourages healthy lifestyle choices that can improve brain health. She works to improve quality of life by addressing symptom management such as fatigue, visual difficulties, sensory changes or pain, spasticity or muscle spasms, cognitive and mood changes, bladder or bowel dysfunction and balance problems in a multidisciplinary fashion with physical therapy, occupational therapy, specialists in Neuro-Ophthalmology, Ophthalmology, Urology, Uro-Gynecology, Neuropsychology, Primary Care and more.
Dr. Hartman is a certified specialist in Headache Medicine by the United Council for Neurologic Subspecialties (UCNS), a distinction held by a total of only seven physicians in the state of Nebraska. She works to help individuals struggling with pain to get the right diagnosis and develop an individualized holistic treatment plan to improve control of headache or facial pain. Dr. Hartman performs clinic procedures including the use of medical BOTOX for management of chronic migraine and spasticity and nerve blocks or trigger point injections for migraine, occipital neuralgia or neck pain.
Dr. Hartman is passionate about working collaboratively with individuals and their families to help them better control neurological disease and live healthier! As a neurologist, Dr. Hartman values the importance of brain health not only to help us walk, talk and sense the world around us but to really be who we are as individuals in family, work and other life roles. Dr. Hartman strives to help manage disease so individuals can focus on what is truly important in their lives. She strongly believes in listening first to understand problems and taking time to educate individuals and their families about the disease.
Dr. Hartman values the importance of excellence in medical education to train future neurologists and enjoys helping medical students, residents and fellows in training to discover the joy of neurology. She also enjoys collaborative research to improve the way we care for individuals with neurologic disease.
Education
University of Nebraska Medical Center, MD (2005)
University of Nebraska Medical Center, Intern (2006) 
Cleveland Clinic Foundation, Neurology Residency (2009) 
University of Chicago Medical Center, Fellowship (2010)
Clinical and Research Interests
General Neurology, multiple sclerosis, headaches. 

Multiple Sclerosis is a leading cause of neurologic disability in young adults, but it doesn't have to be because it is very treatable! When we diagnose and treat MS patients early, we are preserving their brain functions in a way that positively impacts the rest of their life. MS care can be challenging, but helping improve these individuals' brain health is very rewarding. While I focus on MS and headache care, I enjoy the challenge and variety of diagnosing and treating a broad range of Neurologic diseases. At the end of the day, our brains are amazing and I feel lucky that I get to help people understand their brains and help people function better.
Professional Societies
American Academy of Neurology
Consortium of Multiple Sclerosis Centers
American Medical Association
Metro Omaha Medical Society
Nebraska Neurological Society
Department of Neurological Sciences
988440 Nebraska Medical Center Omaha, NE 68198-8440