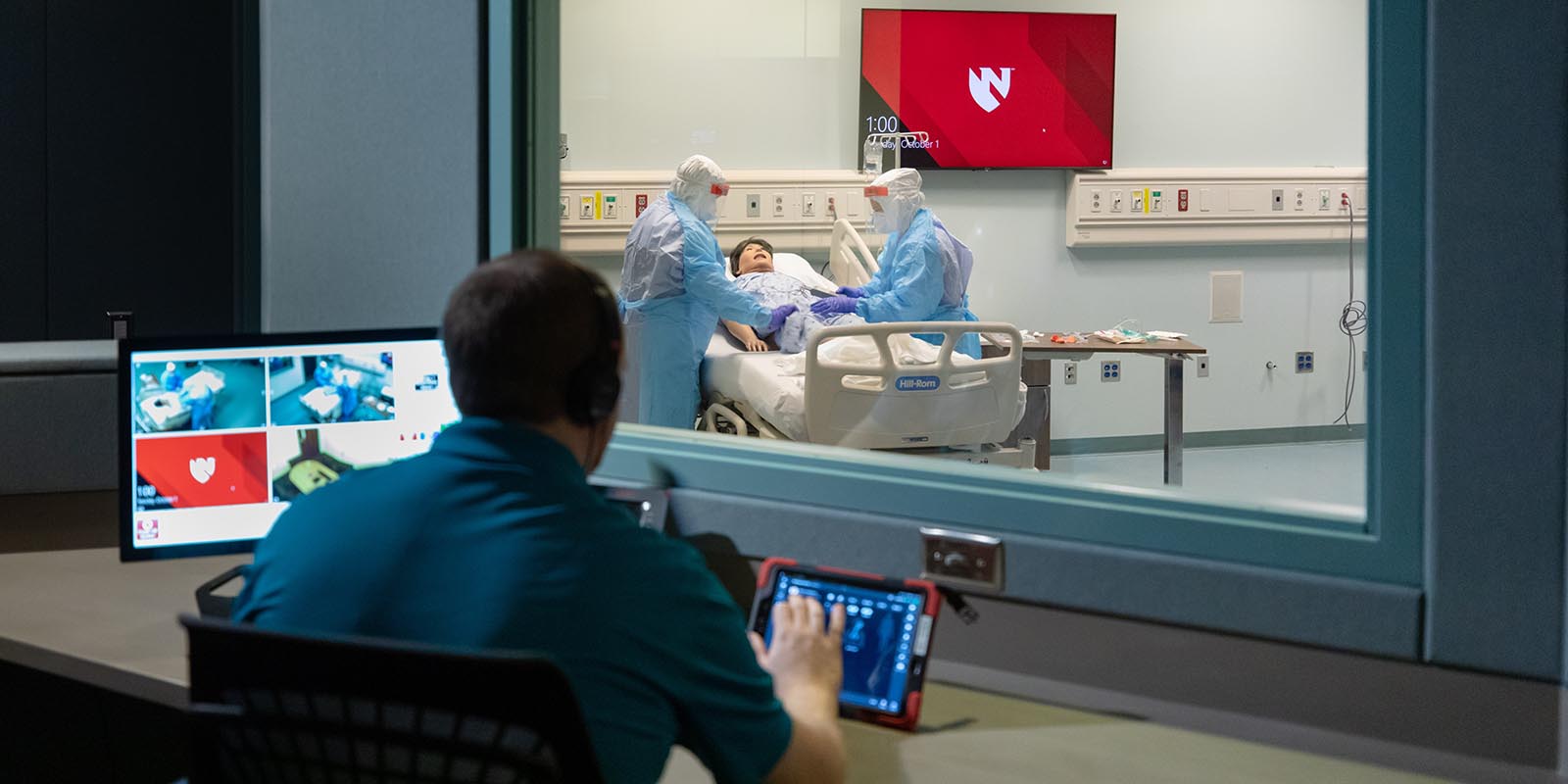 Training, Simulation, and Quarantine Center
Training, Simulation, and Quarantine Center
The result of a nearly $20 million grant from the U.S. Department of Health and Human Services' Administration for Strategic Preparedness and Response (ASPR), the national Training, Simulation, and Quarantine Center (TSQC) opened its doors in October 2019. The TSQC encompasses an entire floor of the $119 million Dr. Erwin G. & Dorothy Balbach Davis Global Center at UNMC's Omaha campus. This facility allows the GCHS to further integrate its resources and expand education and training opportunities. Funded with a grant from HHS/ASPR, the TSQC is home to the most advanced experiential equipment and programming available for training federal and public healthcare personnel, and the NQU provides unmatched quarantine monitoring and care for those exposed to high-consequence pathogens. 
UNMC's Davis global center
The TSQC includes the:
20-bed National Quarantine Unit (NQU)
Six-bed National Biocontainment Training Center, a simulated biocontainment unit for advanced experiential training. This high-fidelity simulation center includes a mock lab and autoclave.
TSQC Training Programs:
The TSQC has designed and implemented three core training programs that are commissioned by HHS/ASPR for National Disaster Medical System (NDMS) and U.S. Public Health Service (USPHS) personnel:
Isolation, Simulation, and Quarantine program
Infectious Disease Transport program
Infectious Disease Mortuary Care program
National Quarantine Unit (NQU)
In November 2019, the TSQC enrolled its first students. Within two months, the COVID-19 pandemic emerged in Wuhan, China, and the TSQC activated the National Quarantine Unit (NQU) while temporarily suspending in-person training activities. 

Leveraging new cutting-edge facilities and simulation equipment, these occupation-specific training modules instruct deployable rapid response teams and/or hospital-based teams how to quickly, safely, and effectively manage high-consequence infection situations. 
The NQU at UNMC/GCHS is the only federally funded resource of its kind; it is specifically designed to provide first-class quarantine and isolation care to individuals exposed to highly hazardous communicable diseases. Its 20 rooms employ individual negative air pressure systems, are single occupancy with en suite bathroom facilities, and contain exercise equipment and Wifi connectivity for patients requiring longer stays. 
The NQU's all-volunteer team is comprised of highly skilled nurses, physicians, and allied health professionals who complete quarterly training in specialized infection prevention anc control processes as well as participate in exercises and drills. They are committed to maintaining the advanced skills necessary for attending to the unique needs of individuals requiring admittances to the NQU or the adjacent Regional Emerging Special Pathogen Treatment Center (RESPTC) house at Nebraska Medicine. 
Negative pressure guest rooms in the NQU