Vijaya Raj Bhatt, MBBS, MS
Associate Professor, Division of Oncology & Hematology
Medical Director, Leukemia Program
Acute Leukemia, BMT, Myelodysplastic Syndrome, Benign Hematology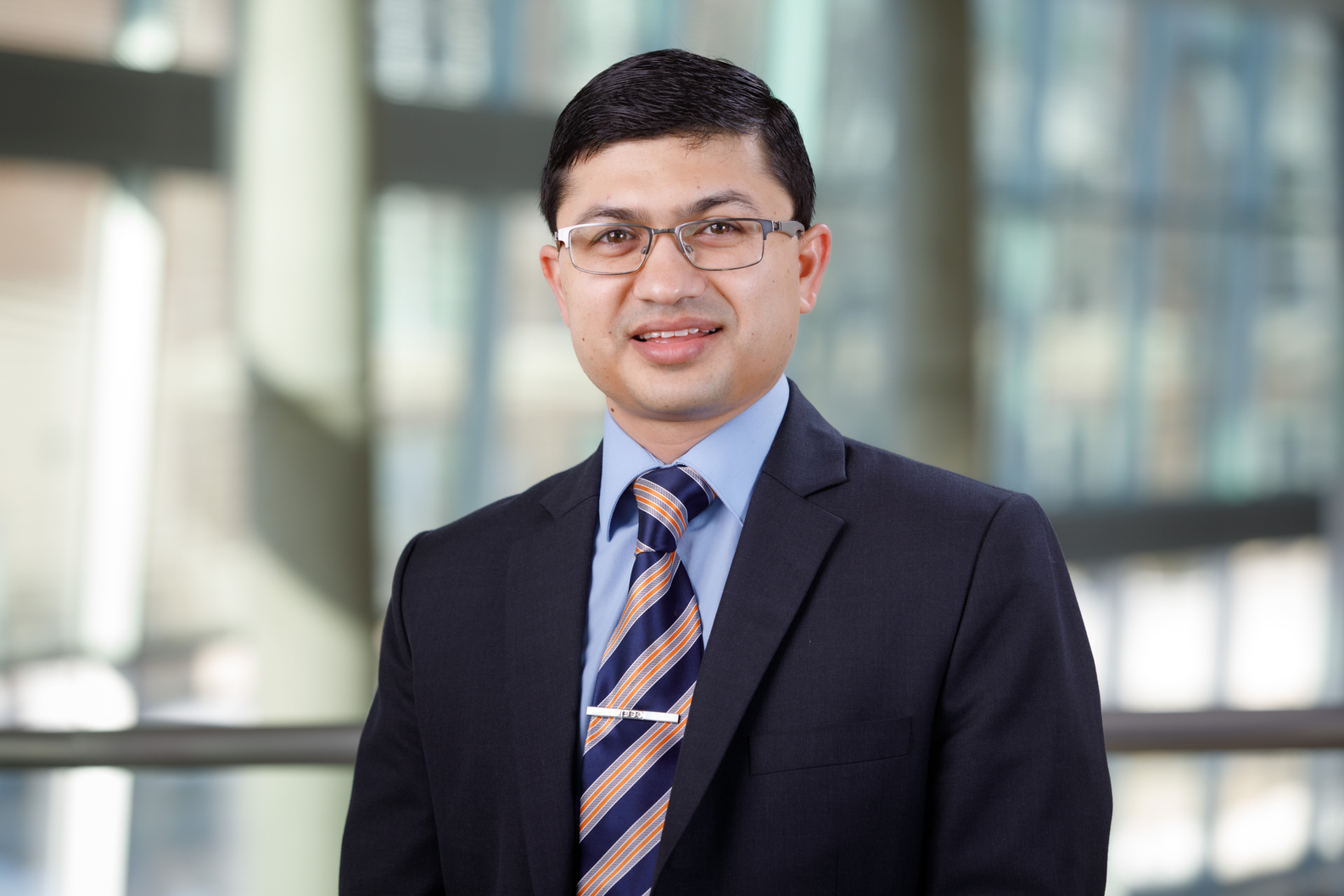 Dr. Bhatt is an Associate Professor and Medical Director of the Leukemia Program in the Division of Hematology and Oncology, Department of Internal Medicine. He is board certified in Internal Medicine, Hematology and Oncology. He has also completed a Master of Science in Clinical and Translational Research. He manages patients with acute leukemia, myeloid malignancies and other hematologic disorders and those who have undergone hematopoietic stem cell transplant. He finds great joy in interacting with his patients and working in a multidisciplinary team to support patients through the course of their treatment.
Dr. Bhatt has authored or co-authored more than 210 articles and he has presented widely at several national meetings of professional societies. He serves as a member of several professional societies including the National Cancer Clinical Network (NCCN) Acute Myeloid Leukemia Guidelines Panel, and NCCN Hematopoietic Cell Transplantation Guidelines Panel. He has received several awards during his residency and fellowship for excellence in patient care, education and research. He received the Internal Medicine Clinical Research Award in 2019 and was named a Distinguished Scientist at the University of Nebraska Medical Center in 2020.
Education
Medical School: 

Tribhuvan University, 2008
Residency: Internal Medicine, Staten Island University Hospital, 2012

Fellowship: 

Hematology/Oncology, UNMC College of Medicine, 2015
Research Interests
Dr. Bhatt's interdisciplinary research aims to improve the survival and quality of life of patients with leukemia or those who have undergone hematopoietic cell transplantation. He serves as a principal investigator on several investigator-initiated, cooperative group and industry-sponsored clinical trials. Current research trials are targeted toward improving the survival of adults with acute myeloid leukemia, preventing relapse of leukemia after an allogeneic stem cell transplantation, and improving symptoms related to graft-versus-host disease.
Highlighted publications
Publications
Division
University of Nebraska Medical Center
Department of Internal Medicine
Division of Oncology & Hematology
986840 Nebraska Medical Center
Omaha, NE 681980-6840