Matthew Lunning, DO, FACP
Assistant Vice Chancellor of Clinical Research
Associate Vice Chair of Research, Department of Internal Medicine
Associate Professor, Division of Oncology & Hematology
Non-Hodgkin Lymphoma, Hodgkin Disease, Multiple Myeloma, CAR-T/Cellular Therapy, Benign Hematology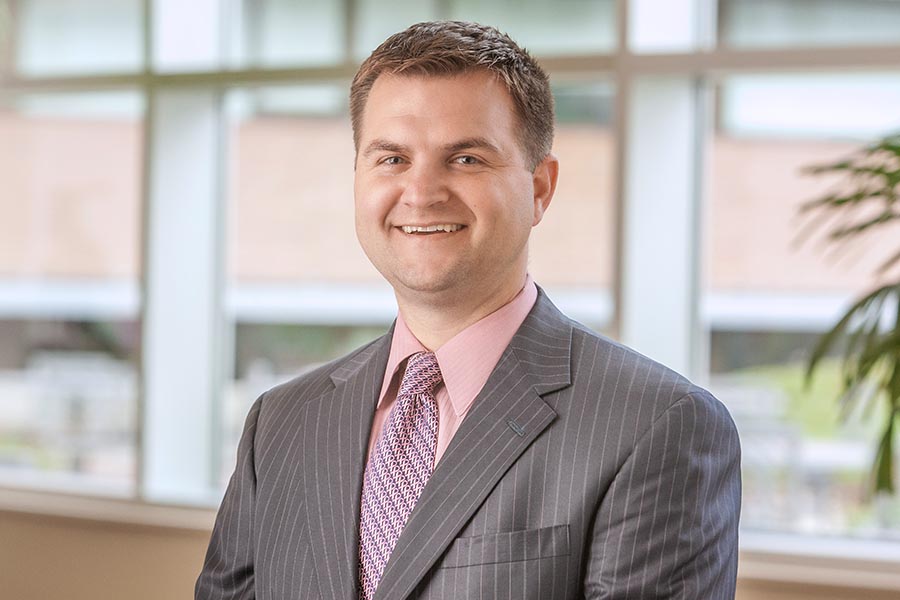 Dr. Lunning is an Associate Professor in the Division of Hematology/Oncology at the University of Nebraska Medical Center. He serves the Department of Internal Medicine as the Associate Vice Chair of Research. He recently was appointed as an Assistant Vice Chancellor of Clinical Research and elected to serve on the Nebraska Medicine Medical Executive Committee as an at-large member.
He received his medical degree from Des Moines University in 2006. Dr. Lunning completed his internal medicine residency at UNMC where he served as Chief Medical Resident. He completed his Hematology/Oncology fellowship and served as the Hematology Chief Fellow at Memorial Sloan-Kettering Cancer Center.
Dr. Lunning returned to UNMC in 2013 and has been active in clinical research, research mentoring, education, and patient care and was the recipient of the Distinguish Scientist Award in 2019.
Dr. Lunning has served on several National Comprehensive Cancer Network's guidelines committees including the Immunotherapy Toxicity & T-cell lymphoma panels. He has served as an invited member of ASCO's Cancer Education Committee on the Non-Hodgkin Lymphoma. He is the co-organizer of the Pan Pacific Lymphoma Conference.
Education
BA: Gustavus Adolphus College, St. Peter, MN, 2002
Medical School: Des Moines University College of Osteopathic Medicine, Des Moines, Iowa, 2006
Residency: University of Nebraska Medical Center, Omaha, NE, 2009
Chief Resident: University of Nebraska Medical Center, 2010
Fellow/Chief Fellow: Memorial Sloan-Kettering Cancer Center, New York, NY, 2013
Research Interests
Dr. Lunning has a particular interest in clinical research in rare hematologic malignancies with a focus on early drug development and experimental correlates that lead to enhanced knowledge of how to treat hematologic malignancies. 
Publications
Division of Oncology and Hematology
University of Nebraska Medical Center
Department of Internal Medicine
Division of Oncology & Hematology
986840 Nebraska Medical Center
Omaha, NE 681980-6840