Using the Collections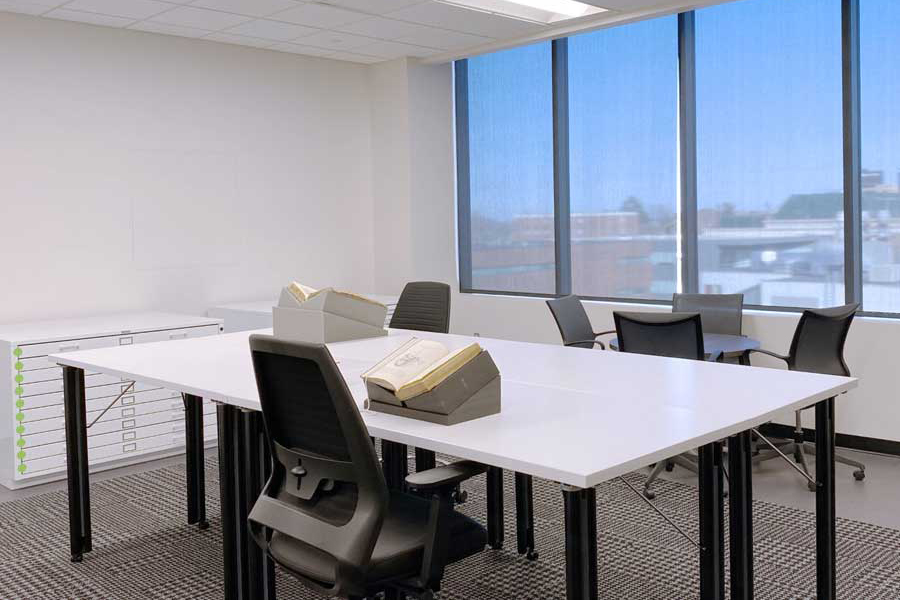 The Robert S. Wigton Department of Special Collections and Archives of the McGoogan Health Sciences Library welcomes everyone to access our collections, regardless of academic affiliation. Although our collections are non-circulating, they are available for use in the library's 8th floor Researcher Reading Room.
The Researcher Reading Room is open by appointment only. Please fill out our research form to register and request research materials. We ask for notice of at least two business days so we can prepare your materials. If you have any questions ahead of your visit, email us at history@unmc.edu.
Upon arrival in the reading room, reference desk staff will greet you and direct you to store personal belongings (including food and drink) in a designated storage compartment.
Because our collections contain materials that are rare and unique, we ask that you handle materials with care to ensure their continued preservation. To use the collection:
Avoid the use of hand sanitizers and lotions before your visit.
Wash your hands before handling collections.
Remove lanyards, long necklaces, and other jewelry before handling materials.
Take notes with pencils and notebook paper or on a personal device (laptop, tablet, etc.).
Staff may provide additional handling guidelines during your visit, depending on the materials you will use.
View our full Researcher Reading Room policy for more information.
Search Our Collections
You can search our collections to find materials and identify collections of interest to you:
Archives
Detailed archival collection information, inventories, and guides can be found in Nebraska Archives Online:
Search UNMC archival collections, or search for collections across all University of Nebraska campuses.
Books and Published Materials
Search the library catalog for historic books and published materials, such as rare books.
To identify materials in the Special Collections and Archives, look or filter for the following locations:
Archives
History of the Health Sciences
Nebraska Collection
Nebraska Collection – UNMC Authors
Orr Collection
Rare Book Rooms
Wigton Heritage Center Exhibit
Wolfensberger
Digital Collections
View our digital collections to access our born-digital and digitized materials held by Special Collections and Archives:
For more information or questions on special collections, please email us at history@unmc.edu.