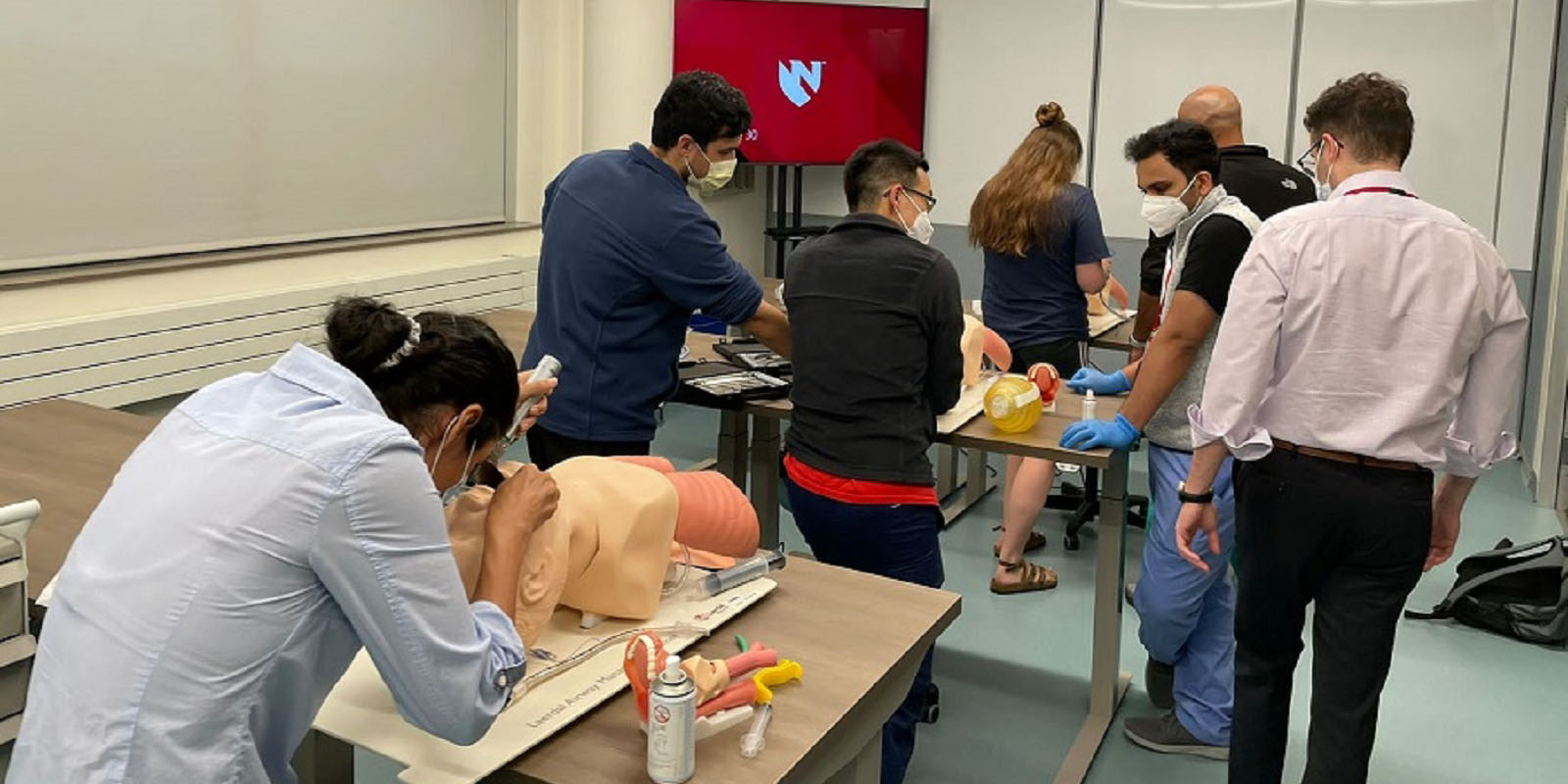 Neurology Residency Program
Our program balances clinical training, a broad educational curriculum and career development. Graduates of the residency program are well-prepared to enter clinical practice or to continue training in subspecialty fellowship.
In this four-year categorical ACGME-certified program, residents rotate through three affiliated training facilities:
Nebraska Medicine, which is the primary teaching hospital of UNMC
Omaha Division of the Veterans Administration Medical Center
Children's Nebraska
Together, these tertiary care hospitals comprise the largest referral center in Nebraska and its neighboring states, providing residents with experience treating a diverse range of patients and disease states.
Program Goals:
Our goals are aligned with UNMC's ITEACH values: Innovation, Teamwork, Excellence, Accountability, Courage and Healing.
To graduate neurologists who are compassionate, clinically proficient, knowledgeable, and ready for independent practice.   
To recruit residents from diverse training backgrounds and interests who share a passion for neurology or neurology subspecialties. 
To encourage and model residents as medical educators for students with diverse backgrounds and neurology literacy.
To promote a culture of innovation and multidisciplinary team-work through participation in scientific research, medical education, patient safety and quality improvement activities. 
To provide a safe and nurturing clinical learning environment that values wellness, respect and compassion for patients, family, staff, trainees and peers. 
Who We Are
The Department of Neurological Sciences is comprised of clinicians, scientists and educators who have the vision, ability and dedication to advance neural health across the lifespan. This gives our residents the opportunity to work with and learn from leaders in patient care, research, education, administration and outreach who deliver innovative care to patients with the most severe and complex neurologic disorders.
What We Do
Our program encourages wellness and resiliency through formal training and department-sponsored social activities. Our program's vision is to enhance neurologic care for Nebraska and to graduate outstanding neurologists who will be leaders in research, quality improvement, outreach and medical education.
Fast Facts
Program Diversity
Education and Outcomes
Faculty Diversity
Our Program
Use the tools below to learn about our Neurology residency for prospective applicants.