Public Health Justice Track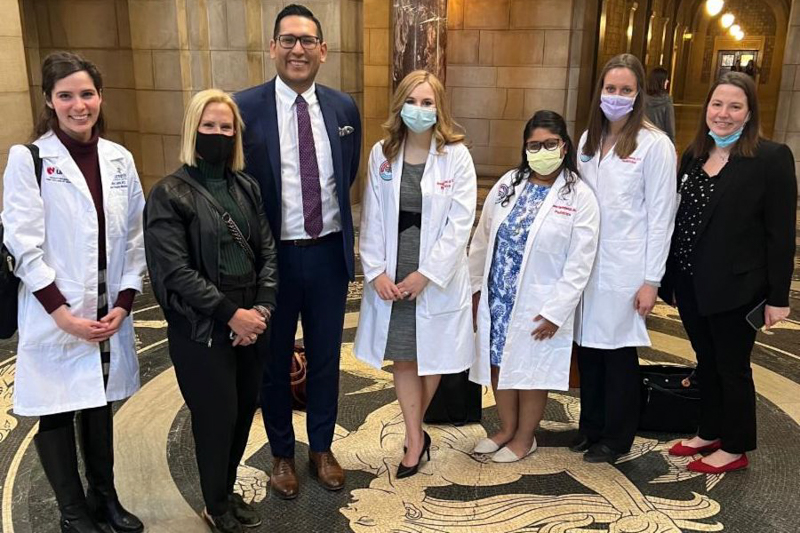 COVID-19 has underscored the need for advancing health justice. As educators, we need to prepare our trainees to understand the dynamics of the patient population they will be serving and use their voice and expertise in community-scale efforts to advance health justice for all.
Metropolitan Omaha needs pediatric providers who are up to that task. We, therefore, need to enhance the educational and leverage the clinical opportunities we have.
Program Goals 
To provide educational and clinical opportunities that will prepare graduates of the pediatric and med/peds residency program to:
Be primary care providers well versed in the care and needs of underserved pediatric populations with higher exposure to adverse social determinants of health.
Participate in public health justice work in their communities through research, advocacy and/or practice.
Intro to health equity, health justice, social determinants of health (SDOH) and maternal child health (MCH). This will be given in a series of 3 lectures delivered by Drs. Delair, Stoolman, and Abresch:
Social Determinants of Health: History of Healthcare Access and Delivery in Omaha for Marginalized Populations (Stoolman)
Social Determinants of Health: Applications of Health Justice in Clinical and Research Activities (Delair)
Health Equity/Justice and MCH Frameworks (Abresch)
Residents officially join the track beginning in year 2
Completion of 1 month of outpatient pediatrics in the division of general pediatrics

Skill: primary care for the urban medically complex child and/or underserved child at an urban serving medical center

Completion of 1-month Advocacy Elective in the Department of Internal Medicine/ Pediatrics/Pediatric Hospital Medicine

Developed, coordinated and run by Dr. Allison Ashford, Associate Professor, Internal Medicine/Hospital Medicine and Pediatrics/Pediatric Hospital Medicine in conjunction with Liz Lyons, the Director of Advocacy and Government Affairs at Children's Hospital.
The purpose of the advocacy rotation is to train residents to understand and apply advocacy competencies so they can be influential leaders in public policy, community and patient-family advocacy.
Track residents will:

Develop a tool kit of advocacy skills that can be applied in any community
Use advocacy to advance the health of individual patients/families
Identify and establish community-based partnerships
Describe and participate in the legislative process
Use activism and advocacy to explore a topic or learn more about a local organization
Dedicate concentrated time for project implementation and evaluation

Track residents will apply these skills to develop advocacy materials (e.g., a policy testimony statement, a grand-rounds style presentation for delivery with colleagues and the community, a research project, etc.). 

Lead Health Justice Journal Club 

Open to all residents and medical students and led by track participants
Occurs every four months (three sessions per year SEPT, JAN, APRIL) and held at an off-campus site.
Completion of 1 month of outpatient community pediatrics at community partner whose practice includes > 50% underserved children/adolescents

Skill: primary care for the urban underserved child in metropolitan Omaha

Sign up to complete the fall session of CPH 539 - Public Health Leadership and Advocacy (3 credit hours completed)

Skill: Academic intro to Public Health Leadership and Advocacy

Attend a CityMatCH event

Residents will have the opportunity to attend a CityMatCH event, which could include: an in-person CityMatCH training with local health departments, the annual CityMatCH conference, or the annual weeklong training in MCH Epidemiology. (Note: residents will arrange their schedules to coordinate with their selected event, taking the elective Public Health rotation during the month of the event.)

Lead Health Justice Journal Club 

Open to all residents and medical students and led by track participants
Occurs every four months (three sessions per year) and held at an off-campus site.

Continue to develop and implement activities initiated in the Advocacy elective (e.g., a policy testimony statement, a grand-rounds styled presentation for delivery with colleagues and the community, a research project, etc.).

In this year, the resident should progress from learning and initial development to preliminary implementation of activities (i.e., becoming "active" in the community in their selected focus area).

Participation in community support activities based on community offerings

Participate in yearly Black Family Health fair
Participate in yearly Binational Health fair
Other advocacy/community engagement to be determined based on community needs (to be determined)