Howard E. Gendelman, MD
Margaret R. Larson Professor of Internal Medicine and Infectious Diseases
Chair, Department of Pharmacology and Experimental Neuroscience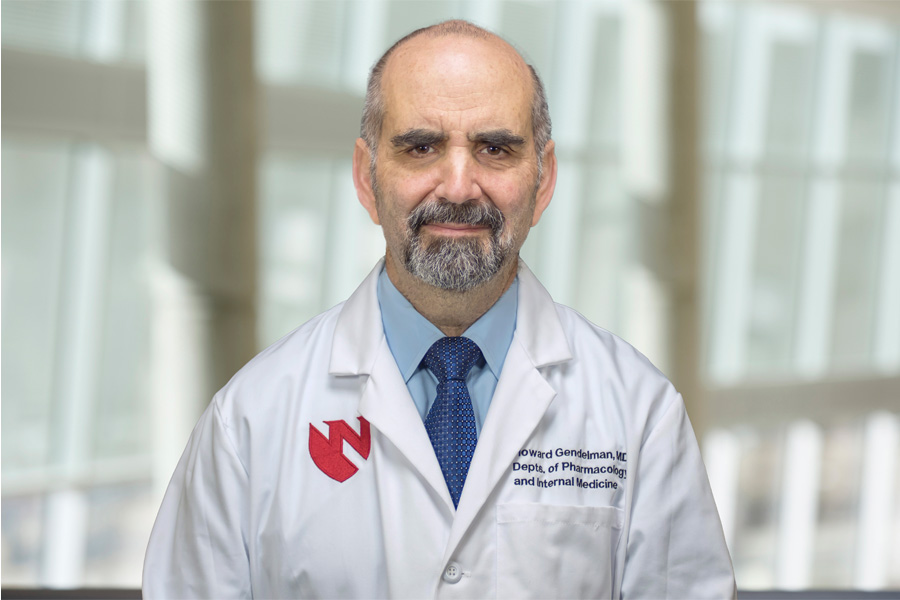 Dr. Howard E. Gendelman is the Margaret R. Larson Professor of Internal Medicine and Infectious Diseases, Chairman of the Department of Pharmacology and Experimental Neuroscience, and Director of the Center for Neurodegenerative Disorders at the University of Nebraska Medical Center. Dr. Gendelman is credited in unraveling the  functional immune alterations in brain and how they induce metabolic changes and lead to neural cell damage in a range of chronic infectious and neurodegenerative disorders. The discoveries have led to immune transformative therapeutics aimed at preventing, slowing, or reversing neural maladies currently in clinical trials. He is also credited for the demonstration that AIDS dementia is a reversible metabolic encephalopathy. His work has led to regulatory T cell-based immunotherapies for Parkinson's and more recently Alzheimer's disease are being tested in early clinical trials as a result of intense translational investigations. He is a co-founder of Exavir Therapeutics, Inc., a biotechnology start-up focused on developing ultra-long acting nanotherapies for chronic diseases.
Dr. Gendelman obtained a Bachelor's degree in Natural Sciences and Russian Studies with honors from Muhlenberg College and his MD from the Pennsylvania State University-Hershey Medical Center where he was the 1999 Distinguished Alumnus. He completed a residency in Internal medicine at Montefiore Hospital, Albert Einstein College of Medicine and was a Clinical and Research Fellow in Neurology and Infectious Diseases at the Johns Hopkins University Medical Center. He occupied senior faculty and research positions at the Johns Hopkins Medical Institutions, the National Institute of Allergy and Infectious Diseases, the Uniformed Services University of the Health Sciences Center, the Walter Reed Army Institute of Research, and the Henry Jackson Foundation for the Advancement in Military Medicine before joining the University of Nebraska Medical Center faculty in March of 1993. He retired from the US Army with the rank of Lieutenant Colonel. Dr. Gendelman has authored over 580 peer-reviewed publications, edited 12 books and monographs, holds 112 patents, is the Editor-In-Chief and Founder of the Journal of Neuroimmune Pharmacology from 2004-2021 and currently NeuroImmune Pharmacology and Therapy along with service on fifteen editorial boards, national and international scientific review and federal and state committees. He has been an invited lecturer to more than 300 scientific seminars and symposia and the recipient of numerous local, national, and international honors. He is a true luminary of the medical center attested by being the recipient of the Henry L. Moses Award in Basic Science; the Carter-Wallace Fellow for Distinction in AIDS Research, the David T. Purtilo Distinguished Chair of Pathology and Microbiology; the Margaret R. Larson Professor of Infectious Diseases and Internal Medicine; being named a Nebraska Pioneer; a UNMC Scientist Laureate; a NU Outstanding Research and Creativity Award winner, the 2013 UNMC Innovator of the Year, the 2014 Outstanding Faculty Mentor of Graduate Students; the Life Saver Award from the Nebraska Coalition for Lifesaving Cures, the Intellectual Property, Innovation and Commercialization Award; and the Pioneer in Neurovirology Award by the International Society for NeuroVirology. He is also the President-Elect of the Society on NeuroImmune Pharmacology. The humanitarian of the year award was bestowed on him by the Jewish Federation of Omaha. The society granted him the Joseph Wybran, Herman Friedman, and Lifetime Service Awards. Dr. Gendelman was also named a J. William Fulbright Research Scholar at the Weizmann Institute of Science in Israel. In 2001. He received the prestigious Jacob Javits Neuroscience Research Award from the National Institute of Neurological Disorders and Stroke and the Career Research Award in Medicine from the Department of Internal Medicine, UNMC. He enjoys a current Hirsch Index of 115 included amongst a selective scientific group listed on highly cited.com as one of the top-cited scientists in his field. He has co-founded Exavir Therapeutics, Inc. a biotechnology company developing therapies towards and cure for chronic diseases that includes HIV/AIDS. In 2022, the Nebraska Coalition for Lifesaving Cures honored Dr. Gendelman and his wife, Dr. Bonnie Bloch with their highest honor for their outstanding research and community service contributions.
Dr. Gendelman has trained more than forty scientists (students and postdoctoral fellows) who have themselves developed independent successful careers in academia and industry. Under his leadership, the department now holds scores of independent R01s or equivalent grants, four prior program project grants, and shares program developmental awards. His leadership is credited with the growth of the Department of Pharmacology and Experimental Neuroscience at the University of Nebraska Medical Center to be amongst the top-like ranked and federally funded departments nationwide.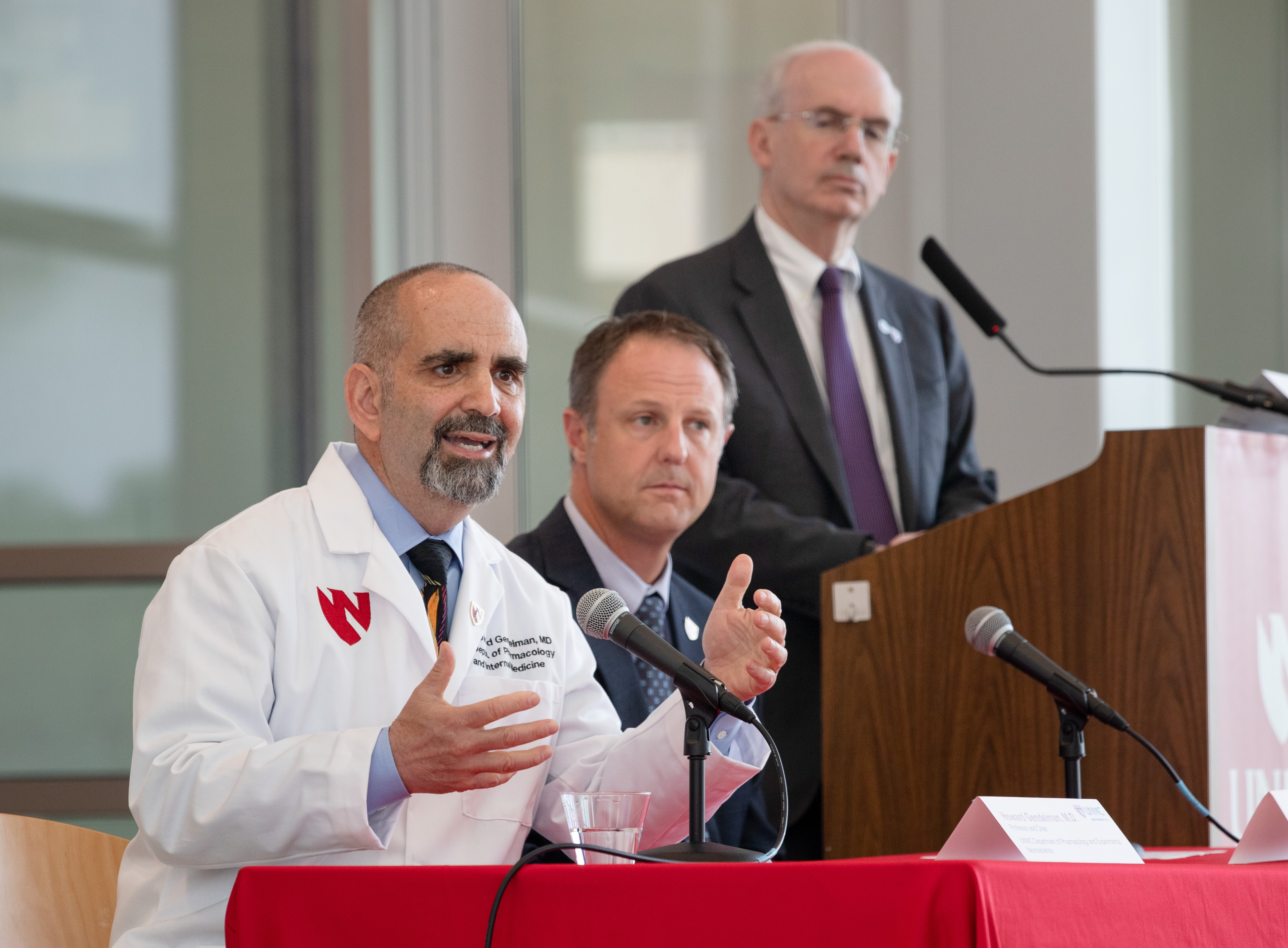 The current and longer-range goals of the laboratory are to develop antiretroviral, immune transformative, gene editing and theranostic agents to improve the diagnosis, treatment and "cure" options for viral and neurodegenerative diseases.
Education
MD, Pennsylvania State University, 1979
Memberships
The American College of Physicians
The American Medical Association
The American Society for Neurological Investigation
The Johns Hopkins Immunology Council
The Johns Hopkins Medical and Surgical Association
The Maryland Society of Internal Medicine
The American Society for Microbiology
Reticuloendothelial Society
Clinical Immunology Society
International Society for Interferon Research
The American Association of Immunologists
The American College of Physicians
Infectious Diseases Society of America
American Association for the Advancement of Science
International Society for Interferon and Cytokine Research
Society for Neuroscience
Society for NeuroImmune Pharmacology
International Society of Neuroimmunology
International Society for NeuroVirology
Neurotoxicity Society
Recognition
Nebraska Coalition for Lifesaving Cures, Life Saver Award, 2022
Lifetime Achievement Award, Contribution to the Advancement of the Mission of the Society on NeuroImmune Pharmacology, 2017
Pioneer in NeuroVirology, International Society for NeuroVirology, 2016
UNMC Outstanding Faculty Mentor of the Year, 2014
UNMC Innovator of the Year, 2013
Herman Friedman Founders NeuroImmune Pharmacology Society Prize, 2013
University of Nebraska Outstanding Research and Creative Activity (ORCA) Award, 2012
UNMC Scientist Laureate and Distinguished Scientist, 2008
Wybran NeuroImmune Pharmacology Prize, 2007
Internal Medicine Research Career Excellence Award, UNMC, Department of Internal Medicine, 2003
ISI Highly Cited Top < 1% of publication citations in the field of Microbiology. Top Physicians, Consumer's Research Council of America, 2003
Jacob Javits Neuroscience Research Award, National Institute of Neurological Disorders and Stroke, NIH, NINDS, 2001
William Fulbright Research Scholar, Weizmann Institute of Science, Rehovot, Israel, 2000
Pennsylvania State University "Distinguished Alumnus" Alumni Fellow Pennsylvania State University-Milton S. Hershey Medical Center, 1999
UNMC Special Achievement Award, 1999 and 2000
Select Publications
CRISPR editing of CCR5 and HIV-1 facilitates viral elimination in antiretroviral drug-suppressed virus-infected humanized mice. Dash PK, Chen C, Kaminski R, Su H, Mancuso P, Sillman B, Zhang C, Liao S, Sravanam S, Liu H, Waight E, Guo L, Mathews S, Sariyer R, Mosley RL, Poluektova LY, Caocci M, Amini S, Gorantla S, Burdo TH, Edagwa B, Gendelman HE, Khalili K.Proc Natl Acad Sci U S A. 2023 May 9;120(19):e2217887120. doi: 10.1073/pnas.2217887120.
Dual-Peak Lorentzian CEST MRI for antiretroviral drug brain distribution. Liu Y, Gauthier GC, Gendelman HE, Bade AN.NeuroImmune Pharm Ther. 2023 Mar 25;2(1):63-69. doi: 10.1515/nipt-2022-0012.
Inhibition of matrix metalloproteinases by HIV-1 integrase strand transfer inhibitors. Foster EG, Palermo NY, Liu Y, Edagwa B, Gendelman HE, Bade AN.Front Toxicol. 2023 Feb 21;5:1113032. doi: 10.3389/ftox.2023.1113032.
Multipolymer microsphere delivery of SARS-CoV-2 antigens. Shahjin F, Patel M, Machhi J, Cohen JD, Nayan MU, Yeapuri P, Zhang C, Waight E, Hasan M, Abdelmoaty MM, Dash PK, Zhou Y, Andreu I, Gendelman HE, Kevadiya BD.Acta Biomater. 2023 Mar 1;158:493-509. doi: 10.1016/j.actbio.2022.12.043.
An ultralong-acting tenofovir ProTide nanoformulation achieves monthslong HBV suppression. Das S, Wang W, Ganesan M, Fonseca-Lanza F, Cobb DA, Bybee G, Sun Y, Guo L, Hanson B, Cohen SM, Gendelman HE, Osna NA, Edagwa BJ, Poluektova LY.Sci Adv. 2022 Dec 23;8(51):eade9582. doi: 10.1126/sciadv.ade9582.
Department of Pharmacology and Experimental Neuroscience
Durham Research Center, 3008
985880 Nebraska Medical Center
Omaha, NE 68198-5880