Laboratory of Howard E. Gendelman, MD
The current and longer-range goals of the laboratory are to develop antiretroviral, immune transformative, gene editing and theranostic agents to improve the diagnosis, treatment and "cure" options for viral and neurodegenerative diseases.
The laboratory initiative is a consortium of research collaborators divided into specific programs, each co-led by established investigators with specific expertise in immunology, molecular biology, infectious disease, proteomics, physiology, chemistry and pathogenesis. These provide the student and research fellow an interdisciplinary research experience.
First, studies revolving around the development of cell-based long-acting drug delivery. Nanotoxicology studies involve the studies of the regulation of leukocyte entry into peripheral and neural tissues with a focus on restoring nervous system homeostasis and glial immunity. This is seen during neurodegenerative diseases and include studies of Parkinson's and Alzheimer's diseases. Those agents that are being developed include, but are not limited to, antiviral, neuroprotective, and anti-inflammatory drugs.
Second, drug testing of both neuroprotective and neuroregenerative medicines used in combination with diagnostics are being developed in disease-relevant animal models for disease. This program is part of national grant efforts that involve scientists at the University of Nebraska Medical Center and Moderna, Calibr, Exavir and Partner Biotechnology Companies. The focus is to perform translational and clinical research.
Third, transcriptomic, proteomic and metabolomic approaches for biomarker discovery are linked to studies of cell-cell interactions for disease. This is part of a broader initiative of how transformative medicines can suppress, eliminate and or transform viral replication and brain immune dysregulation.
Fourth, neuroimmunologic approaches that induce protective immunity are being pursued in animal models of neurodegenerative diseases. The laboratory has developed a unique immunoregulatory approach that uses T cell sources for brain repair to combat neurodegeneration.
View collaborators in Dr. Gendelman's lab.
Techniques used in laboratory
Chimeric Mice
Fluorescent microscopy
HIV-1 neurotoxicity assay
Immunohistochemistry
Macrophage migration tracking
Mouse intracerebral stereotactic inoculation
Mouse models of HIV-1 encephalitis
Nano-medicine macrophage delivery
Pathology analysis
Primary brain and immune cell culture
Real-time PCR
Small animal model drug therapy
Western blotting
iTRAC and SWATH proteomics
Flow cytometry/FACS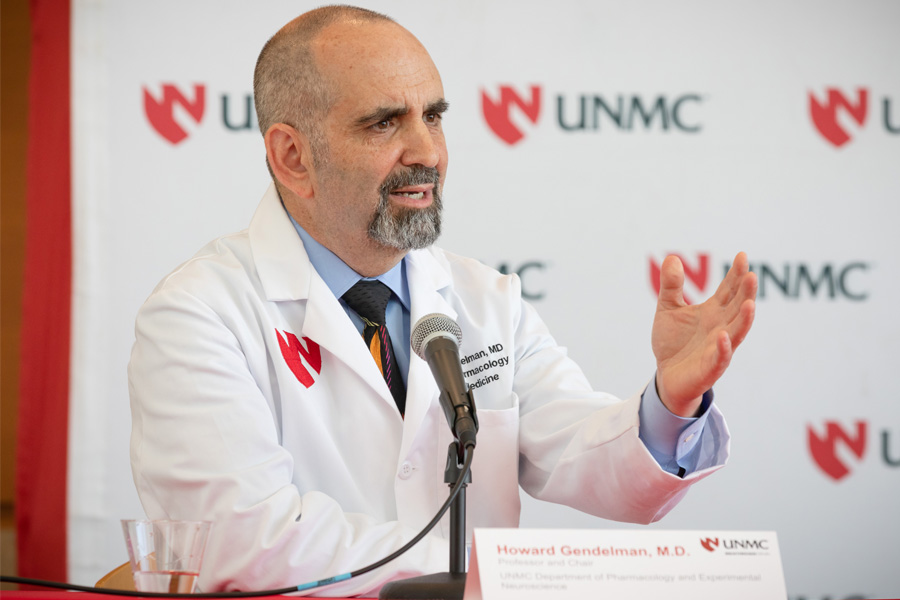 A novel means to prevent HIV infection was developed at UNMC that could allow people with or at risk of acquiring the virus to take medicines once a year. The advance has the potential to eliminate complications that arise from missing doses of life-saving medicines, according to the study published April 27, 2020 in Nature Materials, a leading peer-reviewed biomedical research journal.
Neuroprotective Immunity and HIV Dementia
MPI: Gendelman, H.E. and Mosley, R.L.
NIH/NINDS NS034239
This proposal will determine cell responses in macrophages following HIV-1 infection and engagement with T cells and T cell subsets. Macrophage functions including phagocytosis, antigen presentation, intracellular killing and effector cell responses and their modulation by T cells is a focus for this work. Signal transduction pathways and mechanisms for virus-induced neurotoxicity or neuroprotection will be developed.
LASER ART for PrEP
MPI: Gendelman, H.E. and Edagwa, B.
DHHS/NIH 1R01AI158160-01A1
LASER ART for PrEP is designed to develop, characterize, test and produce long acting antiretroviral therapy for the prevention of HIV/AIDS. The work is based on the notion that a year injectable can be administered safely to those at greatest risk for HIV-1 infection and prevented as what is coined a chemical vaccine. The project is a collaboration with the Clinton Health Access Initiative whose support will be focused on drug manufacture. Testing and development of the medicines will be done by our scientific staff. 
Neuroimmunology of Disease Training Program
MPI:  Gendelman, H.E. and Monaghan, D.
NIH/NINDS T32 NS105594
This program will provide unique research training experiences in infectious, developmental, and degenerative nervous system diseases. By combining cross-disciplinary team-mentored training in the immune-brain axis, the next generation of neuroscientists will be able to incorporate multidisciplinary approaches into novel research paradigms. This is done to better understand disease processes and develop state-of-the-art diagnostic and therapeutic interventions. The University of Nebraska Medical Center is well positioned to offer this unique cross-disciplinary educational experience.
Chronic HIV infection and Aging in NeuroAIDS (CHAIN) Center
MPI: Buch, S and Fox, H.; Therapeutics Core Leader: Gendelman, H. E.
NIH/NIMH P30 MH062261
This is a Center grant to provide Administrative and Core Support for scientists investigating NeuroAIDS.
Combined Molecular Excision Therapy (CMET) for Eliminating HIV-1
PI: Gendelman, H.E.
NIH/NIMH R01MH115860-01
In this proposal we seek to eradicate the human immunodeficiency virus (HIV) from its central nervous system and peripheral reservoirs. Dual humanized brain and immune system mice were created to reflect the complex neuroimmune communication networks seen in human disease. These mice will be used to assess brain viral reservoirs during combination antiretroviral therapy (cART) and gene delivery of a CRISPR/Cas9 for final viral excision. HIV elimination will be determined after cessation of cART and elimination of viral rebound.
Parkinson's Technology
PI: Gendelman, H.E.
Moderna Therapeutics
Improve the delivery of an immune transformative agent by engagement of a liposomal delivery system for RNA rather than protein in the treatment of Parkinson's disease.
Prodrug Formulations Create Sustained Release Antiretrovirals
MPI: Gendelman, H.E./Edagwa, B.
NIH/NIA 1 R01AI145542
This award will be used to convert short acting antiretroviral drugs into long-acting slow effective release ART (LASER ART) with potent and selective activities against the human immunodeficiency virus type one (HIV-1). The LASER ART chemically modified to create hydrophobic and lipophilic drug crystals in order to extend the drug dosing intervals from once/day to once/6 months. The generation of decorated drug nanocrystals can be boosted by a second medicine that protects the first from cell destruction and thereby serves to improve reservoir delivery to body tissue sites where HIV-1 grows such as the lymph nodes and gut.
HIV Theranostics
PI: Gendelman, H.E.
NIH/NIMH R01MH121402
This award is to convert nucleoside reverse transcriptase and an integrase inhibitor(s) into long-acting slow effective release antiretroviral nanocrystals with improved safety and efficacy against human immunodeficiency virus infection. Prodrug nanocrystals are lipophilic and stabilized by biocompatible surfactants. The formulations are being developed with the potential to extend drug-dosing intervals up to once every six months.