Shining a Spotlight on Kim Michael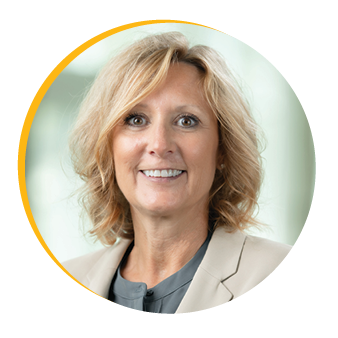 Academy Member Since 2016
Associate Director (2015-2021), Interprofessional Academy of Educators
Anderson Professor, College of Allied Health Professions
Director, Diagnostic Medical Sonography Education, College of Allied Health Professions
Bio

What do you do at UNMC?
When I first started my position as the Director of the Sonography program, my day was a mix of scanning patients in the Department of Radiology at University Hospital and teaching students in the classroom. As the program has grown, I've transitioned out of the clinical setting and now focus on teaching, research and administration. As part of the IAE Leadership team, my time is dedicated to promoting the Academy, helping connect educators across UNMC and developing programs that advance educational research and scholarship.

Tell us about your educational research interests and teaching role.
I have so many ideas for educational research studies. My in-progress studies include:
Introducing a Mindful Pause Practice in Sonography Education: A strategy to improve classroom presence;  Interprofessional Near-Peer Coaching of Abdominal Point-of-Care Ultrasound to Internal Medicine Residents by Diagnostic Medical Sonography Students; The Role of Spatial Ability and Student Achievement in Medical Imaging and Therapeutic Sciences.
I am the primary instructor for two sonography courses each semester. These include Ultrasound Physics I and II, Gastrointestinal Ultrasound, Advanced Obstetrical Ultrasound, and Professional Projects I and II.

What is one of your favorite/memorable teaching moments?
The sonography students must take and pass the dreaded "Sonographic Principles and Instrument" national credentialing exam each May. I send each student a good luck text on the day of their exam. I love getting the phone calls and texts as they share their successes with me.

What do you see as the biggest benefit to being a member of the IAE?
The biggest benefit to me is getting to know other faculty from across campus who are passionate about education and willing to share their ideas and expertise with others.

What do you enjoy doing in your free (non-work) time?
My husband and I bought paddle boards. We try to get out on the lake either early in the morning or in the evening to enjoy the weather and get some exercise.

Back to Member Spotlight page