Shining a Spotlight on Peggy Moore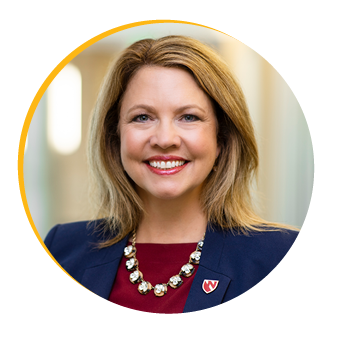 Academy Member Since 2016
Director, Office of Interactive E-Learning
Assistant Professor, College of Allied Health Professions

What do you do at UNMC?
I have the best job on campus, I collaborate with the highest caliber faculty, students, and staff to develop interactive, digital learning materials based upon best practices and education research. When I first started, the E-Learning Program focused on e-module development for the UNMC curriculum. As the E-Learning Program has grown I've transitioned to program administration, leading a talented team for campus-wide collaborations. We've expanded our services to include curricular, non-curricular, and externally funded projects. We have also grown partnerships both inside and outside of the university system. We've increased our resources and can help more faculty than in years past. As an Assistant Professor in the College of Allied Health Professions, we are offering an elective course on "Essentials of E-Module Development" for the online Health Professions Teaching & Technology graduate program.
The E-Learning Program has bridged into STEM education, partnering with the UNMC High School Alliance and UNO to create uBEATS. uBEATS is a series of 65 free online cancer, genetics, microbiology, pathology, pharmacology, and career e-modules designed for grades 6 – 12 to enhance existing curriculum and provides advanced information on top of what students learn in the classroom. 

Tell us about your educational research interests and teaching role.
My in-progress studies include: The Nebraska E-Learning Scorecard (NEScore) and Interprofessional Education Checklist. E-Learning is now programming and reporting e-module learning analytics and working closely with our faculty to collect user data for their educational research to build their teaching portfolio.

What is one of your favorite/memorable teaching moments?
Meeting and working with the UNMC student developers in the E-Learning Awards Program fills my bucket. I love seeing student's excitement about their e-learning module development. They come back to the awards program again with other students, and ultimately pursue educational tracks in their careers after UNMC.

What do you see as the biggest benefit to being a member of the IAE?
The biggest benefit of IAE is collaborating with the Educational Researchers, Dr. Beam and Dr. Howell Smith on studying e-learning interventions in UNMC curricular integrations. They are experienced, knowledgeable, and generous with their time and support.

What do you enjoy doing in your free (non-work) time?
We are a family of skiers — water skiing in the summer and snow skiing in the winter. We love playing outdoors together cheering, hooting and telling stories with a meal afterwards makes us smile. We are blessed.

Back to Member Spotlight page