Shining a Spotlight on Tanya Custer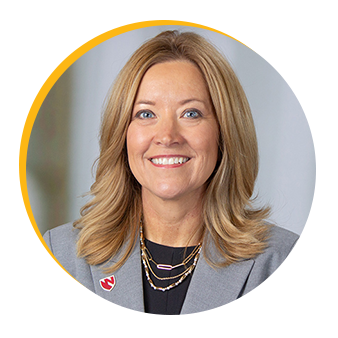 Director of Distance Education; Associate Professor, College of Allied Health Professions
Bio

What do you do at UNMC?
I am an associate professor and Distance Education Director in the College of Allied Health Professions at the University of Nebraska Medical Center. I lead distance education in the college primarily by serving as the Director for three distance programs; the Master of Health Professions Teaching and Technology Program, the Master of Healthcare Delivery Science Program, and the Imaging Sciences Degree Advancement Option. I teach numerous courses within the programs as well.

Tell us about your educational research interests and teaching role.
Educational research has been the focus of my scholarly work here at UNMC. As both a faculty member and a PhD student, my research interest lies in educational research specific to online learning and distance education. I have been teaching in an online or blended learning environment since 2002 and I have demonstrated success as a researcher through several significant accomplishments. These accomplishments include the creation a portfolio of eleven high-quality, peer-reviewed and other publications, the award of seven intramural and three extramural peer-reviewed grants in support of my educational research projects, the invitation to present my scholarly work at 51 events at the local, regional, national and international level, and through the invitation to serve as an editorial review board member for the premier radiation therapist journal and as the vice chair/secretary for the American Society of Radiologic Technologist Foundation Board of Trustees.

What is one of your favorite/memorable teaching moments?
It is difficult to select a favorite moment, although over the past year, one of my proudest moments was the day we accepted our first cohort of students into the newly approved Healthcare Delivery Science Master's Program. The process of developing a new program and working through the approval process is long and tedious. Our team worked diligently throughout.

What do you see as the biggest benefit to being a member of the IAE?
What drew me to the Interprofessional Academy of Educators was the opportunity it provided to collaborate with faculty who are committed to excellence in teaching and learning. The Academy supports educational innovation as well as research and scholarship so that faculty can share the great things they are doing in health professions education here at UNMC.

What do you enjoy doing in your free time?
I have two golden retrievers & I love to spend time outside with them no matter what season it is. We mostly hike (even in the snow), but they love to swim, kayak, & paddle board in the summer too!