Shining a Spotlight on Wayne Mathews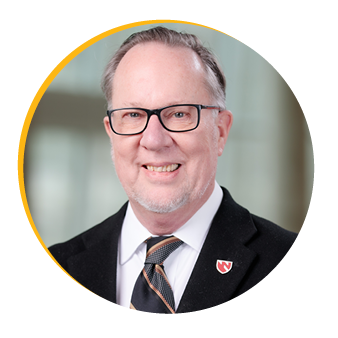 Emeritus Member Since 2022
Associate Professor, Medical Laboratory Science, College of Allied Health Professions
Email

What do you do at UNMC?
I currently serve as adjunct faculty to the Physician Assistant program, including oversight of online Degree Advancement Option for MSPAS. After semi-retirement at the end of 2022, I continue to assist the program through specialty content lectures, and assist on other assessments.
Last year, our interprofessional research group studying the effects of agricultural antibiotic use on human antibiotic resistances published our findings in Spectrum, an ASM publication. Additionally, I assisted in point-of-care ultrasound instruction to PA students, in conjunction with the CAHP Ultrasonography program. I also served on the SHARING faculty committee advising students.

Tell us about your educational research interests and teaching role.
I am a content expert lecturer on cardiology, POCUS, infectious disease, medical ethics and clinical epidemiology. My research interests include system science focusing on antibiotic resistance and one-health inter-relationships.

What is one of your favorite/memorable teaching moments?
One of my favorite moments was serving the needs of international students from many countries, including Iraq, Mexico, China and Ukraine. I have deepened the sense of the importance of our humanity and cultural openness as essential assets in our teaching methods. Watching these students, many who are struggling with basic assimilation challenges, make incredible breakthroughs in their academic and even character formation and progress is incredibly rewarding.

What do you see as the biggest benefit to being a member of the IAE?
The Academy is a truly unique synthesis of interprofessional talents expressing a symphony of scholarship and practical instruction for health care professions in an effective cooperative environment. The networking opportunities are unprecedented, especially for faculty truly interested in pedagogy and improving clinical outcomes.

What's the best advice you've ever received?
"You shall know the truth, and the truth shall set you free."