Community Engagement
Community collaboration is one of the four missions of academic medicine in addition to medical education, clinical care, and research that is necessary to advance health equity. Therefore, community engagement is an integral part of our medical education.
We aim to develop future physicians that center and understand community needs particularly in marginalized and underserved populations.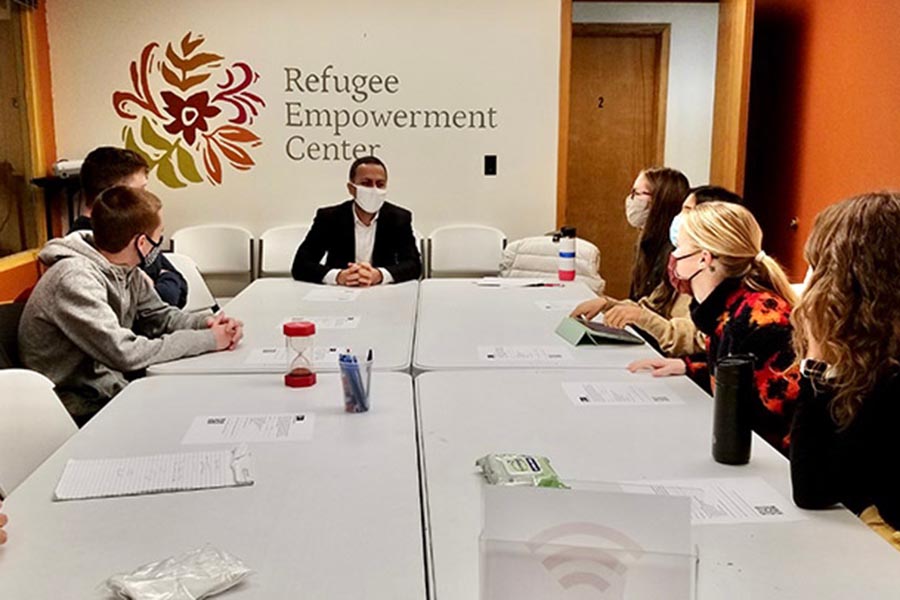 Medical students meet with Rohullah Niazi, manager of community initiatives at the Refugee Empowerment Center.
Student Organizations
UNMC aims to create a learning environment where students feel welcomed, seen, heard, valued and supported, which then allows them to thrive as they become physicians. There are an array of organizations that students can join to enrich their experience on our campus. 
Some of the organizations on campus include:
G.R.A.D.S. Student Group
Graduates & Professionals Representing Achievement Diversity and Service (G.R.A.D.S.) is an inclusive group of graduate and professional students from across campus who are committed to providing a supportive network, representative of diverse backgrounds reaching toward achievement, encouraging diversity, and providing service to the UNMC campus and Omaha community. The group's goal is to serve as a bridge to connect and support underrepresented students at UNMC that are often overlooked and not as welcomed/substantiated upon matriculation throughout their course of study or training.
White Coats for Black Lives
UNMC White Coats for Black Lives (WC4BL) is a chapter of the National WC4BL organization. We aim to achieve the national goals of dismantling racism and accompanying systems of oppression in health, while simultaneously cultivating means for collective liberation that center the needs, priorities, and self-determination of Black people and other people of color, particularly those most marginalized in our communities.
Latino Medical Student Association
The Latino Medical Student Association unites and empowers medical students through service, mentorship and education to advocate for the health of the Latino community. This organization is open to any UNMC student who is interested in pursuing underserved and or global medicine in the Latino population.
AAPI Student Association
This organization for students who identify as or are interested in learning about the Asian American and Pacific Islander community is an interprofessional network whose mission is to facilitate meaningful connection and cultural exchange. 
UNMC Student Pride Alliance
The alliance is a campus-wide Lesbian, Gay, Bisexual, Transgender, Queer/Questioning, Intersex, Asexual and Ally (LGBTQIA+) education and support group. Pride Alliance fosters acceptance of students, faculty and staff to create a more diverse and accepting environment. In addition, the alliance advocates patient care issues and health disparities that disproportionately affect the LGBTQIA+ community. The group meets regularly throughout the year, and meetings are open to all students, faculty, and staff. 
Student Alliance for People of All Abilities
This interprofessional group aims to bring students and faculty together from all disciplines to learn more about working with individuals of all abilities. Partnering with MMI, members will engage in activities and projects all geared towards improving the lives of others and to learn ways of providing more targeted care.
More information about student organizations