Education
We are fortunate to be part of the highly regarded and prolific academic organization that is the University of Nebraska.

Our educational mission focuses primarily on work in the areas of quality and safety as well as the education and teaching of learners. In addition, we actively support our faculty with the resources needed to successfully pursue quality and safety research work, educational development or other types of career development.

Our hospitalists are involved in teaching learners of various disciplines and levels including, Neurology, PM&R, Psychiatry, Physician Assistant and Nurse Practitioner programs, etc. In addition to rotating on resident services, hospitalist faculty engage in classroom lectures, curriculum development, and other educational activities. Hospital Medicine believes in a hands-on approach to educating Internal Medicine Residents and Students which fosters longstanding relationships.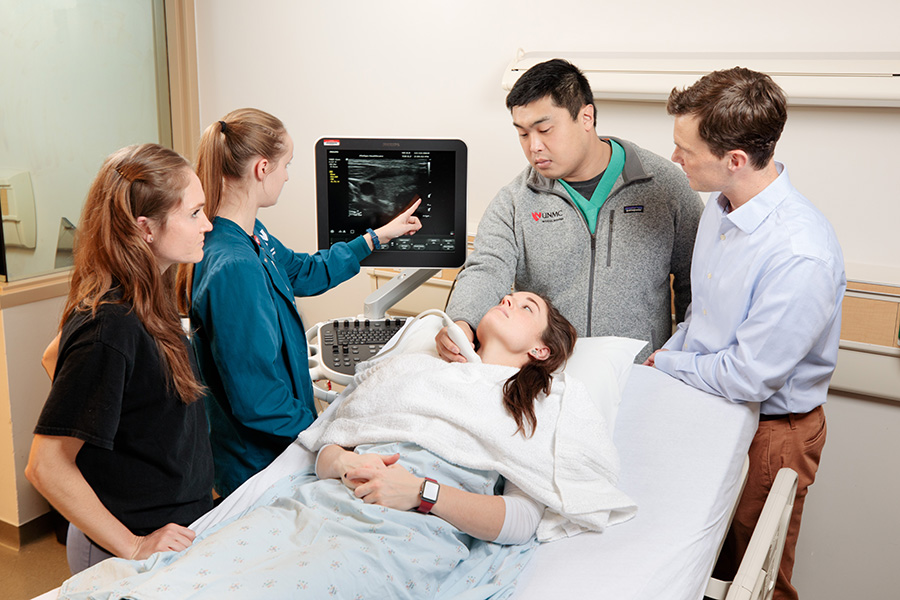 Meyer Service
Resident Education
Hospital Medicine offers learners a traditional inpatient teaching service shaped by the late LeeRoy E. Meyer, M.D., a dedicated physician, and extraordinary educator at UNMC. Recognized repeatedly by colleagues and students for his teaching excellence, Dr. Meyer won the American Medical Student Association Golden Apple teaching award 26 times. In 1995, Dr. Meyer became one of only a handful to be named to the Golden Apple Hall of Fame, affording him lifetime recognition.

Today, Dr. Meyer's innovative methods and achievements have become standard practice at UNMC and at medical schools throughout the nation. The practices he pioneered include:
Small-group, case-based teaching
Computer-based case management and diagnosis through simulations
Distance learning using television to establish interactive teaching links, which has led to video-conferencing technology
Objective Structured Clinical Evaluation (OSCE) utilizing patient actors to assess clinical skills
Dr. Meyer's legacy of innovative teaching and critical thinking continues today. 
"Boot Camp" covering fundamentals, cardiac, and lung sonography. The average course evaluation score is 4.95/5.

Guided procedure workshops. The average course evaluation score is 4.9/5.
Abdominal workshop. Interprofessional collaboration with the Diagnostic Medical Sonography program. Canceled 2020 (COVID). Schedule April-May 2021.
Lecture series. We hosted seven lectures in 2020 with multiple guest speakers.
Procedure rotation. The average course evaluation score is 4.9/5.

Expanded availability into COVID units
Continued increase in POCUS-guided procedures 
To learn more about UNMC's Resident Curriculum: See the residency website for details.