Inclusive Facilities and Services
The McGoogan Library at University of Nebraska Medical Center seeks to provide all library users with a welcoming, productive, and safe environment. We are committed to providing equitable access to our collections, services, and spaces. The library offers a variety of services and equipment in support of research and academic endeavors for all regardless of physical or cognitive ability.
Inclusion Corner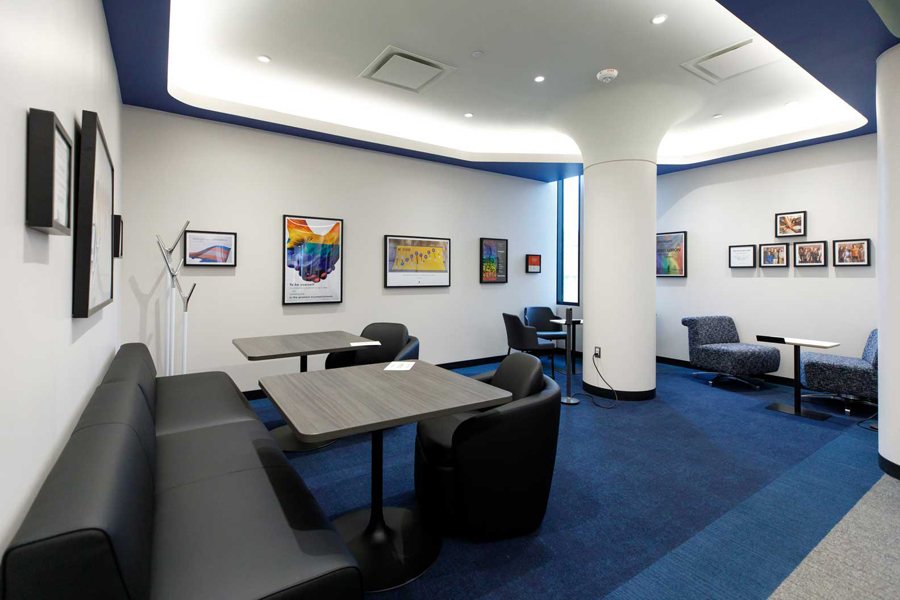 The Inclusion Corner serves as a physical location where faculty, staff and students come to create a sense of belonging and to share an open dialogue. It is made up of the Safe Space and the Brave Space. The Inclusion Corner is located in the northeast corner of the library on Level 6.
Safe Space (Room 6066)
The Safe Space has open seating that can accommodate six to eight people. Designed to be a place for vulnerability, authenticity and empathy, the space highlights information about campus groups aligned with UNMC's inclusion goals.
Brave Space (Room 6065)
The Brave Space is a separate room to allow greater privacy. It is a place for difficult conversations, honest self-reflection, and trust-building. This room is equipped with a collaboration screen and Zoom capabilities to provide both in-person and remote connections. Reservations may be made through the
University of Nebraska Space Reservations and Events
page under the room name "Brave Space."
Both spaces create opportunities for growth as we work together to co-create understanding for a more inclusive campus. For more information about inclusion at UNMC, see the
Office of Inclusion
website.
Facilities
The library is accessible via two elevators from Wittson Hall on floors 2, 3, 4, and 5.
Accessible study carrels, moveable seating, individual rooms, and computer workstations are available throughout the library. All individual study rooms have height-adjustable desks. Group study rooms are available for wheelchair users.  
All classrooms have moveable desks and accessible entrances.
Accessible multi-stall restrooms and one large all-gender single-stall restroom are located on each level.
Mother's rooms are located on each level.
The library's quietest zone is located in the northwest corner of level 7. Three individual study rooms (7053, 7054, and 7055) are open to all students via the campus online reservation system.
Collections Use
Request Online & Pick Up
Library users with a current account can use their ID to request items from the stacks to be ready for pickup at the library.
Ask for Retrieval Help
Upon request, library staff in all units will assist with the retrieval of books and with the use of electronic and other bibliographic resources. Time needed for retrieval will vary depending on staff availability.
Article Scanning Service
McGoogan Library can scan print items to enable accessibility features in Word or PDF (OCR) of journal articles owned by the library.
EPUB Conversion
Many McGoogan Library books are in EPUB format, but some are not. Using Microsoft Word and
WordToEPUB
, you can convert documents to the latest EPUB 3 format. EPUB files created with this tool can be used in a wide variety of reading apps on any platform, with the ability to personalize visual features such as colors, font, text size, and layout. Many reading apps have other useful features such as read aloud, the ability to add comments and bookmarks and support for electronic braille.
Courier Pick Up
Students, staff and faculty may have need for another person to pick up their library items. Please email the library at
askus@unmc.edu
to enable this service one-time or for consistent use.
Delivery
Library staff will send items to UNMC campus addresses by request.
Technology
Software
All Windows and Mac display settings may be controlled, per-session, by users who are logged into the computer.
Audio/Visual Equipment
The Jim and Karen Linder Maker Studio has video playback equipment capable of displaying closed captioning and one VHS/DVD player.
Assistance
To share concerns with physical or virtual spaces, including the library website, please email the library at
askus@unmc.edu
.
For more information about library spaces, see the
Library Spaces pages
.
The University of Nebraska Medical Center is committed to maintaining an inclusive and accessible environment. For information about resources or share concerns, please see
UNMC's Accessibility Statement
page.
For information about inclusion at UNMC, see the
Office of Inclusion
page.