Clinical Experience and Education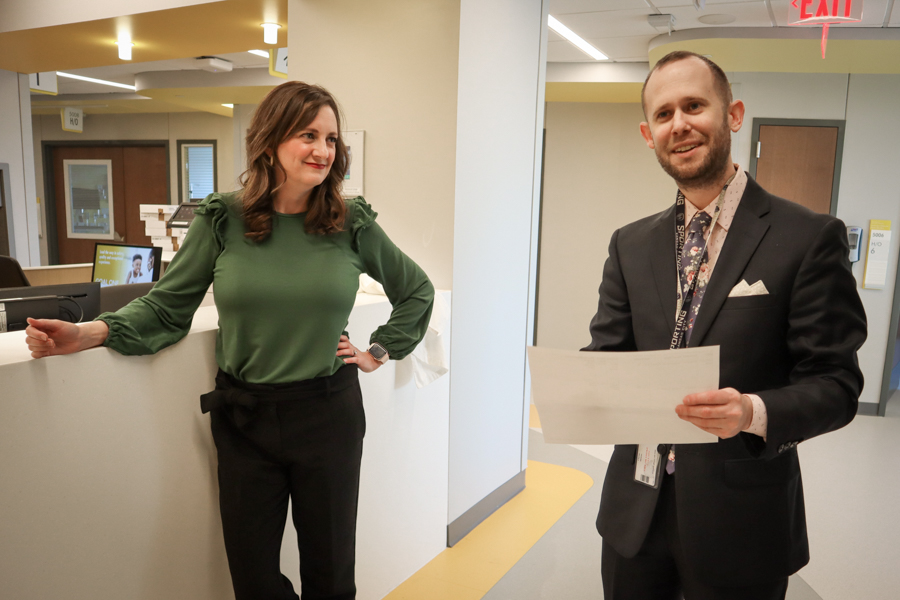 Listed below is a brief description of the curriculum of the Pediatric Infectious Diseases training program. The program is designed to provide the skills necessary to practice Pediatric Infectious Diseases in any clinical setting while also preparing fellows to practice in an academic environment. Below is a sample plan of study for our fellows; however, schedules are flexible depending on a fellow's career goals. Over the 3 years of fellowship, fellows will complete 52 weeks of Inpatient Infectious Diseases Consultation Service/Clinical Experience at Children's Hospital & Medical Center and the University of Nebraska Medical Center (UNMC) as well as two community hospitals, Creighton University Medical Center-Bergan Mercy and Methodist Women's Hospital, where additional NICU and newborn nursery consults may occur. The fellow's inpatient consultation service is typically scheduled in 1-2 week blocks.
UNMC PID Fellowship Program Description
Each fellow follows an individualized learning plan (ILP) that directs their unique educational needs.
Year One
Clinical Microbiology at UNMC (4 weeks)
Inpatient ID Consultation Service (6-7 months)
Research (4-5 months)
First Year Fellow(s) will:Learn to plan initial work-up and management of pediatric infectious diseases
Develop an understanding of pathogenesis natural history
Learn microbiological techniques and how to use them
Review the basic function of the immune system and immunological basis of disease
Learn pharmacology, pharmacokinetics and pharmodynamics of antibiotics and their interaction with other drugs
Be able to design a research protocol, write a proposal, and apply for funding
Develop an understanding of FDA regulations and IRB policies for conducting research
Learn how to teach on rounds and at the bedside
Be able to prepare and deliver lectures
Attend the University-wide fellows core curriculum series
Year Two
Inpatient ID Consultation Service (3-4 months)
Research (8-9 months)
Second Year Fellow(s) will: Manage complicated infectious diseases, understand their pathogenesis, and natural history
Understand hospital epidemiology and infection control; statistical methods
Learn how clinical trials are conducted
Implement their research protocol and submit results for presentation at national/international meetings
Year Three
Inpatient ID Consultation Service (3-4 months)
Research (7-8 months)
Hospital Epidemiology and Infection Prevention (2 weeks)
Antimicrobial Stewardship (2 weeks)
Optional Electives (include Global Health, Public Health, STI clinic)
Third Year Fellow(s) will:Be able to manage complicated disease in children effectively and independently
Be prepared for a role in hospital epidemiology and infection control
Be effective in teaching both individuals and groups of learners in clinical settings, classrooms, lectures, and seminars using electronic and print modalities
Prepare an original research manuscript for publication and/or presentation
Clinical Experience
General ID Clinic

Years 1 and 3
Year 2 when no HIV or travel clinic that week
1/2 day per week when not on inpatient ID consultation service
Emphasis on fellow seeing a mix of hospital follow-up patients that they also saw in the hospital as well as new outpatient consults. All patients are staffed by an attending.
UNMC Specialty Care Clinic
Year 2
Continuity experience of the care of HIV patients in a multidisciplinary and family-centered ambulatory clinic
Travel Clinic
Year 2
Experience in how to prepare patients for travel including administration of recommended vaccines
TB Clinic
Years 1-3
12 sessions with supervising attending assigned to each session
Conference Schedule
Case Conference: Fellows attend a weekly City-Wide ID case conference attended by infectious disease, microbiology, pharmacy, and pathology clinicians. Fellows are expected to present a case and literature review monthly at this conference.
Journal Club: Pediatric journal club is held every other month and fellows are expected to present at this conference.
Core Curriculum: A monthly core conference series covering the spectrum of Pediatric Infectious Diseases as well as basic immunology is provided.
Board Review: A monthly conference series where a faculty member reviews high yield topics and board style questions with fellows.
Infection Control and Antimicrobial Stewardship Training
During their infection control and antimicrobial stewardship rotations, fellows receive didactic training and practical experience in healthcare epidemiology and antimicrobial stewardship.