Kurtis Johnson, MD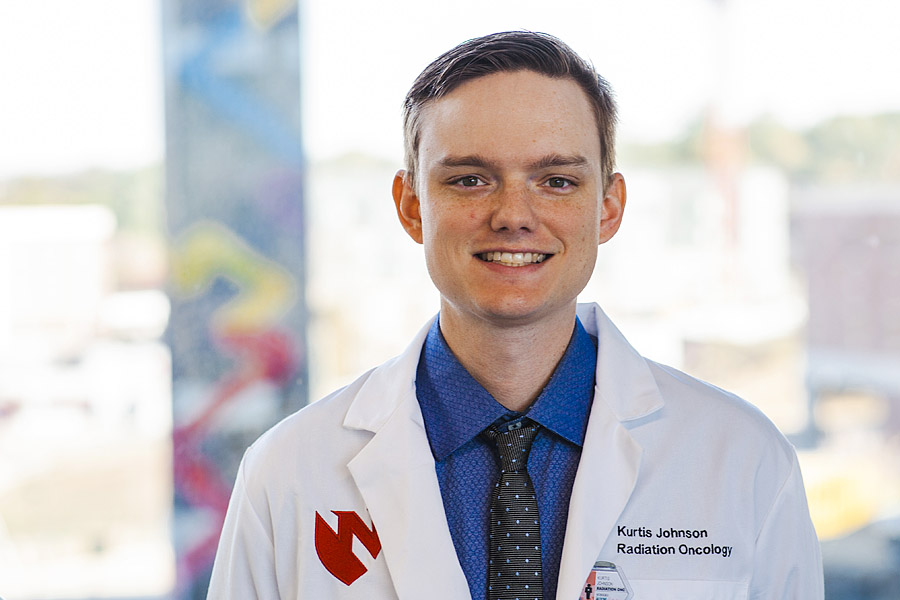 Why did you choose to come to UNMC?
I chose to come to UNMC for the personal interaction and support from the faculty. Further, the residents create an environment of learning and collaboration that is unmatched.

Fun fact about yourself or things you like to do for fun?
I love any kind of maintenance: whetstone blade sharpening, hand picking weeds in my lawn, oiling and polishing leather, car repairs, etc.
Golf is fun (most of the time).
Education
BS: Nebraska Wesleyan University, Lincoln, 2016
Medical School: University of Nebraska Medical Center College of Medicine, Omaha, 2020
Intern: Internal Medicine UNMC, 2021
Clinical & Research Interests
Dr. Johnson has clinical interests in student and patient education. He also has interests in ocular as well as head and neck cancers.
Selected Publications/Presentations
Folsom M, Gigantelli J, Timperley B, Johnson K, Bagenda D, Pang H, Ellis S. Periocular Manifestation of Obstructive Sleep Apnea as a Novel Perioperative Screening Tool. Obes Surg. 2022 Apr;32(4):1103-1109. Epub 2022 Jan 29. PMID: 35091903; PMCID: PMC8933341.

Coutu BG, Johnson KC, Bhirud A, Baine MJ, Zhen W, Zhang C, Trujillo KP, Bennion NR. Systemic ImmuneInflammatory Index Association with Survival in Patients Undergoing Trimodality Therapy for Lung Cancer. Oncology. 2022;100(5):247-256. Epub 2021 Nov 18. PMID: 34794142.
Deibert BJ, Johnson KC, Desilet LW, Rorie AC. Recalcitrant Herpes Zoster Ophthalmicus in a Patient Discovered to Have Underlying Functional Natural Killer Cell Deficiency. Ocul Immunol Inflamm. 2022 Jan 2;30(1):54-56. Epub 2020 Sep 15. PMID: 32931349.
Huerter BG, Johnson KC, Coutu BG, Thedinger B, Bennion NR, Zhang C. Medications Affecting Hearing in Patients Undergoing Radiotherapy for Vestibular Schwannoma. 2022. In Review.