Program Highlights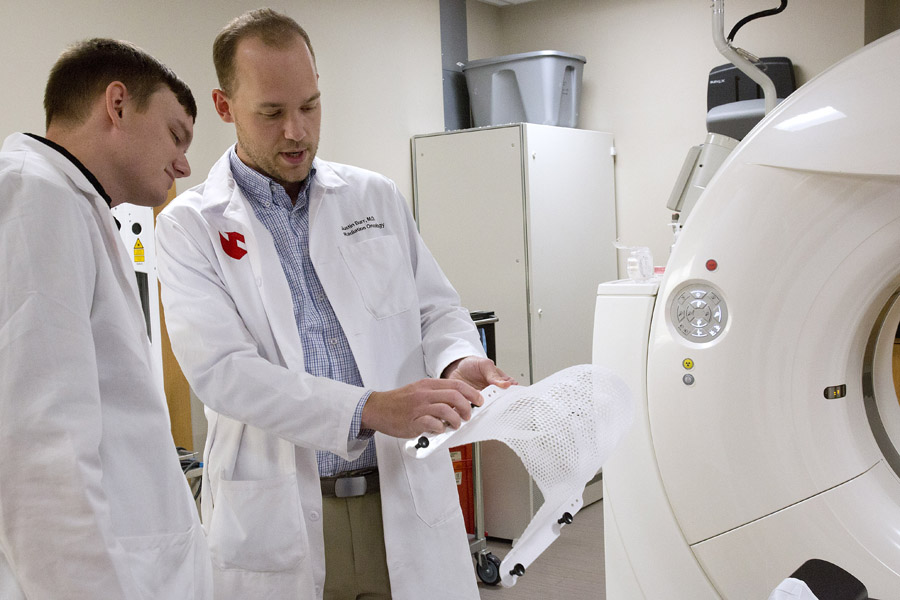 Unique opportunities
Our residency program focuses on a well-rounded clinical education fulfilling graduation requirements but a few aspects of our program provide noteworthy opportunities to our residents:
Brachytherapy
Our residents participate in a variety of brachytherapy procedures including gynecologic HDR brachytherapy (including a high volume of interstitial cases), HDR prostate brachytherapy, and intraoperative brachytherapy. Special procedures also include biliary, ocular melanoma, and skin brachytherapy. Having both a shielded brachytherapy suite with a CT simulator and a shielded operating room only one floor above the radiation oncology department allows for expedited workflow and a high volume of diverse procedures. Our residents have abundant opportunities to become talented and confident brachytherapists. Many of our alumni would cite this as a major factor in landing their ideal job.
Research
Our residency program has been recognized for prolific and high-quality clinical and basic science research. The University of Nebraska Medical Center holds a SPORE grant in pancreatic cancer including specific aims for radiosensitization. Our department's research focuses include radiomics, radiosensitizers, HDR prostate brachytherapy, SBRT boost, patient quality of life, and clinical outcomes. Our rapid IRB affords residents agile research opportunities to design, implement, and publish research in an expedited manner. Residents will have the opportunity to learn under the guidance of experienced faculty as well as pursue their own research interests. The radiation oncology department is considered a central hub of research in the cancer center and medical school allowing residents to both collaborate across departments and mentor medical students going into various specialties. While research opportunities are bountiful, residents are free to choose the degree to which they would like to participate in such activities.
Didactic Curriculum
The didactic curriculum includes clinical radiation oncology, radiation physics, and radiobiology. The clinical curriculum closely adheres to the PGY-II clinic schedule to allow focused and high-yield educational opportunities during the most difficult year of residency. The curriculum is structured to prepare residents to both succeed in the clinic and pass boards. Residents are pushed to excel in a safe and nonmalignant learning environment. Residents also have access to high-quality educational resources including up-to-date textbooks (according to their needs and desires), RadOncQuestions (a database of questions), and ASTRORefresher. Every year the faculty perform mock oral boards to help residents prepare for oral boards and to assess the knowledge base of the program.
Self-Directed Academic Pursuits
Every resident joins the program with different interests, talents, and goals. Rather than expect all residents to conform to a mold, the residency program values self-directed academic pursuits. While some residents focus on research (clinical or basic science) other residents pursue quality improvement, medical education, the business of medicine, or clinical expertise. This focus on diversity of interests and talents in the residency program yields greater diversity than increasing the number of residents.