Shining a Spotlight on Dr. Chad Abresch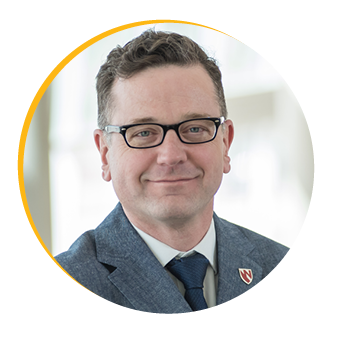 Member Since 2021
Assistant Professor & Division Chief for Child Health Policy, College of Medicine
Bio

What do you do at UNMC?
I teach social determinants of health and public health topics for our medical and public health students. We also offer a public health elective to pediatric residents. My research is focused on equity and maternal and child health. This work is conducted through CityMatCH, a national membership organization based at UNMC that works with large city and county health departments.

Tell us about your educational research interests and teaching role.
My teaching role with medical students and trainees is inspired by a letter Martha May Eliot wrote home to her parents during her second year as a medical student. She told her parents that she, "Wanted to keep attached to the social end of things. To be some kind of a social doctor--though what kind, I am not sure." I encourage our students to consider this question for themselves. How will they keep attached to the social end of things? How will they advocate for their community beyond the clinic? Dr. Eliot went on to help found the WHO and lead our nation's Children's Bureau, while maintaining a career-long commitment to clinical medicine (pediatrics).

What is one of your favorite/memorable teaching moments?
One semester, my public health students got me a plaque with their pictures in it and a quote carved into the wooden frame next to puzzle piece, "Thank you for being such an important piece of my story."

What do you see as the biggest benefit to being a member of the IAE?
The connections we create together and the ideas and encouragement we share!

What's the best advice you've ever received?
Invest in your education.