Member Spotlight
Shining a Spotlight on Holly Zimmerman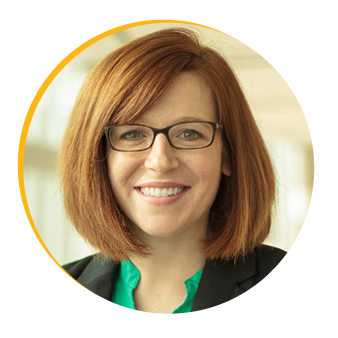 Member Since 2020
Program Director & Assistant Professor, College of Allied Health Professions
Bio

What do you do at UNMC?
I joined UNMC in November of 2017 as the Inaugural Director for the Genetic Counseling Education Program within the College of Allied Health Professions and in partnership with the Munroe Meyer Institute. We accepted our first class in August of 2019 and graduated our second class this past May. I have so many hats, but my favorites are teaching and mentoring students and collaborating with educators across UNMC including my genetic counseling colleagues at the Munroe Meyer Institute.

Tell us about your educational research interests and teaching role.
I am the course director or co-director for several courses within our 21-month program. I also chair our program's curriculum committee. In these roles, I get to collaborate, build, innovate, and reflect with an amazing group of people.I am interested in educational research related to the recruitment and retention of genetic counselors. This includes recruiting individuals who are underrepresented in our field, utilizing holistic admissions, developing sources of support for current students, and promoting wellness for students and colleagues.

What is one of your favorite/memorable teaching moments?
One of my memorable teaching moments was reflecting on my instructor evaluations after the very first semester of our new program. Those who know me know I am a huge Brene Brown fan because she encourages us to "stay awkward, brave, and kind." I aimed to develop a program culture where students could show vulnerability and begin to have courage to be themselves rather than who they think they need to be for our profession.When reading the student comments for my foundations course, I was a mix of tears and smiles because their experiences were consistent with my goals for them.
"Holly is very personable and has a way of making me feel secure while being out of my comfort zone." "Her commitment to expressing vulnerability and emotional intelligence during our role plays was incredibly helpful to me." "Holly has such a positive energy and cares so much about us as her students. It makes me excited to go to her class every day because I can tell that she cares about our learning. She is really great at addressing our concerns, and I also appreciate how she always gives us such helpful feedback."

What do you see as the biggest benefit to being a member of the IAE?
Collaboration Opportunities -- Being the inaugural director of a program and new to UNMC, the Interprofessional Academy of Educators (IAE) became a space where I could meet and learn from educators across UNMC's campus. I attended the Curricular Design Special Interest Group meetings prior to being a member and appreciated this was an option. Drs. Karen Honeycutt and Sarah McBrien became invaluable resources to me and our program. Once I became a member, I met Dr. Michelle Howell Smith to discuss the potential of focus groups as a way to elicit feedback from our second year students prior to graduation. Dr. Howell Smith has supported our work in this space. She was so complimentary of our students and offered to support our program in other ways. It is truly amazing to have this level of expertise and support as you develop a program.

What's something about you that not many people know?
I love to karaoke and have a few go-to songs including ones by Whitney Houston, En Vogue, The Cranberries, or Kelly Clarkson.