Service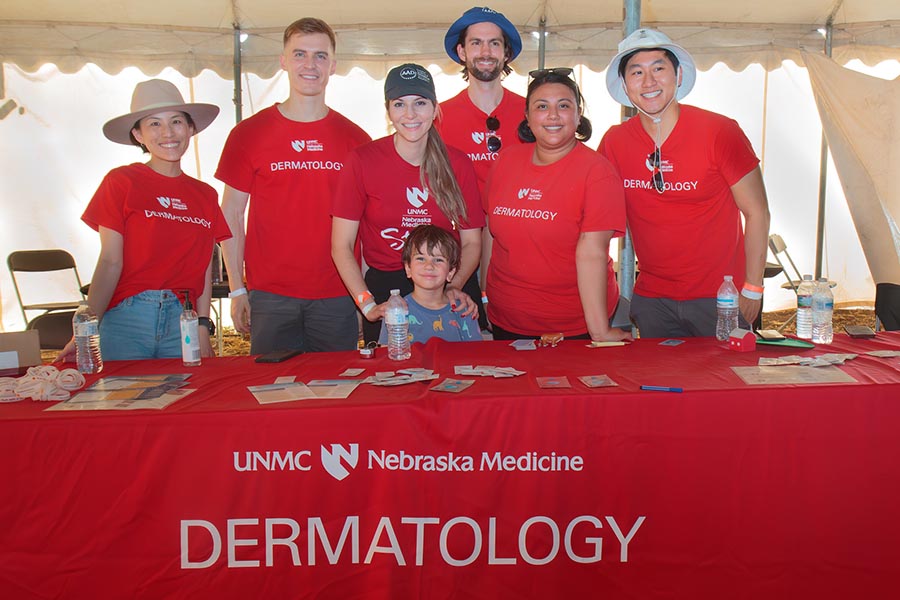 Our department is dedicated to community service projects throughout Omaha and across Nebraska.
Our faculty, students, and staff are actively involved in the American Academy of Dermatology SPOTme skin cancer screenings, the Women's Dermatologic Society Play it Safe in the Sun, Coast-to-Coast, and women's shelter initiative campaigns, as well as UNMC Department of Dermatology sun safety events and other local events. If you'd like to partner with us for any community events, please email Gabby Jensen.
Through partnership with the Women's Dermatologic Society, UNMC and Nebraska Medicine Dermatology has hosted Play Safe in the Sun national events at the NCAA College World Series in Omaha, Nebraska. Faculty, students and staff handed out sun screen, skin cancer information, and UV color changing bracelets to baseball fans from around the country.
Every year the UNMC Department of Dermatology brings faculty, staff and students to the Cattlemen's Ball which is hosted annually in the state of Nebraska for cancer awareness and to raise funds for the Fred & Pamela Buffett Cancer Center at UNMC. The Cattlemen's Ball has become one of the Midwest's premier events raising millions of dollars for cancer research. The event is held in a different and unique location each year, the Cattlemen's Ball gives host communities the opportunity to showcase their area of the state. Hundreds of volunteers, donors, patrons and friends come together for one unforgettable weekend in June when thousands of guests attend the Ball under the big top tents, beneath the stars. The dermatology team provides information about skin cancer and performs free skin cancer screenings each year.
With support from the Women's Dermatologic Society (WDS), the department has also hosted numerous events through the women's shelter initiative at the Women's Center for Advancement in Omaha, Nebraska as well as at Girls Inc. The purpose of the WDS shelter initiative is, through the dermatology gateway, to educate on diverse issues "concerning the whole women and her body/mind systems including: aging, self-esteem, hormonal changes, stress management, body image, weight, gynecologic concerns, nutrition, acne, etc. By addressing the whole women and her body/mind systems it will change the way she feels about herself and values herself".
Our department DEI committee also sponsors numerous food drives and adopt a family events throughout the year in our local Omaha community.