Notable Alumni - Dr. Bobby Harris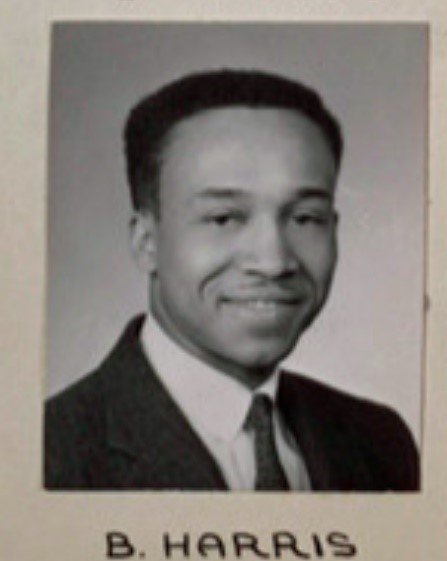 University of Nebraska of Medical Center
McGoogan Health Sciences Library
Special Collection and Archives
Interview with: Dr. Bobby Harris, College of Medicine Class of 1962
Interviewer: Emily Brush 
Phone interview date: August 12, 2021 
College of Medicine, Class of 1962 
Dr. Bobby Harris graduated with the UNMC College of Medicine Class of 1962. The first time he returned to UNMC after graduating was for his 50 Year Class Reunion. The change and growth of the Campus was noticeable. Seeing the Library impressed him mightily. There were only 3 or 4 buildings on campus when he graduated; this number included the hospital, which was in the administration building.  
Dr. Harris stated, "My experience at the University was a very good experience. I began medical school in 1958 and graduated in 1962. Medical school in those days, I think, was, at least at the University of Nebraska, was different than now in that it was more stressful. It was more stressful for the entire class that was there." Dr. Harris remembers students being worried about not being able to graduate. He recalled, "Kids were not making the grades back then." "99% of my time was spent trying to graduate. I spent all of my time studying, had zero recreation time, studying seven days a week, every waking hour."  
"Dr. Edward Holyoke was a favorite professor. He was the professor of gross anatomy. He was an extremely strict professor, but impacted the entire class. He was an extremely popular teacher; fearsome as well. All the professors were good and absolutely dedicated." After leaving Nebraska, I made this comment to Dr. O'Garra." Dr. Harris continued, "Dr. Holyoke was quite impacting. University of Nebraska had some dedicated teachers. The remainder of my education (residencies, internships, etc. I didn't encounter any teacher that I felt was more dedicated than those at Nebraska. That impacted me and my career." The education he received at UNMC, "made for a good background." It was, "very exciting."  
Reflecting on his experience as an African American medical student, Dr. Harris said, "As far as the impact of race, and I think this would be significant, I never experienced a single moment of racism. Not a single experience that was impacted by my race. All students were treated equally."  
Friendship and his internship year at Cook County, Chicago (1963)  
After graduating from UNMC in 1962, Dr. Harris completed an internship in Chicago at Cook County Hospital from 1962-1963. At that time, "Cook County was one of the largest public hospitals in the U.S." Dr. Harris said, "There were a few students [from UNMC] who went to Chicago (Cook County) for an internship year: Dr. Joe Yoshida, and Dr. John O'Gara and myself. The three of us became very close during that one year at Cook County. We became very close and would share experiences." The internship was enjoyable in most ways, and all students were treated equally. The hospital was extremely busy; Dr. Harris was on rotation every other night. There was a positive side to this busy pace: one encountered a large number of medical and surgical experience. The negative side of the business of the Cook County Hospital was a lack of supervision. The hospital did not have sufficient attending staff.  
Residency  
After completing his intern year, Dr. Harris began a general surgery residency in New York City. "I was happy that I did my general surgery residency in NY at the VA New York Harbor Healthcare System New York Campus, Residency Hospital. I completed residency in 1967." After residency, Dr. Harris went into the U.S. Navy as a general surgeon. During the Korean Conflict, he was stationed in Japan from 1967-1969. "There were two naval hospitals there. One was near Tokyo; it was a very large naval hospital. And the second hospital was in the southwest part of Japan, near Nagasaki." Dr. Harris was the only general surgeon on that staff. He met his wife there, a Japanese civilian. From 1969-1970, Dr. Harris was stationed in California. He completed a one-year surgery training in colorectal surgery in Los Angeles in 1971. He became board certified in general surgery and colorectal surgery. In 1972, he started a private practice. His practice was confined to colorectal surgery. Dr. Harris practiced until 1998. In 1998, he began working full-time for the State of California Disability Office as a consultant. At the time of this interview, Dr. Harris continues this work, now as a part-time consultant.  
When asked, "What did you like about being a surgeon?" Dr. Harris replied, "I sometimes think I was born to be a surgeon. I knew I wanted to be a doctor and would fantasize about being a surgeon. I loved the education it comprised and being in the operating room. The techniques. The post-operative cures. I loved everything about it."  
Dr. Harris compared the practice of medicine in the old days to now. "Private practice has changed." Dr. Harris recalled that when his career began, many of his colleagues were in private practice. Being a surgeon in a solo practice was demanding and stressful. Now, he observes, so many graduates work in a partnership group or with HMOS, which allows them to share responsibility.  
Living in California 
While practicing in California, he stayed in touch with his fellow students, Dr. Beck (1961) , Dr. O'Gara, Dr. Hunter, and Dr. Yoshida.