Primary Care Sports Medicine Fellowship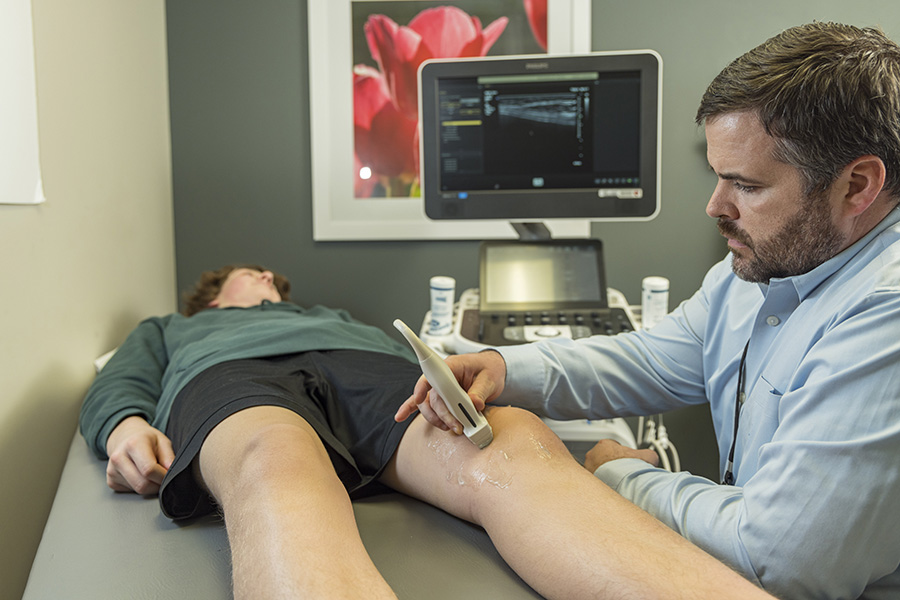 This Primary Care Sports Medicine fellowship is a 12-month program sponsored by the University of Nebraska Medical Center Department of Family Medicine.
Fellows will spend time in various Primary Care Sports Medicine clinics (faculties and their own), different orthopedic specialty clinics, and continuity clinics in the fellow's primary area of training.
Further clinical experience will be gained in athletic training rooms and on the sideline at high school, collegiate, and professional levels.
The fellowship is accredited by the ACGME. We accept applicants who have completed residency training in Family Medicine, Emergency Medicine, Internal Medicine, Pediatrics, Physical Medicine & Rehabilitation, and Med/Peds.
Learn about the program application process, curriculum and objectives.
Research/Scholarly Activity
The fellow will have dedicated time weekly to work on scholarly activity (case report and/or original research). Project and research ideas can be developed with input from the fellowship program leadership. The fellow will be expected to present his/her scholarly work at the AMSSM National Meeting. The fellow may also assist faculty with ongoing research projects or use the time to continue previous research of their own.
Physicians, athletic trainers and physical therapists within the Sports Medicine program meet monthly to review journal articles and discuss current topics. The PCSM fellow is responsible for choosing and reviewing an article, with input from the Program Director, and then presenting to the group at these meetings.
The PCSM fellow will regularly participate in teaching of residents and medical students.
Didactics
Protected weekly didactic sessions will be led by core faculty. A separate ultrasound focused curriculum will be taught longitudinally throughout the year.
Call
There is no call, but availability to the athletic training staff is highly encouraged.
Moonlighting
With Program Director's approval, the fellow may moonlight. The fellow will need to have a full medical license and their own DEA certificate. Moonlighting commitments must not interfere with fellowship responsibilities and the hours worked count towards ACGME work hours.
Please direct questions to:
Kassidy Drazkowski
Program Coordinator
Email