Research
Cancer prevention, a better understanding of its causes and innovative treatment are keys to fighting this disease. The renowned physicians in our division are pioneers in cancer research.
Each day, researchers in our
Fred & Pamela Buffett Cancer Center
work to make a difference for patients everywhere. Learn more about our research programs below or check out our
faculty and their research interests
.
Memberships and Affiliations
Alliance for Clinical Trials in Oncology
The division has been a main member of the Cancer and Leukemia Group B (CALGB) for Non-Institutional Cooperative trials since 1996, now renamed the 
Alliance for Clinical Trials in Oncology
 (Alliance). Alliance is one of four multidisciplinary cooperative adult cancer treatment groups funded by the 
National Cancer Institute
. Each Non-Institutional cooperative group trial focuses on particular areas of cancer research, often collaborating in large-scale clinical trials.
Center for International Blood and Marrow Transplant Research
The division is an active national Research Reporting Center to the Center for International Blood and Marrow Transplant Research. The center holds the contract for the Stem Cell Therapeutic Outcomes Database Health Resources and Service Administration of the US Dept. of Health and Human Services. The center is charged with collecting our institution's program data on all allogeneic hematopoietic cell transplantations performed in the United States under Federal Law. The center forms a research collaboration with the National Marrow Donor Program and the Blood and Marrow Transplant Clinical Trial Network to facilitate observational and interventional research outcomes through a large network of transplant centers. The network is funded by the National Cancer Institute and is a network of transplant institutions/consortia in the United States actively recruiting patients to various clinical protocols in bone marrow and hematopoietic stem cell transplantation. 
Big Ten Cancer Research Consortium
The division is a member in the Big Ten Cancer Research Consortium, comprising of the Big Ten universities (Sponsor Investigators) that create a unique team culture to pre-screen large populations in order to identify small, molecularly-enriched subsets. The division is very active in various Industrial (Pharmaceutical), Non-Intervention and Institutional Investigator-Initiated clinical research trials conducted with NIH Clinical Research Trials around the world.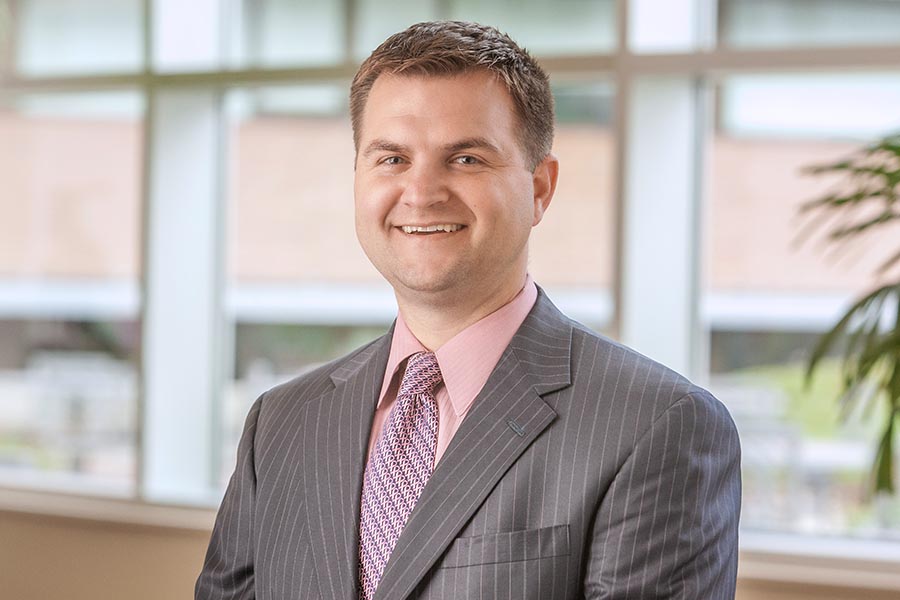 Matthew Lunning, DO, FACP
Assistant Vice Chancellor of Clinical Research
Associate Vice Chair of Research, Department of Internal Medicine
Associate Professor, Division of Oncology & Hematology
Non-Hodgkin Lymphoma, Hodgkin Disease, Multiple Myeloma, CAR-T/Cellular Therapy, Benign Hematology

Dr. Matthew Lunning is an Associate Professor in the Division of Hematology/Oncology, Department of Internal Medicine, at UNMC.
Fred & Pamela Buffett Cancer Center News