Where Our Residents Live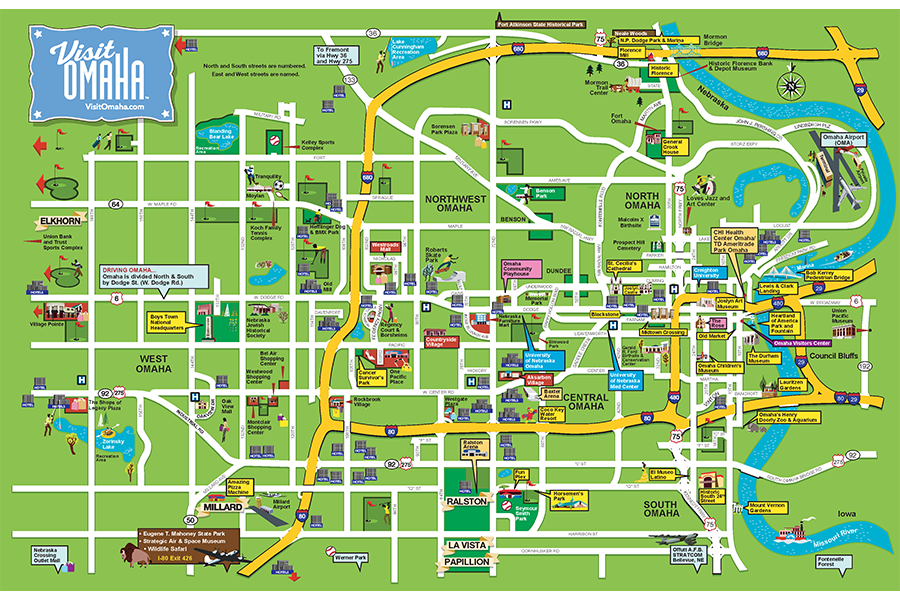 Nearly half of our residents buy a house or a condo.
Neighborhoods where our House Officers live:
Old Market/Downtown
This is the most historic district in Omaha. The neighborhood has plenty of restaurants, art galleries and upscale shopping. Within a 10-minute drive of UNMC.
Resident favorite restaurants:
V Mertz - "Easily one of the best spots in Omaha for a fancy/special date night, beautiful atmosphere in the Passageway and amazing cuisine."

 

La Buvette - "Best wine in town and delicious cheese and tapas!"

 

Lighthouse Pizza - "Takeout staple."

 

Block 16 - "Amazing Burgers! Alton Brown included in his favorite 10 burgers in America."

 

Fizzy's Fountain & Liquors - "50-60s themed diner with amazing boozy milkshakes. Order food/drinks via telephone in your booth."

 
Midtown Crossing/Blackstone
Midtown Crossing/Blackstone is within walking distance of UNMC and our Midtown Clinic. This neighborhood is centrally located but has a number of restaurants and shops.
Neighborhood Testimonials:
Midtown Crossing: "Love living in Midtown Crossing. Great area that is walkable to nearby tennis courts/dog park. Also walkable to Blackstone as it is just down the road. I am one mile from UNMC so easy to drive, bike, or walk to work. Great energy in Midtown Crossing with a beautiful park with surrounding restaurants and bars."
Blackstone: "I love being able to walk to work. I find it much more relaxing than driving, it saves me time, I value the exercise I get walking to and from the hospital. Also, it's nice that when people do things after work it's close to home. I feel safe in my neighborhood."
Resident favorite restaurants:
Mula - "Post-Midtown margs and salsa flight hits the spot."

 

Noli's Pizzeria

 

Coneflower Creamery - "Literally THE BEST ice cream in town."

 

Nite Owl - "Love, great patio, dog friendly"

 

Modern Love - "Great vegan experience with alternative milkshakes."

 

Taste of India

 
Aksarben
Aksarben has a bit of everything - shopping, dining, wellness activities, a farmers' market, and occasional outdoor concerts. Within a 7-minute drive of UNMC.
Neighborhood Testimonials:
"Aksarben village has a bunch of restaurants and bars as well as a big grassy area to lounge about. There is also a movie theater. Lots to do and there are usually concerts in Stinson Park."
"Aksarben/Elmwood Park Neighborhood has a lot of good starter houses for sale and rent. It's a great neighborhood for young families and pets. It's easily walkable or about a five-minute drive to UNMC so easy to run home for things if needed. It also contains Three Happiness Express and Tasty Pizza, which I would argue are among the best informal dining options."
Resident favorite restaurants:
West Omaha/Millard
Also known as "West O," this is a residential area known for dining, entertainment, and public and private golf courses. Within a 20-minute drive of UNMC.
Neighborhood Testimonials:
Millard: "Slower area of town with lots of starter homes available. Great area for kids and dogs with lots of parks. I know almost all of my neighbors and they are all great! Also option to live super close to the interstate for easy commute anywhere."
Millard: "Millard is a great area if you have school-aged children, but is also great if you just want a quiet area for you and your pets. Rentals are reasonably priced and it's easy access to the interstate with about a 20-minute drive to UNMC and about 15 minutes to the VA!"
West Omaha: "I love living in West Omaha! The houses are affordable and are a great location for family with children or pets."
Resident favorite restaurants:
Pitch Pizzeria West Omaha - "Go for the pizza, stay for the truffle fries and sauces."

 

Salween Thai - "Takeout staple."

 

Blue Sushi - "One of favorite spots to get sushi, great happy hour."

 

Lighthouse Pizza - "Takeout staple."

 

Le Peep - "Fabulous breakfast/brunch spot with fantastic coffee drinks, pancakes, cinnamon rolls, etc."

 
Suburbs (Papillion, Bellevue, Elkhorn, etc.)
Less traffic but still plenty of things to do in these communities. Within a 25 to 30-minute drive of UNMC.
Resident Favorite Restaurants:
Dundee
Dundee is centrally located and close to UNMC, within a four-minute drive, and is packed with some of Omaha's best restaurants.
Neighborhood testimonials:
"Arguably some of the cutest houses in Omaha. Close to UNMC, a mix of young families and older people. Lots of dogs and flowers! Mostly houses but there are some apartment complexes."
Resident Favorite Restaurants:
Pitch Pizzeria - "Go for the pizza, stay for the truffle fries and sauces."

 

Avoli Osteria
Dundee Dell 
Dario's Brasserie - "Upscale French restaurant with amazing food and great service. Great for taking family to or a nice night out!"

 
Other
While not all neighborhoods are named, most locations are within 10 to 15 minutes of UNMC.
Neighborhood testimonials:
Little Bohemia: "Close to downtown (one mile south of Old Market), and close to UNMC and the VA. Lots of new restaurants, bars, and shops that have opened in the last two years!"
South/Morton Meadows: "Neighborhoods south/near the VA. The best thing is that we have the Field Club trail, which is a paved walking trail that starts at UNMC/Leavenworth and connects to all the bike/walking trails in Omaha!"
Resident favorite restaurants:
Three Happiness Chinese - "Lots of food for very small price. Good overall Chinese food!"

 

Yoshitomo - "Easily the best sushi spot in town for true sushi lovers! The nigiri and "bites" are amazing."
Sgt. Peffers Cafe Italian

 

El Basha

 

Lighthouse Pizza - "Takeout staple."

 

Orsi's Italian Bakery & Pizzeria - "

Oh, man Little Italy! The dough is amazing! Huge pizza if you get the party size."