John S. Davis, PhD - Lab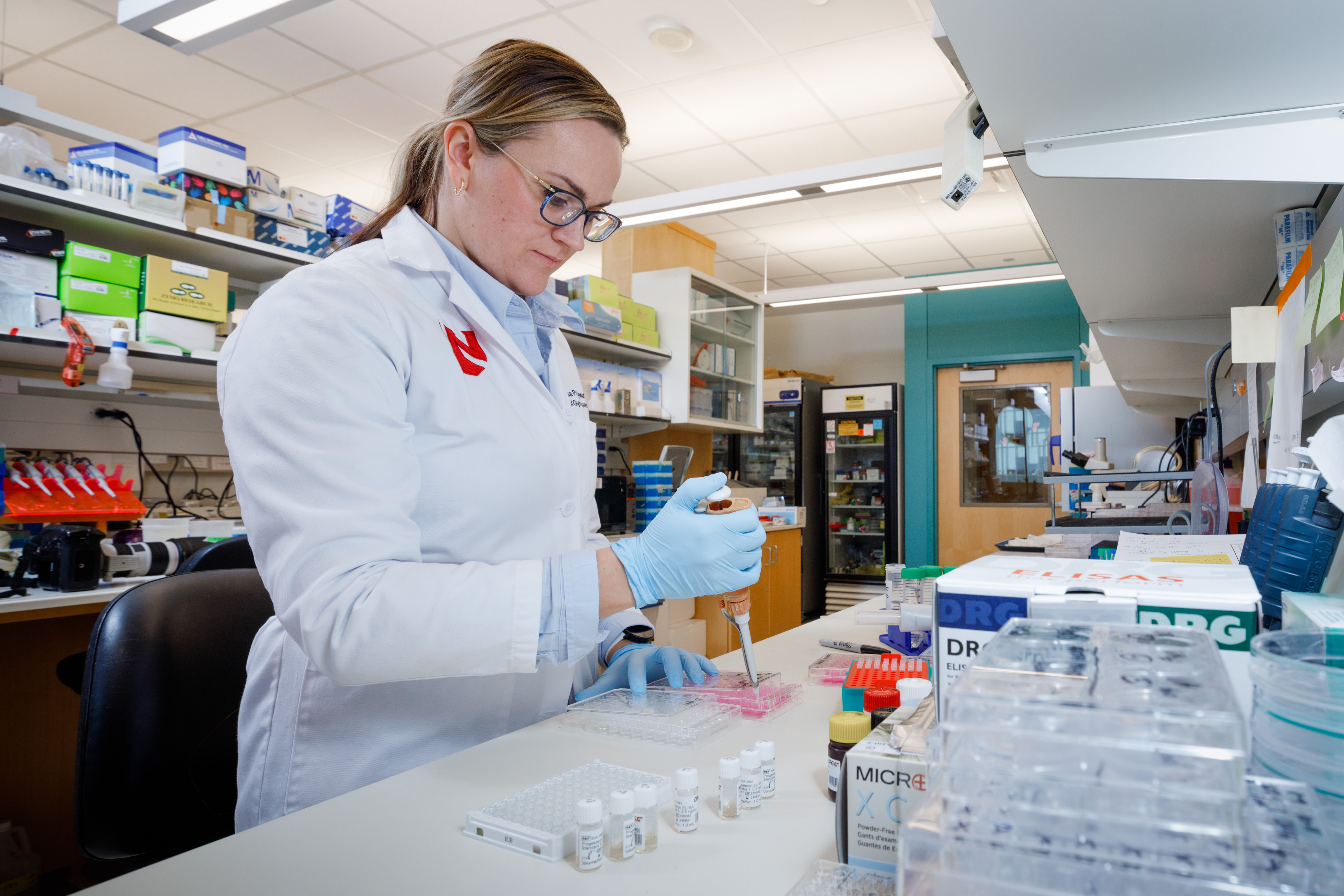 Overview
Director: John S. Davis, PhD
The fertility of humans and domestic livestock is steadily decreasing. Many women's health issues are linked to changes in reproductive hormones. Our studies to understand the basic physiological processes that regulate the differentiation of ovarian cells and the production of steroid hormones will allow new strategies to improve fertility, prevent early pregnancy losses, and develop more effective contraceptives. We are also examining the possibility that elevated blood levels of highly glycosylated pituitary hormones may contribute to osteoporosis during menopause. Additionally, our studies to understand the mechanisms that control ovarian angiogenesis and ovarian cancer may lead to the development of new therapies for the treatment of this deadly disease.
Our research studies the physiological events and molecular mechanisms that regulate the cyclical function of the ovary and its pathologies, such as steroid synthesis and ovarian cancer. These processes are controlled by the actions of various hormones and growth factors that initiate a complex pattern of intracellular signaling events. Unraveling these signaling events is our passion and will provide important clues for therapeutic interventions to improve women's health.
Research Projects
Project 1
Differential Ovarian Responses to Follicle Stimulating Hormone Glycoforms: Implications in Invitro Fertilization
Objectives
Determine the mechanism of action of follicle-stimulating hormone glycoforms
Determine the transcriptional landscape in response to follicle-stimulating hormone glycosylation
Determine the differential actions of hypo-glycosylated versus fully glycosylated follicle-stimulating hormone on ovarian function
Project 2
Prostaglandin F2α Signaling in the Regressing Corpus Luteum
Objectives: 
Determine the mechanism of action of Prostaglandin F2α
Determine the transcriptional landscape of response to Prostaglandin F2α in vivo
Employ metabolomics to determine the temporal changes during regression in vivo
Employ proteomics to determine the temporal changes in proteins during regression in vivo
Use multi-omics bioinformatics to identify pathways response for luteal regression
Project 3
Role of the Hippo Signaling Pathway
Objectives
Where are Hippo pathway components localized in ovaries during the reproductive cycle?
Does Hippo signaling regulate follicular and luteal size sensing? What Hippo signaling factors promote or limit follicular growth? Understanding these signals may improve in vivo and in vitro approaches to improve oocyte maturation and increase reproductive success.
Does the Hippo pathway act as a metabolic sensor in the ovary? Are endocrine or metabolic disturbances the cause or effect of altered ovarian morphology and infertility associated with polycystic ovarian syndrome?
An equally intriguing question is how do gonadotropins finetune Hippo signaling in vivo to achieve an exquisite balance of cellular proliferation and differentiation?
How do YAP1 and TAC direct ovarian gene expression? As a transcriptional co-regulator YAP1 interacts with TEADs to regulate a transcription of genes that impact proliferation. Equally important, what are the unique contributions of TAZ to ovarian function, as distinct from YAP1? Understanding how YAP1 and TAZ direct ovarian gene expression can provide new opportunities for strategies to improve fertility or contraception.
How does Hippo signaling become deregulated in cancer?