International Students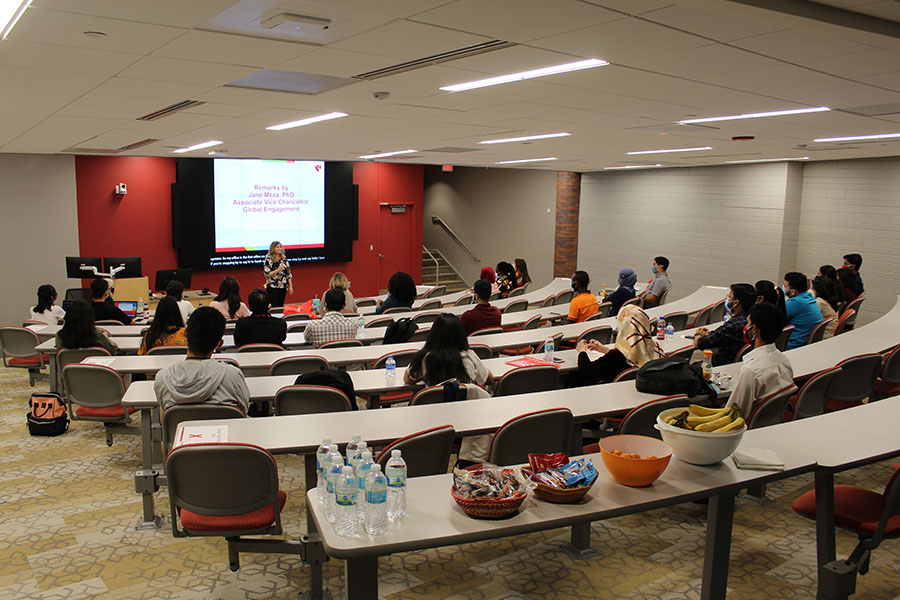 We are excited that you have chosen UNMC to enhance your academic and professional backgrounds.
As of the 2022 fall semester, UNMC has 224 international students representing 37 countries. The Office of Global Engagement serves as a key resource to the UNMC community of international students, providing professional expertise and support  from the time of admission to beyond graduation. We also provide information to help you maintain your immigration status.
We want to ensure that you will feel comfortable here in Omaha and call UNMC  your home away from home. Learn about UNMC and Omaha. 
COVID-19
Given the current global COVID-19 situation, we know that you are concerned about getting a U.S. student visa and arriving in time for the fall semester. We want to assure you that despite the challenges presented by the COVID-19 pandemic, UNMC will provide you with the current information you need to successfully navigate your way here.
Please regularly check UNMC's COVID-19 update page for important information. 
Mandatory Orientation
Mandatory orientation for international students is held each August. Information about the date and schedule will be posted when it becomes available. In the meantime, helpful information is found in UNMC's new student onboarding.
Please also review the housing information in the "After You Arrive" section of Successful Transition: A guidebook for international students, staff, faculty, and visitors. We suggest that you arrive early to procure housing and settle into your new environment, both of which will contribute to your academic success. It can be difficult to find living accommodations near the UNMC campus. Waiting until the middle of August to arrive will create unnecessary challenges and distractions during the first days of the semester.
Please communicate travel plans with your student services advisor or admissions coordinator. Knowing your travel plans allows schedule coordination among the student groups.
Ambassador Program
UNMC's Global Ambassador program was designed to provide peer-to-peer support and practical information about being a student at UNMC and living in Omaha. Ambassadors and new international students are partnered based on registration information. Partner communications begin several weeks before the international student arrives in Omaha and continues through the first several weeks of the fall semester.
A global ambassador acts as a preliminary source of practical information to help international students transition into their new community.
Questions?
Office of Global Engagement
University of Nebraska Medical Center
985700 Nebraska Medical Center
Omaha, NE 68198-5700
Tel. (402) 559-8326
globalsupport@unmc.edu