Simulation in Motion-Nebraska (SIM-NE)
Mission
Simulation In Motion – Nebraska seeks to enhance the quality and accessibility of emergency medical education to rural/frontier areas by delivering high-quality, technologically advanced simulation training to the Emergency Medical Care Providers in Critical Access Hospitals and ambulance services across the entire state. Our Vision – Experiential education resulting in all Nebraskans having high-quality pre-hospital and in-hospital emergency care.

Watch to Learn About SIM-NE
Take a minute to watch this video that shows you some of the exciting capabilities of the SIM-NE program.
Important Links
Schedule a training, explore the mobile simulation units and view SIM-NE media and publications.
Upcoming Events
SIM-Midwest Consortium - June 9-10, 2023, Sanford Center, Sioux Falls, SD. For event and registration information, visit the Upcoming Events page.
Past Events
View past events and find resources from previous events on our Facebook page.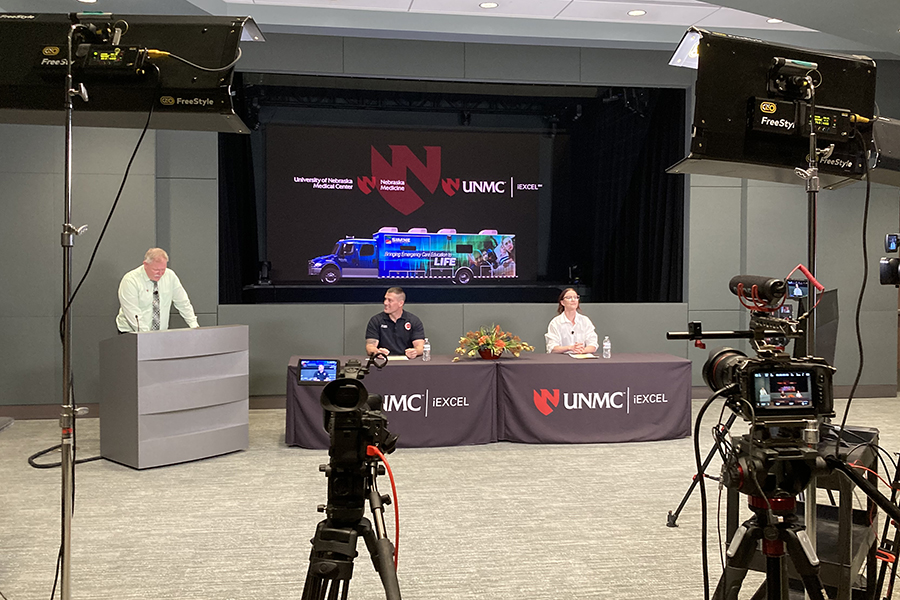 Additional EMT training rolled into Mary Lanning Healthcare, as Simulation in Motion-Nebraska made its way to Hastings to teach emergency professionals different ways to handle a situation. The SIM-NE trucks have the ability to simulate multiple scenarios and they reach more than 90% of the state. They also average two classes a week, and health officials say spreading this knowledge helps everyone.
Health care providers had the opportunity to practice with human patient simulators who can talk, breathe and bleed Tuesday when a mobile education unit visited Mary Lanning Healthcare. A 44-foot-long Simulation in Motion-Nebraska (SIM-NE) truck provided medical trauma scenarios to teach trainees and provide continuing-education credit for emergency medical professionals in the region.
Last week, the Simulation in Motion-Nebraska (SIM-NE) came rolling into the city, setting up at Chadron Community Hospital. Nurse Manager Brenda Rhembrandt said the truck is provided by the University of Nebraska Medical Center, which allows the hospital to provide education to staff and is the next best things to live scenarios.
Contact Us
For inquiries or to learn more about SIM-NE, contact program manager Douglas Dekker at 402-559-4868 or email below.